Stay tuned. The restaurant review for
Tamales Madre
is coming soon.
The review for Tamales Madre is in-process and we hope to publish the review on or before 05/15/2019. In the meantime, enjoy the images in the slideshow and check out the restaurant details and a summary of our review below. In some cases, we provide a link to the restaurant's menu as well.
Take a look at our choice of similar restaurants. You might be interested in visiting on of those.
Restaurant Details
Review Summary
Tamales Madre is a homage to corn that honors Mexico's most iconic foodstuff in grand fashion. Tamales Madre is proof that good things come in small package. Full of heart and soul with artisanal tamales and atole at better than reasonable prices.

Restaurant Details
Tamales Madre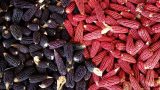 Locale: Juárez
Address: Calle Liverpool 44a
Telephone: +52 5705 3491
Restaurant Type: Casual Dining
Cuisine: Mexican
Service Type: Table Service
Price: $$$
Menu items offered: Atole (Corn Beverage), Coffee, Espresso, Salads, Tamales - Humitas
Hours:
Sun: 8:00 - 5:00 pm, Mon: Closed, Tue: 8:00 - 5:00 pm, Wed: 8:00 - 5:00 pm, Thu: 8:00 - 5:00 pm, Fri: 8:00 - 5:00 pm, Sat: 8:00 - 5:00 pm

Want to be notified when we post new reviews? Register here and we'll notify you by email on topics you select. We do not and will not randomly send you emails. You choose which information you want to receive.