Ambience

85%

Service

95%

Food

90%

Creativity

95%

Value

90%

Logistics

95%
Restaurant Details
Raíz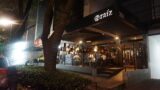 Locale: Mexico City, Polanco
Address: Schiller 331
Telephone: +52 55 5250 0274
Restaurant Type: Formal Dining, Upscale Casual
Cuisine: Eclectic Gourmet, Gourmet Mexican
Service Type: Table Service
Price: $$$$
Menu items offered: Ceviche - Aquachile, Coffee, Desserts, Espresso, Grilled Steaks, Salads, Seafood, Soups, Tacos
Hours:
Mon-Sat: 1:30pm to 6pm - 7pm to 11:30pm, Sun: Closed,

Review Summary
Elegant décor and near flawless execution of a sophisticated menu utilizing unique locale ingredients. Raíz earns one of the highest overall scores yet in our assessment of Latin American restaurants, exceeding nearby notorious restaurant, Pujol, in our assessement.

The full review for Raíz
Review by: Ollie O Rating: 4.7 stars Review Date: 09/09/2016
Raíz, previously located way out in the DF suburbs, has now moved to Mexico City's affluent neighborhood of Polanco. You won't see Raiz talked about much in the online chatter. But where you will see it getting much deserved praise after today, is here at ComaBeba.
This, my friends, is clearly one of Mexico City's top 5 restaurants and likely one of the Top 10 in Latin America. The restaurant is small. I'd say it can accommodate no more than fifty diners at one time. The ambiance is outstanding. Stylish and elegant. But not the least bit stuffy or intimidating. Lots of comfortable chairs. High quality table linens. Low level, direct-lighting, strategically placed. Pleasant music at the perfect volume. If I was creating a restaurant (fat chance!) this is how I'd do it. The maître' d and the sommelier looked a little bit like Kay and Jay in "Men in Black", clad in their starched white shirts, black suits and skinny black ties. These guys, and their small army of helpers, were scurrying about making sure everything was going off just as planned. I've consistently complained about restaurants like nearby Pujol that only have tasting menus, not allowing the diner to choose items a la carte. This, in my opinion, forces the diner to conform to the chef's concept of what is good. And regrettably, the tasting menu, conceived to showcase the talent of the chef, more often than not, displays his or her shortcomings as it did in my recent visit to Boragó in Santiago and El Baqueano in Buenos Aires, two of the worst outings I've been on in recent years. But Raíz allows the diner to either choose from a wide variety of items offered a la carte, or to experience the ten-course tasting menu. As I often do, I elected to try the tasting menu, to put the menu and the chefs in the kitchen to the test (something I would not normally due were I not writing a review). So how did Chef Israel Montero and his little army of chefs and his expeditor fare? Chef Israel Montero has done a brilliant job of utilizing unique and interesting ingredients from Mexico and neighboring Latin American countries to create one of the most satisfying menus in Latin America. The majority of the courses, including one of the two dessert courses, utilize either the stems, flowers or fruit of the indigenous cactus plants. And white, red and black corn, and chocolate, are components of several of the savory and sweet dishes. The courses included the following eight savory courses in chronological order, a small single crispy shrimp, an appetizer portion of ceviche, a bone marrow preparation, black corn powder dusted foie gras, a corn and mushroom soup, seared snapper with kale and a cactus compote, beef braised with tomatoes, and beef tongue in a mole sauce. The two desserts were a sweet cactus preparation utilizing the stems, fruit and flowers from the cactus plant, and a chocolate and tapioca confection that was as beautiful as it was delicious. The concept of each dish and the origin of its ingredients is described in your choice of English or Spanish as each course is presented at the table. The soup was so delicious I feel an obligation to describe it. It was served in a deep bowl covered by a glass dome filled with smoke. When served, the dome was removed, with sweet smoke escaping, having given the slightest smoky hint to the sweet red corn kernals, the young baby white corn sliced lengthwise, and the wild, delicate mushrooms in the bowl. Then a light mushroom broth was poured over the corn, mushrooms and herbs. This was a truly outstanding soup. Every course was unique, delicious and perfectly executed, save one. The beef tongue was overcooked and almost tasteless, and although I'm a fan of most moles, the one accompanying this course was a bit bitter, although this might be as much a matter of personal preference as it was lack of execution. The only shortcoming with regard to ambiance or service was that the staff was constantly breaking down and reconstructing the layout of the room to accommodate the party size of arriving patrons (e.g. physically removing a six-top table and replacing it with a four-top table). This constant re-arranging of the room was a bit distracting. This slight annoyance is reflected in our score for ambiance, which otherwise would have been a 4.5. But to receive nine of ten perfectly executed courses on such a complex menu is nothing to be ashamed of. Were it not for the beef tongue we'd have likely given our first 5 stars ever for execution. The cost of the tasting menu at US$55 for ten outstanding course was a steal and the a la carte menu is priced somewhat lower than restaurants of similar quality in nearby Polanco. We think a visit to Raíz is a value, no matter which menu you elect. If a culinary experience in on your agenda and you're in Mexico City. Raíz is an obligation, not a choice.


Click the restaurant name or image to read the review
La Fonda del Recuerdo – Mexico City
Neighborhoods: Anzures
Service options: Table Service
Cuisine(s): Mexican
Rating: 4.0 stars Cost: $$$ . Price: Casual Dining
---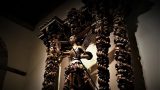 Hacienda de los Morales – Mexico City
Neighborhoods: Mexico City, Polanco
Service options: Table Service
Cuisine(s): Mexican
Rating: 4.6 stars Cost: $$$$ . Price: Upscale Casual
---
Azul – Mexico City
Neighborhoods: Centro Histórico, Hipódromo, La Condesa, Mexico City
Service options: Table Service
Cuisine(s): Mexican
Rating: 4.1 stars Cost: $$$$ . Price: Casual Dining
---
Villa María – Mexico City
Neighborhoods: Polanco
Service options: Table Service
Cuisine(s): Mexican
Rating: 4.2 stars Cost: $$$ . Price: Casual Dining
---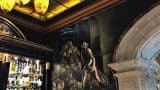 Saks – Mexico City
Neighborhoods: Mixcoac - Insurgentes, Polanco, San Angel - Guadalupe Inn, Tlalpan - Toriello Guerra
Service options: Table Service
Cuisine(s): Mexican
Rating: 4.4 stars Cost: $$$$ . Price: Casual Dining, Upscale Casual
---
Click the restaurant image to read the review
Quintonil – Mexico City
Neighborhoods: Mexico City, Polanco
Service options: Table Service
Cuisine(s): Gourmet Mexican
Rating: 4.5 stars Cost: $$$$ . Price: Upscale Casual
---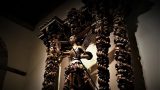 Hacienda de los Morales – Mexico City
Neighborhoods: Mexico City, Polanco
Service options: Table Service
Cuisine(s): Mexican
Rating: 4.6 stars Cost: $$$$ . Price: Upscale Casual
---
La Fonda del Recuerdo – Mexico City
Neighborhoods: Anzures
Service options: Table Service
Cuisine(s): Mexican
Rating: 4.0 stars Cost: $$$ . Price: Casual Dining
---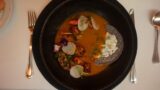 Dulce Patria – Mexico City
Neighborhoods: Mexico City, Polanco
Service options: Table Service
Cuisine(s): Gourmet Mexican, Mexican
Rating: 3.7 stars Cost: $$$$ . Price: Upscale Casual
---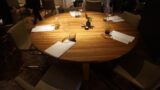 Pujol – Mexico City
Neighborhoods: Mexico City, Polanco
Service options: Table Service
Cuisine(s): Gourmet Mexican
Rating: 3.8 stars Cost: $$$$$ . Price: Upscale Casual
---