Ambience

80%

Service

90%

Food

85%

Creativity

90%

Value

75%

Logistics

85%
Restaurant Details
Morimoto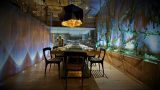 Locale: Mexico City
Address: Calz. Gral. Mariano Escobedo 700
Telephone: +52 55 5263 8888
Restaurant Type: Upscale Casual
Cuisine: Eclectic Gourmet, Fusion, Japanese
Service Type: Table Service
Price: $$$$
Menu items offered: Ceviche - Aquachile, Coffee, Desserts, Espresso, Grilled Steaks, Salads, Seafood, Soups, Sushi
Hours:
Sun-Sat: 1pm to 11pm, ,

Review Summary
Morimoto, in Mexico City, follows the strategy laid out by celebrity chef, Masaharu Morimoto at his other successful ventures. A unique and flawlessly executed menu with a Japanese personality coupled with outstanding service.

The full review for Morimoto
Review by: Ollie O Rating: 4.2 stars Review Date: 09/19/2016
Masaharu Morimoto gained notoriety as an Iron Chef on both the original Japanese television series, Iron Chef, and on the spinoff on the Food Network (USA) version of the popular cooking show. He has also worked under and with some of the world's most highly respected chefs, including Nobu Matsuhisa, creator of the world-famous international restaurant chain, Nobu.
Chef Morimoto has had success (and some failure) as a restaurateur, himself. He opened his first restaurant in Philadelphia in 2001, and now either owns or is a partner in about a dozen international restaurants spanning the globe, from New York City to Mumbai.Morimoto, in Mexico City, is similar to his other international restaurants, featuring Japanese cuisine with local ingredients. The décor is pleasant, although I felt the mix of marine relics such as ropes and fishing nets placed juxtaposed to sleek ultra-modern furnishings was odd.There is both an "a la carte" menu and an Omakase (tasting menu) featuring small plates of his most popular dishes. On my visit in 2016 I took a leap of faith and opted for the full ten-course tasting menu.The ingredients and dishes ran the gamut. A variety of cold appetizers, including a tartare and a crabmeat appetizer. A duck potsticker and a luscious chunk of pork belly, all bearing Chef Morimoto's personal stamp. Morimoto loves to use faux gras. And this tasting menu naturally included one of his hallmark faux gras plates. The array of dishes was well-conceived and equally well-executed. All with that distinct Japanese personality that makes Morimoto's menu so special.And the presentation was equally impressive. Clean and straightforward with an occasional dash of Asian influence, like the dish served in a bento box.The menu is posted on the website, but without any indication of prices. We favor restaurants that let the public know what it will cost, before they arrive at the restaurant's door. Booking a reservation was simple on OpenTable.com.This Omakase experience was expensive by Mexico City standards. Morimoto is one of the most expensive restaurant's in the city. Luckily, that's still way less than you'd pay in the States for this type of meal. And it's on par with Nobu, which offers a similar style of cuisine.I have not ordered sushi at this restaurant and consumer reviews have gone both ways on the quality of the sushi. The sushi chefs are likely not Japanese, and almost certainly not fully trained Itamae. I was pleasantly surprised with the Omakase tasting menu, but then again, it's a bit over the top for a simple meal. Although I found the décor a bit awkwardly put together, the overall experience, including the service which was totally attentive, was unique and enjoyable. For anyone looking for a unique take on Japanese fusion, Morimoto is, perhaps, the best choice in Mexico City. Perhaps, in all of Latin America.


Click the restaurant name or image to read the review
No items found
Click the restaurant image to read the review