Le Creperie de la Paix
La Condesa
Ambience

75%

Service

75%

Food

75%

Creativity

85%

Value

85%
Restaurant Details
Le Creperie de la Paix
Locale: La Condesa
Address: Av Michoacán 103
Telephone: +52 55 5286 0421
Restaurant Type: Cafe, Casual Dining
Cuisine: French
Service Type: Table Service
Price: $$$
Menu items offered: Breads and Pastries, Ceviche - Aquachile, Coffee, Desserts, Egg Breakfast Dishes, Espresso, French Toast, French omelettes, Grilled Steaks, Hamburgers, Ice Cream, Pancakes - Griddlecakes, Pasta, Salads, Sandwiches, Soups, Waffles
Hours:
Thu-Sat: 7 am to 12 am, Sun-Wed: 8 am to 12 am,

Review Summary
Le Creperie de la Paiz offers a full range of French menu items for breakfast, lunch and dinner, in a quaint sidewalk-cafe atmosphere with better than acceptable service.

The full review for Le Creperie de la Paix
Review by: Ollie O Rating: 4.1 stars Review Date: 09/02/2017
Le Creperie de la Paix attempts to bring a little touch of Paris to Mexico City's fashionable Colonia Condesa neighborhood. Open for breakfast, lunch and dinner, this quaint little restaurant is the best place in Mexico City to get bistro-style French cuisine. They steer off-course slightly with a few dishes, oddly dedicating a complete section of the menu to Italian pasta dishes. But the majority of the menu is plainly French.
The menu features a full range of breakfast items, including traditional Mexican egg dishes, French omelets, waffles, pancakes, breakfast crepes and, of course, French toast. Don't forget the croissants. For lunch and dinner there are some savory crepes, or you can opt for the classic French onion soup, a delicious salad, or variety of other French classics. On our last two visits, service was very good. The décor is cute and quaint, reminiscent of a comfortable French sidewalk café. Looking for change of pace from a diet of chilaquiles and tacos? This well-executed menu might be the way to solve that culinary boredom.


Click the restaurant name or image to read the review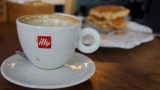 Café Toscano – Mexico City
Neighborhoods: La Condesa, Mexico City, Polanco
Service options: Table Service
Cuisine(s): Italian
Rating: 4.5 stars Cost: $$$ . Price: Cafe, Casual Dining
---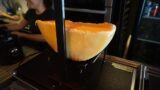 Mon Dieu – Cuauhtémoc – Mexico City
Neighborhoods: Cuauhtémoc, Mexico City
Service options: Table Service
Cuisine(s): Salads, Sandwiches
Rating: 4.3 stars Cost: $$ . Price: Casual Dining
---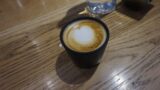 Frëims for Breakfast – Mexico City
Neighborhoods: La Condesa, Mexico City, Roma Norte
Service options: Table Service
Cuisine(s): Coffee - Bread - Pastries
Rating: 3.7 stars Cost: $$$ . Price: Casual Dining
---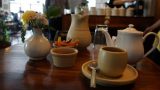 Belmondo – Mexico City
Neighborhoods: Mexico City, Polanco, Roma Norte
Service options: Table Service
Cuisine(s): Coffee - Bread - Pastries
Rating: 4.4 stars Cost: $$$ . Price: Casual Dining
---
Terraza at Diana Restaurant – Mexico City
Neighborhoods: Cuauhtémoc, Mexico City
Service options: Table Service
Cuisine(s): Gourmet Mexican
Rating: 4.6 stars Cost: $$$$ . Price: Upscale Casual
---
Click the restaurant image to read the review
Terraza at Diana Restaurant – Mexico City
Neighborhoods: Cuauhtémoc, Mexico City
Service options: Table Service
Cuisine(s): Gourmet Mexican
Rating: 4.6 stars Cost: $$$$ . Price: Upscale Casual
---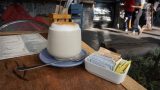 La Ventanita – Mexico City
Neighborhoods: Mexico City, Roma Norte
Service options: Table Service
Cuisine(s): Coffee - Bread - Pastries, Salads, Sandwiches
Rating: 3.6 stars Cost: $$ . Price: Cafe, Casual Dining
---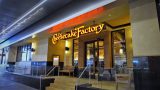 The Cheesecake Factory – Mexico City
Neighborhoods: Narvarte Poniente - Oriente, Santa Fe - Zedec Santa Fe
Service options: Table Service
Cuisine(s): Eclectic
Rating: 4.6 stars Cost: $$$ . Price: Casual Dining
---
Lur – Mexico City
Neighborhoods: Polanco
Service options: Table Service
Cuisine(s): Eclectic Gourmet
Rating: 3.8 stars Cost: $$ . Price: Casual Dining
---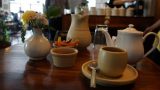 Belmondo – Mexico City
Neighborhoods: Mexico City, Polanco, Roma Norte
Service options: Table Service
Cuisine(s): Coffee - Bread - Pastries
Rating: 4.4 stars Cost: $$$ . Price: Casual Dining
---