Restaurant Details
Cuines - Mexico City - Polanco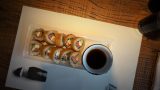 Locale: Mexico City, Polanco
Address: Presidente Masaryk 275
Telephone: +52 55 5281 5076
Restaurant Type: Casual Dining
Cuisine: Eclectic, Spanish
Service Type: Table Service
Price: $$$
Menu items offered: Breads and Pastries, Ceviche - Aquachile, Coffee, Desserts, Espresso, Grilled Steaks, Pasta, Rice - Risotto, Salads, Seafood, Soups, Sushi, Tacos, Tapas - Finger Foods - Snacks
Hours:
Mon-Wed: 12pm to 12am, Thu-Sat: 12pm to 1 am, Sun: 10am to 6pm

Review Summary
Cuines offers a unique assortment of foods from every corner of the world (not just Spain, although it does have tapas). Food done right. Nice décor.

The full review for Cuines - Mexico City - Polanco
Review by: Ollie O Rating: 4.3 stars Review Date: 08/21/2017
Everyone from consumers to local guides would have you believe that this is a Spanish food restaurant. Yes. It has a few Spanish tapas and Patatas Bravas on the menu. But that represents less than 10% of what this menu has to offer.
Cuines, in fact, as a varied international menu, containing items from cultures hidden in every corner of the world.Tacos, ceviches and aguachiles from close to home. Italian pasta dishes. A red curry fish dish from India (or is that Thailand?). Sushi from Japan. Dim sum from, you guessed it, China. And the hand-held food that everybody wants, the Burger.There are a lot of restaurants in Mexico that try to do some ethnic cuisine. Ninety percent of them screw it up royally. No. More like 95%.But this kitchen has had a pretty good mentor. I've tried a variety of dishes and they are all executed quite well.You can see examples of the sushi and the braised beef cheek dish in the images. They were both very good.I sat at the bar. Service was a bit sketchy, but acceptable.Décor is very nice. Sort of Spanish country store meets German industrial architect.There is a big bar that is conducive to striking up conversations with other patrons who frequently sit there.The place is packed when there's a big soccer game on the tube.Overall. A top-notch casual dining experience. A bit pricey, but not excessively so.