Breakfast at Casa Portuguesa
Mexico City, Polanco
Ambience

%

Service

%

Food

%

Creativity

%

Value

%
Restaurant Details
Breakfast at Casa Portuguesa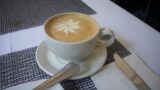 Locale: Mexico City, Polanco
Address: Av. Emilio Castelar 111
Telephone: +52 55 5281 0075
Restaurant Type: Casual Dining
Cuisine: Mexican
Service Type: Table Service
Price: $$$
Menu items offered: Breads and Pastries, Coffee, Desserts, Egg Breakfast Dishes, Espresso
Hours:
Mon-Tue: 8am to 10:30pm, Wed-Thu: 8am to 11pm, Fri-Sat: 8am to 12am, Sun: 9am to 7pm

Review Summary
A pleasant terrace overlooking the park, flawless service and wide range of breakfast items on the menu, including eggs done every way imaginable, make Casa Portuguesa Ollie O's favorite spot for brunch on a Sunday morning in Mexico City.

The full review for Breakfast at Casa Portuguesa
Review by: Ollie O Rating: 4.2 stars Review Date: 09/13/2015
The most desirable feature of Casa Portuguesa is the front-terrace, overlooking Parque Kennedy. On a Saturday or Sunday around 11 a.m. or noon the sidewalk and the park on the other side of the street are a beehive of activity. Mariachis strolling by. Vendors selling pinwheels and trinkets. It's a great spot to sit and have a cup of coffee or breakfast for an hour or two.There's an attractive ceramic-tile façade with swirling mosaic designs. To be honest, I have no clue what the inside of this place looks like. I've never ventured past the pleasant terrace out front.Despite the location on the terrace, the tables were somewhat formal. There were white table cloths with gray, woven placemats. The waiters were all men, clean-cut, and clad in starched, white shirts and black aprons with gray ties. They were all friendly but possessed that edge of formality that they must teach at waiter-school in Latin America. In typical Mexican style, the service was attentive.There are two and a half of breakfast dishes on the menu. Everything from scrambled eggs, drowned in exotic sauces, to Eggs Benedict. I'd have to say it's the most varied breakfast menu I've seen in Mexico City. And the majority were all priced below US$7 (100 pesos, Sep 2015).On being seated your offered your choice of a variety of sweet breads displayed in a big basket. Mexico is the only place I've seen where they hire a guy to do nothing but walk around with a big basket of sweet and savory breads. (Unfortunately none are as good as the simple medialunas you'll find in the French bakeries in Buenos Aires.)For breakfast, I opted for the Huevos Macuarrines, a homemade corn tortilla, topped with a fried egg, crispy little bits of Spanish chorizo (sausage), roasted chiles (chiles toreados), and a slab of slightly roasted panela cheese. It was accompanied by a small bowl of "charros" (stewed red beans). Delicioso!Everything was picture-perfect for breakfast at Casa Portuguesa - the pleasant ambiance on the front terrace, the service and the food were. The variety on the menu for breakfast is unequaled in Mexico City. I can't think of a better place for brunch on a Sunday morning in Mexico City, perhaps in all of Latin America.


Click the restaurant name or image to read the review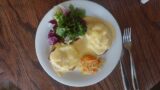 Breakfast Condesa for Breakfast – Mexico City
Neighborhoods: Hipódromo, La Condesa, Mexico City
Service options: Table Service
Cuisine(s): Eclectic
Rating: 3.7 stars Cost: $$$ . Price: Cafe, Casual Dining
---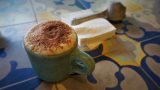 Ojo de Agua for Breakfast – Mexico City
Neighborhoods: Constitución de la Republica, Juárez, La Condesa, La Raza, Mexico City, Polanco
Service options: Counter Service
Cuisine(s): Mexican
Rating: 4.2 stars Cost: $$$ . Price: Cafe, Fast Casual
---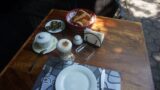 La Aceituna for Breakfast – Mexico City
Neighborhoods: Mexico City, Polanco
Service options: Table Service
Cuisine(s): Italian
Rating: 3.7 stars Cost: $$$ . Price: Casual Dining
---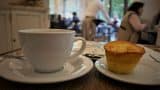 Maque – Mexico City
Neighborhoods: Hipódromo, Polanco, San Angel - Guadalupe Inn
Service options: Table Service
Cuisine(s): Mexican
Rating: 4.3 stars Cost: $$$ . Price: Cafe, Casual Dining
---
Click the restaurant image to read the review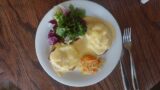 Breakfast Condesa for Breakfast – Mexico City
Neighborhoods: Hipódromo, La Condesa, Mexico City
Service options: Table Service
Cuisine(s): Eclectic
Rating: 3.7 stars Cost: $$$ . Price: Cafe, Casual Dining
---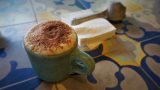 Ojo de Agua for Breakfast – Mexico City
Neighborhoods: Constitución de la Republica, Juárez, La Condesa, La Raza, Mexico City, Polanco
Service options: Counter Service
Cuisine(s): Mexican
Rating: 4.2 stars Cost: $$$ . Price: Cafe, Fast Casual
---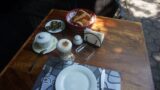 La Aceituna for Breakfast – Mexico City
Neighborhoods: Mexico City, Polanco
Service options: Table Service
Cuisine(s): Italian
Rating: 3.7 stars Cost: $$$ . Price: Casual Dining
---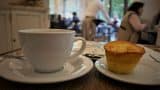 Maque – Mexico City
Neighborhoods: Hipódromo, Polanco, San Angel - Guadalupe Inn
Service options: Table Service
Cuisine(s): Mexican
Rating: 4.3 stars Cost: $$$ . Price: Cafe, Casual Dining
---