Bonito
La Condesa, Mexico City
Ambience

75%

Service

75%

Food

75%

Creativity

70%

Value

60%
Restaurant Details
Bonito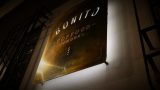 Locale: La Condesa, Mexico City
Address: 103 Av. Nuevo León
Telephone: +52 55 5286 6165
Restaurant Type: Casual Dining
Cuisine: Gourmet Mexican
Service Type: Table Service
Price: $$$$
Menu items offered: Breads and Pastries, Ceviche - Aquachile, Coffee, Desserts, Espresso, Grilled Steaks, Hamburgers, Pasta, Rice - Risotto, Salads, Seafood, Tacos
Hours:
Mon-Wed: 1pm to 12am, Thu-Sat: 1pm to 1am, Sun: 1pm to 7 pm

Review Summary
An ill-conceived décor, barely better than average service, and several lapses of execution left us wondering how this restaurant could receive so much praise. There are many better options in La Condesa!

The full review for Bonito
Review by: Ollie O Rating: 3.6 stars Review Date: 09/23/2017
Bonito has been praised by "insiders" as one of the top 10 restaurants in Condesa and consumers rate it above 4 stars on all the consumer review sites. I was hopeful that I'd find something new and different to praise in Mexico City.
But, alas, it was not to be. Let's be clear before the painful criticism begins to flow. Bonito isn't a bad restaurant. It's just not what everyone seems to want to make it out to be.The restaurant is in a great location in Hipódromo, right on Nuevo Leon, paces from many of the city's top restaurants. It looks impressive from the outside. The entrance is nice enough although a bit dated in style. There are two main sections to the restaurant. A large single dining area seating about 75 or so diners with a high ceiling spanning two stories. This space could be the canvas for a beautifully designed restaurant. But the décor is just not quite right. It's odd. Bordering on ugly in my opinion. Tacky Christmas lights strung around the trunk of tree growing at the edge of one wall. Dozens of ceramic birds plastered to the walls. Sorry. I just didn't like it.Service was good. But not stellar. Some of the waiters were standing around watching the Monday Night Football game.The menu is an unusual mix of fancified Mexican cuisine with a few European touches thrown in.I studied it. I immediately spotted a few tell-tale signs of a pending disappointment. Oh, no! There was a chicken dish with a balsamic reduction. In a Chicago Tribune article in 2012, the famed Italian chef, Massimo Bottura, stated, "I am always amazed at chefs who make these balsamic reductions that are sticky and brown with little to no flavor." Simply stated, balsamic reductions were a 1990's fad. There's no place for them on a menu in 2017.Of five main-course seafood dishes, three were salmon (farm-raised, of course), tuna and shrimp. The three most overused seafood items on the planet.But not everything on the menu was quite so mundane and ill-conceived.I was torn between an artichoke soup and the Risotto a la primavera. I should have ordered the soup.The flavors were very good in the rice dish. But risotto was a mess. Wrong type of rice. Grossly undercooked. Somebody at Bonito needs to call Wolfgang Puck for a risotto cooking lesson.For the main course, I ordered the Duck a la frambuesa. Much better than the risotto. But I felt the dish just didn't quite come together. In Bonito's defense, the duck was cooked perfectly. Very moist. But that reduction was a bit sticky and thick. And the raw raspberries added nothing to the dish other than some bright red ornamentation. Same can be said for the roasted almonds. The best thing on the dish was the potato mash the duck leg was sitting on.I looked at the dessert menu. Nothing interested me. It was the same list you see at every restaurant in the city. An apple crumble, a piece of cheesecake, rice pudding, churros, and ice cream. The only thing remotely creative on the dessert menu was the Crepes Suzette but it was more expensive than some of the main course dishes. A whopping US$9 (172 pesos). I opted for the check and skipped dessert.A dated and ill-conceived décor. Barely better than average service. A horrible lapse of execution on the risotto and a main-course that just didn't gel. And all at prices exceeding almost everything in the neighborhood. None of that adds up.


Click the restaurant name or image to read the review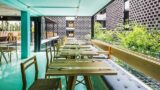 Carlota – Cuauhtémoc – Mexico City
Neighborhoods: Centro Histórico, Mexico City
Service options: Table Service
Cuisine(s): Eclectic Gourmet
Rating: 4.0 stars Cost: $$$$ . Price: Casual Dining, Casual Gourmet, Upscale Casual
---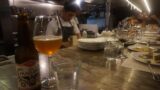 Lardo – Condesa – Mexico City
Neighborhoods: La Condesa, Mexico City
Service options: Table Service
Cuisine(s): Eclectic
Rating: 4.2 stars Cost: $$$$ . Price: Casual Dining, Casual Gourmet
---
Temporal – Mexico City
Neighborhoods: La Condesa, Mexico City
Service options: Table Service
Cuisine(s): Eclectic Gourmet
Rating: 4.5 stars Cost: $$$ . Price: Casual Dining, Casual Gourmet
---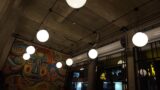 Amaya – Juárez – Mexico City
Neighborhoods: Juárez, Mexico City
Service options: Table Service
Cuisine(s): Gourmet Mexican
Rating: 3.7 stars Cost: $$$ . Price: Casual Dining, Casual Gourmet
---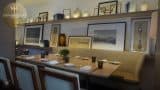 Anatol – Mexico City
Neighborhoods: Mexico City, Polanco
Service options: Table Service
Cuisine(s): Gourmet Mexican
Rating: 4.5 stars Cost: $$$$ . Price: Casual Dining, Casual Gourmet, Formal Dining, Upscale Casual
---
Click the restaurant image to read the review
Temporal – Mexico City
Neighborhoods: La Condesa, Mexico City
Service options: Table Service
Cuisine(s): Eclectic Gourmet
Rating: 4.5 stars Cost: $$$ . Price: Casual Dining, Casual Gourmet
---
Blanco Colima – Mexico City
Neighborhoods: Mexico City, Roma Norte
Service options: Table Service
Cuisine(s): Eclectic Gourmet, Mexican
Rating: 4.5 stars Cost: $$$ . Price: Casual Dining
---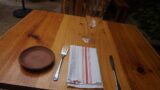 Huset – Mexico City
Neighborhoods: Mexico City, Roma Norte
Service options: Table Service
Cuisine(s): Eclectic
Rating: 4.7 stars Cost: $$$ . Price: Casual Dining, Casual Gourmet
---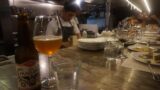 Lardo – Condesa – Mexico City
Neighborhoods: La Condesa, Mexico City
Service options: Table Service
Cuisine(s): Eclectic
Rating: 4.2 stars Cost: $$$$ . Price: Casual Dining, Casual Gourmet
---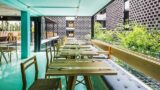 Carlota – Cuauhtémoc – Mexico City
Neighborhoods: Centro Histórico, Mexico City
Service options: Table Service
Cuisine(s): Eclectic Gourmet
Rating: 4.0 stars Cost: $$$$ . Price: Casual Dining, Casual Gourmet, Upscale Casual
---