Restaurant Details
Restaurant Details
La Plazita
Locale: Miraflores
Address: San Fernando 380
Telephone: +51 994 972 336
Restaurant Type: Casual Dining
Cuisine: Eclectic
Service Type: Table Service
Price: $$$
Menu items offered:
Hours:
Sun: 12:30 pm - 5:00 pm, Mon: 12:30pm - 11:30pm, Tue: 12:30pm - 11:30pm, Wed: 12:30pm - 11:30pm, Thu: 12:30pm - 11:30pm, Fri: 12:30pm - 11:30pm, Sat: 12:30pm - 11:30pm

Review by: Ollie O
Rating: 4.3 stars
Review Date: 11/23/2018
Review by: Ollie O
Rating: 4.3 stars
Review Date: 11/23/2018

Bulk of seating in a pleasant covered open-air terrace.
Interesting menu with dishes spanning the globe
Lot's of popular international street-food items

Service lags during peak hours
Service sometimes lags when it's not busy
Not open on Sunday evenings
With a menu that's resembles a 50-day world tour, traversing continents in a short trip from one menu item to the next, La Plazita successfully elevates dish after dish of classic comfort food from around the world to gourmet status.
It has all the mandatory international pop-foods, pizza, burgers and. But doesn't ignore the Peruvian classics. There's still ceviche, tiraditos, causes and a Lomo Saltado (steak stir-fry) to make Limeños feel at home.
And then it meanders through plenty of international favorites from every corner of the globe. There's a middle-eastern mezze platter. There are empanadas and a pastel de choclo from southern neighbors Argentina and Chile. A minestrone soup from Italy. A trip to the USA with the classic Caesar Salad and one to France with the classic steak au poivre (Pepper Steak).
I could keep naming the international laundry list of dishes, but it would begin to sound more like roll-call at a United Nations assembly. Even more amazing than the diversity of the menu is that the cooks somehow manage to a do a better-than-admirable job executing this culinary menagerie.
The ambiance at La Plazita is ultra-casual with most of the seating being in the large covered, open-air terrace at the front of the restaurant.
There were a few lapses in service at my latest visit in mid-2017, but nothing approaching a disappointment.
Overall the execution of this highly diverse menu was impressive, making La Plazita a must-go destination for local diners seeking to expand their horizons beyond Peru's borders.
Check out these Similar Restaurants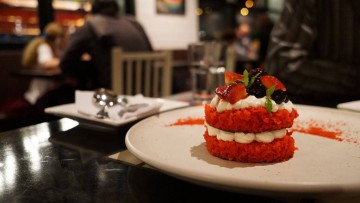 Av. el Sol 175
RATING: 83%
Cuisine(s):
Eclectic Gourmet .
Cost:
$$$ .
Restaurant type:
Casual Dining
Summary: La 73 attempts to deliver some fancy gourmet-type food in an ultra-casual setting. Kudos to La 73 for delivering something a bit unique. But with average to below execution of some of the dishes, La 73 falls way short of being in the upper echelon of …