El Pan de la Chola
Miraflores, Santa Cruz
Ambience

85%

Service

85%

Food

90%

Creativity

90%

Value

80%
Restaurant Details
El Pan de la Chola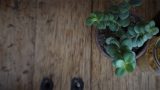 Locale: Miraflores, Santa Cruz
Address: Av. Mariscal La Mar 918
Telephone: +51 1 2212138
Restaurant Type: Cafe, Casual Dining
Cuisine: Coffee - Bread - Pastries
Service Type: Table Service
Price: $$$
Menu items offered: Breads and Pastries, Coffee, Espresso, Sandwiches
Hours:
Sun: 9:00 am - 7:00 pm, Mon: 8:00 am - 10:00 pm, Tue: 8:00 am - 10:00 pm, Wed: 8:00 am - 10:00 pm, Thu: 8:00 am - 10:00 pm, Fri: 8:00 am - 10:00 pm, Sat: 8:00 am - 10:00 pm

Review Summary
El Pan de Chola is a new-breed of sandwich shop offering fresh-baked bread with interesting new ingredients. It's the first of its kind in Lima. It's a great place for a coffee and a muffin or tasty sandwich with high-quality ingredients. Slightly expensive, but well worth it.

The full review for El Pan de la Chola
Review by: Ollie O Rating: 4.3 stars Review Date: 11/24/2018
Sandwiches have become a part of Lima's culinary heritage with now notorious "sangucherías" like El Chinito and La Lucha having established themselves as a chapter in Peru's gastronomic history book.
But all of these sangucherías have followed the same major format, utilizing the same old ingredients that have been used for six decades … until now.
La Pan de la Chola is defying tradition with a fresh new approach to sandwiches. And, as the name of the restaurant implies, it all starts with the bread. Instead of using the various rolls and buns that have been the hallmark of the Peruvian sandwich since the genre's inception, El Pan de la Chola, is using slices of beautiful crusty, yeast-based and whole-grain breads to make their sandwiches. And they're upping the game with the use of unique toppings and condiments.
The result of this new approach is a collection of tasty sandwiches that are nothing like the traditional sandwiches Limeños have become accustomed to.
Sandwiches with international flare using ingredients like feta cheese, sundried tomatoes, grilled eggplant and rúcula (rocket). And they grill them on a panini grill. That's bound to make any Italians and Cubans looking for a familiar sandwich happy.
What this menu lacks in quantity of items it makes up for in quality.
The décor is immensely more pleasing than your typical, or even atypical sandwich shop.
The place doubles as a café since they bake a variety of pastries, mostly muffins, nut breads and sweet rolls and offer some delicious coffee.
You can also buy any of their baked goods, including loaves of that delicious bread to go.
As you might expect, all this quality and pleasant ambiance comes at a price. The sandwiches at El Pan de la Chola will cost you about twice what a sandwich costs at the other sandwich shops. But with the superior quality and ambiance, these sandwiches, still reasonably priced, are worth what you pay for them.
Bottom line, for a new and positive take on a sandwich, visit El Pan de la Chola.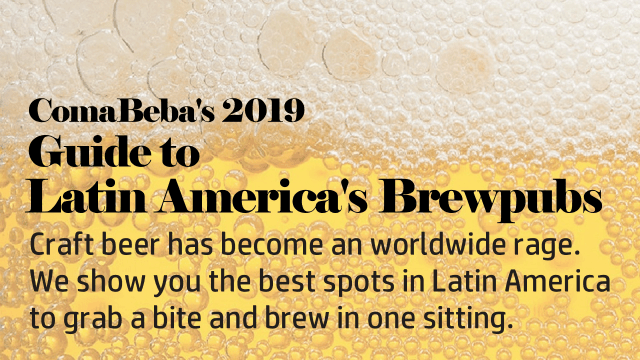 Click the restaurant name or image to read the review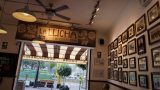 La Lucha – Lima
Neighborhoods: Chorillos, Independencia, Miraflores, San Miguel
Service options: Table Service, Take-out
Cuisine(s): Sandwiches
Rating: 4.3 stars Cost: $$$ . Price: Fast Casual
---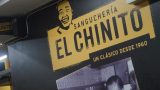 El Chinito Sanguchería – Lima
Neighborhoods: Barranco, Miraflores, San Borja, Santiago de Surco
Service options: Counter Service, Take-out
Cuisine(s): Sandwiches
Rating: 3.8 stars Cost: $$ . Price: Fast Casual, Sandwich shop
---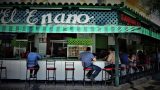 El Enano – Lima
Neighborhoods: Miraflores
Service options: Counter Service, Take-out
Cuisine(s): Sandwiches
Rating: 4.0 stars Cost: $$ . Price: Fast Casual, Sandwich shop
---
Click the restaurant image to read the review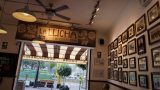 La Lucha – Lima
Neighborhoods: Chorillos, Independencia, Miraflores, San Miguel
Service options: Table Service, Take-out
Cuisine(s): Sandwiches
Rating: 4.3 stars Cost: $$$ . Price: Fast Casual
---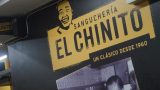 El Chinito Sanguchería – Lima
Neighborhoods: Barranco, Miraflores, San Borja, Santiago de Surco
Service options: Counter Service, Take-out
Cuisine(s): Sandwiches
Rating: 3.8 stars Cost: $$ . Price: Fast Casual, Sandwich shop
---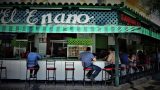 El Enano – Lima
Neighborhoods: Miraflores
Service options: Counter Service, Take-out
Cuisine(s): Sandwiches
Rating: 4.0 stars Cost: $$ . Price: Fast Casual, Sandwich shop
---