El Mercado
Chacarilla-Santa Cruz, Miraflores
Ambience

90%

Service

90%

Food

90%

Creativity

95%

Value

90%
Restaurant Details
El Mercado
Locale: Chacarilla-Santa Cruz, Miraflores
Address: Av Hipólito Unanue 203
Telephone: +51 1 2211322
Restaurant Type: Casual Dining
Cuisine: Eclectic, Seafood
Service Type: Table Service
Price: $$$
Menu items offered: Ají de Gallina, Braised Meat Dishes, Causas, Ceviche - Aquachile, Coffee, Fried Calamari, Grilled Steaks, Pasta, Rice - Risotto, Roasted Meat Dishes, Salads, Seafood, Seafood Stew, Soups, Spring Rolls, Stuffed Clams au Gratín, Sushi, Tacos, Tapas - Finger Foods - Snacks, Tiraditos, Veal cutlets - Milanesas
Hours:
Sun: 12:30 pm - 5:00 pm, Mon: Closed, Tue: 12:30 pm - 5:00 pm, Wed: 12:30 pm - 5:00 pm, Thu: 12:30 pm - 5:00 pm, Fri: 12:30 pm - 5:00 pm, Sat: 12:30 pm - 5:00 pm

Review Summary
El Mercado is fun. The food's delicious. The menu is unique. I can't wait to go back!

The full review for El Mercado
Review by: Ollie O Rating: 4.6 stars Review Date: 11/23/2018
When most people lay back in a big cushiony easy chair with a cognac in hand, they read some new novel or a glitzy fashion magazine. But I'm a foodie. So, when I'm when I'm in the mood for a little light reading, I pick up the menu at El Mercado and browse up and down the colorful pages, thinking just how wonderful it would be to be sitting at that bar watching those cooks work their magic on those dishes.
I work through all sorts of scenarios, thinking to myself what the perfect meal would be the next time I have the opportunity to experience culinary artist Rafael Osterling's restaurant in Miraflores.
I had sushi, tiraditos and ceviche on my last visit. So, I think I'll go for something hot and crispy on my next visit. Maybe the potato and seafood fritters. Yum. Or that crispy anchovy sandwich. Even, better, that glazed pork belly sandwich. Double-yum! But maybe I should start off with those Vietnamese spring rolls. They really sound tasty.
My dining companion might want something a bit more Peruvian. That's okay. That menu has plenty of classic Peruvian plates too. A causa platter or two, several tacu tacu plates, sushi and Peruvian tiraditos. They're all there. And each one bears Osterling's unique gourmet stamp, despite being served in an ultra-casual atmosphere.
The waiters and waitresses are friendly. A top-notch crew that will bend over backwards to make you happy.
El Mercado is fun. The food's delicious. The menu is unique.
I only have one complaint. Why do they close at 5 pm? Food this good deserves to be served until midnight or later.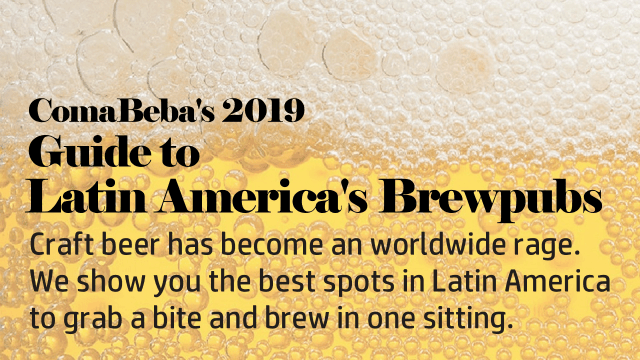 Click the restaurant name or image to read the review
La Rosa Nautica – Lima
Neighborhoods: Miraflores
Service options: Table Service
Cuisine(s): Seafood
Rating: 4.4 stars Cost: $$$$ . Price: Upscale Casual
---
La Mar – Lima
Neighborhoods: Miraflores
Service options: Table Service
Cuisine(s): Seafood
Rating: 4.5 stars Cost: $$$ . Price: Casual Dining
---
Fiesta – Lima
Neighborhoods: Miraflores
Service options: Table Service
Cuisine(s): Latin American Cuisine, Peruvian
Rating: 4.2 stars Cost: $$$$ . Price: Upscale Casual
---
Amoramar – Lima
Neighborhoods: Barranco
Service options: Table Service
Cuisine(s): Eclectic Gourmet, Seafood
Rating: 4.5 stars Cost: $$$$ . Price: Seafood Restaurant, Upscale Casual
---
Pescados Capitales – Lima
Neighborhoods: Miraflores, San Borja, Santa Cruz
Service options: Table Service
Cuisine(s): Seafood
Rating: 4.3 stars Cost: $$$ . Price: Casual Dining, Seafood Restaurant
---
Click the restaurant image to read the review
Fiesta – Lima
Neighborhoods: Miraflores
Service options: Table Service
Cuisine(s): Latin American Cuisine, Peruvian
Rating: 4.2 stars Cost: $$$$ . Price: Upscale Casual
---
Amoramar – Lima
Neighborhoods: Barranco
Service options: Table Service
Cuisine(s): Eclectic Gourmet, Seafood
Rating: 4.5 stars Cost: $$$$ . Price: Seafood Restaurant, Upscale Casual
---
La Rosa Nautica – Lima
Neighborhoods: Miraflores
Service options: Table Service
Cuisine(s): Seafood
Rating: 4.4 stars Cost: $$$$ . Price: Upscale Casual
---
Pescados Capitales – Lima
Neighborhoods: Miraflores, San Borja, Santa Cruz
Service options: Table Service
Cuisine(s): Seafood
Rating: 4.3 stars Cost: $$$ . Price: Casual Dining, Seafood Restaurant
---
La Mar – Lima
Neighborhoods: Miraflores
Service options: Table Service
Cuisine(s): Seafood
Rating: 4.5 stars Cost: $$$ . Price: Casual Dining
---