Ambience

85%

Service

90%

Food

85%

Creativity

90%

Value

80%
Restaurant Details
Julieta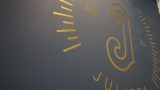 Locale: San Isidro
Address: Calle Los Libertadores 260
Telephone: +51 1 7516602
Restaurant Type: Cafe, Casual Dining
Cuisine: Coffee - Bread - Pastries
Service Type: Table Service
Price: $$$
Menu items offered: Breads and Pastries, Brownies or Blondies, Carrot Cake, Chocolate Cake, Coffee, Cookies, Crêpes, Egg Breakfast Dishes, Espresso, Pasta, Pizza, Salads, Scrambled Eggs, Soups
Hours:
Sun: 9:00 am - 3:00 pm, Mon: 7:30 am - 9:00 pm, Tue: 7:30 am - 9:00 pm, Wed: 7:30 am - 9:00 pm, Thu: 7:30 am - 9:00 pm, Fri: 7:30 am - 9:00 pm, Sat: 7:30 am - 9:00 pm

Review Summary
A comfy ambiance with a clean and stylish décor, a friendly barista, and a surprisingly diverse menu of finger foods, cheese platters, other appetizers, salads and sandwiches. Pastas and pizzas in the evenings only.

The full review for Julieta
Review by: Ollie O Rating: 4.4 stars Review Date: 11/24/2018
The options for a great cup of coffee in San Isidro were surprisingly scarce until recently. Of course, there's a Starbucks in that neck of the woods and a nice fast-casual format café called Comma, but they both have that modern-day cookie-cutter chain-café personality that lacks any degree of heart or soul. And a couple of blocks away there's a café adjoining the Swissotel that's acceptable, but, no surprise, has the look and feel of a hotel café.
On my latest array of dining adventures in Lima, a Canadian friend and I had rented bicycles and happened to pass this little café called Julieta while on a bike outing in San Isidro. It looked quaint and it had a legitimate espresso machine. It appeared to have a legitimate menu, too, including eggs for breakfast.
It was mid-morning, so we altered our plans and decided to try out the food and coffee at Julieta Café.
They have eggs done all ways. I chose the American breakfast and elected to have mine poached. The eggs were accompanied by two slices of untoasted whole-wheat bread, some butter and jam, a glass of fresh squeezed orange juice and a cup of coffee. Everything very nice, although I'd have been more impressed had they buttered that bread and grilled it before serving it.
The have salads and sandwiches. And then in the evening, they up the ante by adding a few Italian dishes. Lasagna, ravioli and small pizzas. Hope to try them all on a visit soon in the evening.
The coffee was good. Local, organic, single-origin.
The décor is really comfortable. Everything aesthetically pleasing to the max. And our server, doubling as a barista, was effective, but also friendly. Look at the big smile on that pretty girl.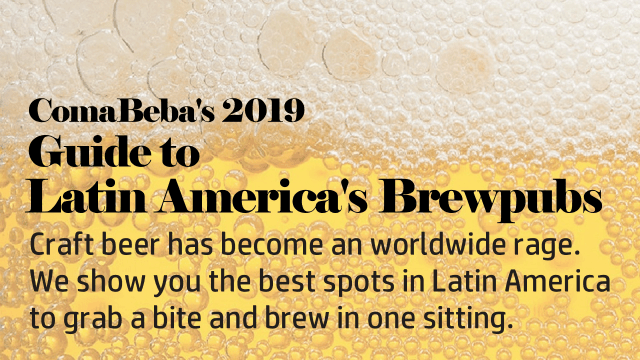 Click the restaurant name or image to read the review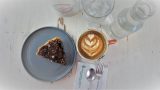 Ana Avellana – Lima
Neighborhoods: Miraflores, Santa Cruz
Service options: Table Service
Cuisine(s): Coffee - Bread - Pastries
Rating: 4.3 stars Cost: $$$ . Price: Cafe, Casual Dining
---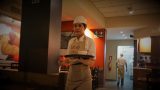 Lucio Caffè – Lima
Neighborhoods: Miraflores
Service options: Table Service
Cuisine(s): Coffee - Bread - Pastries, Sandwiches-Salads
Rating: 4.3 stars Cost: $$$ . Price: Cafe, Casual Dining
---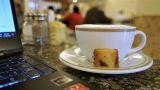 San Antonio – Lima
Neighborhoods: Miraflores
Service options: Table Service
Cuisine(s): Coffee - Bread - Pastries, Sandwiches-Salads
Rating: 4.0 stars Cost: $$$ . Price: Cafe, Casual Dining
---
Homemade – Lima
Neighborhoods: Miraflores
Service options: Table Service
Cuisine(s): Coffee - Bread - Pastries
Rating: 4.3 stars Cost: $$$ . Price: Cafe, Casual Dining
---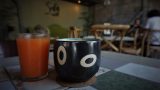 Sofa Café – Lima
Neighborhoods: Barranco, Miraflores
Service options: Table Service
Cuisine(s): Coffee - Bread - Pastries
Rating: 4.2 stars Cost: $$$ . Price: Cafe, Casual Dining
---
Click the restaurant image to read the review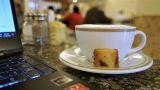 San Antonio – Lima
Neighborhoods: Miraflores
Service options: Table Service
Cuisine(s): Coffee - Bread - Pastries, Sandwiches-Salads
Rating: 4.0 stars Cost: $$$ . Price: Cafe, Casual Dining
---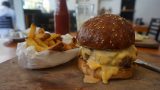 Café A Bistro – Lima
Neighborhoods: San Isidro
Service options: Table Service
Cuisine(s): Burgers, Sandwiches-Salads
Rating: 4.3 stars Cost: $$$ . Price: Casual Dining
---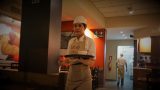 Lucio Caffè – Lima
Neighborhoods: Miraflores
Service options: Table Service
Cuisine(s): Coffee - Bread - Pastries, Sandwiches-Salads
Rating: 4.3 stars Cost: $$$ . Price: Cafe, Casual Dining
---
Homemade – Lima
Neighborhoods: Miraflores
Service options: Table Service
Cuisine(s): Coffee - Bread - Pastries
Rating: 4.3 stars Cost: $$$ . Price: Cafe, Casual Dining
---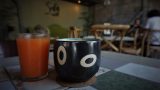 Sofa Café – Lima
Neighborhoods: Barranco, Miraflores
Service options: Table Service
Cuisine(s): Coffee - Bread - Pastries
Rating: 4.2 stars Cost: $$$ . Price: Cafe, Casual Dining
---