Ambience

90%

Service

90%

Food

90%

Creativity

90%

Value

90%
Restaurant Details
Sottovoce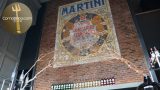 Locale: Vitacura
Address: Nueva Costanera 3900
Telephone: +56 2 2231 3427
Restaurant Type: Casual Dining
Cuisine: Italian
Service Type: Table Service
Price: $$$$
Menu items offered: Breads and Pastries, Carpaccios - Tartares, Coffee, Espresso, Grilled Steaks, Ice Cream, Molten Chocolate Lava Cake, Panna Cotta, Salads, Seafood, Tiramisu
Hours:
Sun: 12:00 pm - 5:00 pm, Mon: 12:00 pm - 4:00 pm, 7:30 pm - 12:00 am, Tue: 12:00 pm - 4:00 pm, 7:30 pm - 12:00 am, Wed: 12:00 pm - 4:00 pm, 7:30 pm - 12:00 am, Thu: 12:00 pm - 4:00 pm, 7:30 pm - 12:00 am, Fri: 12:00 pm - 4:00 pm, 7:30 pm - 12:00 am, Sat: 12:00 pm - 4:00 pm, 7:30 pm - 12:00 am

Review Summary
Sottovoce has a sleek, sexy décor with an Italian accent and an army of waiters that provide attentive and friendly service. With high-quality imported ingredients and a well-executed menu chock-full of Italian classics and few original dishes, Sottovoce stands as the best upscale restaurant in Santiago offering Italian cuisine.

The full review for Sottovoce
Review by: Ollie O Rating: 4.5 stars Review Date: 05/19/2019
After close to a decade of a barrage of U.S. franchise restaurants dominating the entry of foreign brands into the Santiago restaurant landscape there's a new trend in franchise restaurants. The city is now seeing international franchises from countries other than the United States popping up like tulips in Holland. French restaurants Eric Kayser and Le Pain Quotidien have arrived from France, with an emphasis on baked breads. In the steakhouse genre, Lima-based Carnal Prime, Brazilian steakhouse brand, Rubaiyat, and Argentina-based La Cabrera have upped the ante with new steakhouse entries in Santiago.
Other restaurant brands from Peru, including Gaston Acurio's ode to Peruvian comfort-food, Panchita, and the very popular street-food gastropub, Jeronimo, have been well-received by Santiago diners.
And, Italian chain Vapiano arrived on the scene to offer an affordable pasta and pizza in a fast-casual dining format that made Italy's pop-food classics available to the masses.
But until now, there was no high-end upscale Italian dining available to diners willing to pay the price for authentic Italian cuisine at the highest level.
It should come as no surprise that the latest addition of restaurants offering Italian cuisine comes from neighboring Buenos Aires in Argentina, a city with deep Italian roots.
There are two upscale restaurants in Buenos Aires offering Italian cuisine that cater to the city's affluent residents with locations in upscale Retiro, Recoleta and Puerto Madero. One of those upscale Italian eateries is Sottovoce.
Now, Santiaguinos can enjoy the look, feel and cuisine of Argentina's Sottovoce without booking a flight to Buenos Aires.
A local restaurateur has partnered with the owners and executive chef at Sottovoce in Buenos Aires to bring Sottovoce to an exclusive location in Santiago in Vitacura's high-end shopping mall, Casa Costanera.
But is the Sottovoce in Vitacura as good as the two Sottovoce locations in Buenos Aires? I've dined many times at both locations in Buenos Aires, and I can say unequivocally that the new Sottovoce in Santiago is not only as good as the flagship restaurants in Buenos Aires, it's better. And it's better in several ways.
The owners of the Sottovoce in Vitacura spared no expense in designing and decorating the restaurant in Santiago. It's elegant and sophisticated, but at the same time, comfortable and unassuming. It's a clean contemporary look with an Italian personality.
The waiters are amiable, well-trained and efficient. Service was nearly flawless on a recent visit. And the manager watched the floor like a hawk and made sure every patron was attended to.
The food? In my not so humble opinion, it's better than at the Sottovoce restaurants in Buenos Aires.
Regrettably, restaurateurs and chefs in Argentina are faced with limited availability of quality imported products. And quality imported ingredients are essential to the elaboration of authentic Italian cuisine. There is no substitute for the high-quality imported cheeses from northern Italy. Nor for the rice used in the emblematic risottos of Italian cuisine. Yet that's exactly what you receive in the Buenos Aires .., a local substitute that's miles from being anything similar to the Italian products being emulated.
As a result, even the city's most celebrated restaurants, including Sottovoce, not only fail to hit the bull's eye, they miss the entire target.
The Sottovoce in Vitacura isn't faced with these limitations. So, the restaurant offers a respectable Grana Padano cheese, a delicious imported Serrano ham, and spares no expense producing a menu full of excellent Italian dishes.
On my visit to Sottovoce I had the Pappardelle with Lamb Ragú. Although I personally prefer pappardelle that's a bit less thick than this one, that's a matter of personal preference. Pappardelle, Italy's thickest sheet pasta, is often served with a bit more bite than other flat pastas such as fettuccini or tagliatelle.
The ragú was interesting. Slightly sweet. I was offered a bit of a spicy pepper-oil that I added to the pasta to perfectly compliment the sweet ragú.
Despite the haughty location, trendy décor, and excellent service, the cost of dining at Sottovoce is surprisingly reasonable. We found the prices to be very similar to those at Le Due Torri, the most comparable Italian restaurant in Santiago.
Is Sottovoce in Vitacura Latin America's best high-end Italian restaurant? The jury's still out. I'll need to sample a few more dishes to be able to confidently cast a vote. But based on my first experience at this new restaurant it's certainly in the running, and for now, stands head and shoulders above all the other upscale choices for Italian cuisine in Santiago.