Chipe Libre
Barrio Lastarria
Ambience

90%

Service

90%

Food

85%

Creativity

95%

Value

95%
Restaurant Details

Restaurant Details

Chipe Libre

Locale: Barrio Lastarria
Address: José Victorino Lastarria 282
Telephone: +56 2 2664 0584
Restaurant Type: Casual Dining
Cuisine: Chilean, Peruvian
Service Type: Table Service
Price: $$$
Menu items offered: Braised Meat Dishes, Carpaccios - Tartares, Ceviche - Aquachile, Coffee, Empanadas, Espresso, Grilled Steaks, Oysters (on the half-shell), Pasta, Roasted Meat Dishes, Salads, Sandwiches, Seafood, Soups, Suspiro Limeño, Tapas - Finger Foods - Snacks
Hours:
Sun: Closed, Mon: 12:30 pm - 12:30 am, Tue: 12:30 pm - 12:30 am, Wed: 12:30 pm - 12:30 am, Thu: 12:30 pm - 12:30 am, Fri: 12:30 pm - 12:30 am, Sat: 12:30 pm - 12:30 am




Review SummaryChipe Libre is Santiago's top gastropub. The specialty of the house is pisco and they serve up more than 80 different varieties from both Chile and Peru. Combine the city's best pisco sours with a menu of well-executed Peruvian classics and you have winning formula.

The full review for Chipe Libre
Review by: Ollie O Rating: 4.6 stars Review Date: 12/13/2018
We've repeatedly said that unique and high-quality dining experiences are hard to come by in Santiago. But the owners of Chipe Libre and sister restaurant, Bocanariz, next door, understand what today's dining consumers are seeking and have done a fabulous job of satisfying that demand. The official unabridged name for this place is Chipe Libre – Republica Independente de Pisco. The concept is to take two sister nations, Chile and Peru, joined by a common border, and a common love of the national distilled liquor of both countries, pisco, and create a culinary and "mixological" adventure around this theme.
They combined the two nations' names "Chile" and "Peru" to form the word "Chipe" and then melded the food of both regions into an interesting menu that the well-trained staff of cooks execute flawlessly. The décor is creative, fun and tasteful. There's a long, long bar along one wall to encourage imbibing of alcohol beverages and a large dining room and outdoor terrace for dining guests.
They have an extensive list of cocktails they have created around the Chipe Libre theme. The most popular are the variations on the famed drink from both regions, the pisco sour. They have collected more than 80 varieties of pisco from both nations and offer sampler-sized combos so that patrons can sample the various brands of pisco. The sommelier is well-versed in the history, manufacture and use of pisco and the unique characteristics of the various makes of pisco the bar offers. Just sitting at the bar and sampling a few portions of the pisco is an educational experience (and one that might get you just a little tipsy).
Although even most Chileans would admit that the highest quality brands of pisco originate in Peru, the topic is still the subject of a rather intense rivalry. And although the pisco you buy in the grocery stores in Chile clearly don't hold a candle to most Peruvian piscos, there are some outstanding piscos among those 80 that sit on the shelf behind the bar at Chipe Libre. For smooth drinking pisco straight from the shot glass (or from the bottle if you are a bit unrefined, as I am) my personal favorite happens to be made in Chile. The name is WAQAR. But pisco, like tequila, or any other distilled spirit for that matter, is very much a matter of personal taste. So I'd urge you to let the bartender or sommelier taking you through range of possibilities with a variety of different brands from the two countries and you pick your favorite. Just make sure you're not driving!
Pisco is bit like tequila. If you drink the cheap stuff it's the worst drink in the world. But if you invest in a high-quality pisco, it's like drinking a 15-year-old scotch or a swig of Patron tequila. Now just like tequila, you're not going to put a pisco made for sipping into your pisco sour (a pisco sour is basically a whiskey sour, using pisco). For a pisco, the El Gobenador 40 is plenty good.
But if you're a scotch, American whiskey, or tequila aficionado, I urge you to try a Pisco vuelo. What you see in our slideshow is an excellent variety of Chilean piscos that fully exhibit the range of the country's best piscos. That's an Ovalle-40 (an aged pisco, thus the amber color), a triple-distilled Control-40, the Lapostolle double-distilled pisco from the producer of Chile's most celebrated wines (Lapostolle's 2005 Clos Apalta red-blend was chosen the #1 Wine in the World by Wine Spectator in 2008) , and the award-winning, Waqar, my personal favorite.
Yes, Chipe Libre is a fun and interesting place to drink. But don't forget to sample a few items off the food menu while you're there. I've had food in more than a handful of Latin American countries. I've stated my love for Mexican cuisine more than a few times on this website. But the cuisine of Peru that makes up the majority of this menu is right there at the top of the list when comes to great food. And even a Chilean would admit that Peruvian cuisine is the most unique and delicious of all the indigenous cuisines in South America.
Chipe Libre has created a menu full of unique creations based on traditional Peruvian and Chilean cuisine. They offer a whole page of hot and cold appetizers, including ceviche, and a variety of meat and fish dishes that are among the best you can find in Santiago.
For our review we had a variety of ceviches (also called cebiches), all very good, and a variety of the main-courses dishes. The food on this menu is very rustic. Lots of braised meats, some classic Peruvian saltados (stir-fries), and a few sandwiches. All of it is very good but this is clearly casual comfort food. There's nothing remotely gourmet on this menu, although the desserts certainly approach gourmet status.
The most popular appetizers are the tabla de causas (an emblematic Peruvian dish of flavored mashed potatoes topped with chopped seafood, chicken or beef) or any of the ceviches. For the main course, I'd recommend the beef saltado, the plateada braseada (pot roast), the grilled octopus or the plateada (braised roast beef) or chicharron (roasted pork with a crispy skin) sandwiches. Vegetarians will like the lasaña de berenjenas (egglplant lasagna)
If I had to choose one place in all of Santiago that is a "must go" for experience, food and libations, it would surely be Chipe Libre – Republica Independente de Pisco. It's conveys the Chilean spirit in a vivid and fun way.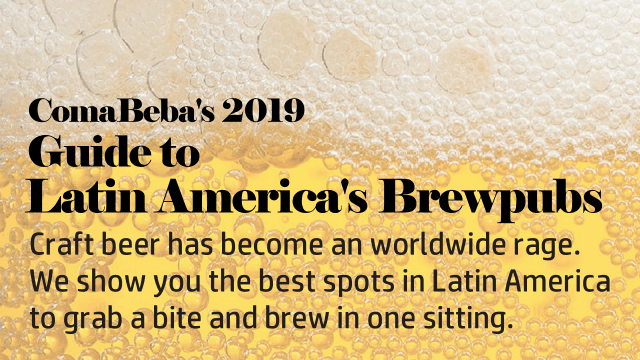 Click the restaurant image to read the review
Confitería Torres – Santiago
Neighborhoods: Downtown (El Centro), Las Condes
Service options: Table Service
Cuisine(s): Chilean
Rating: 4.5 stars Cost: $$$ . Price: Casual Dining
---
Panchita – Santiago
Neighborhoods: Vitacura
Service options: Table Service
Cuisine(s): Peruvian
Rating: 4.5 stars Cost: $$$$$ . Price: Casual Dining, Family Dining
---
Vendetta – Santiago
Neighborhoods: Downtown (El Centro), Las Condes
Service options: Table Service
Cuisine(s): Chilean
Rating: 4.5 stars Cost: $$$ . Price: Casual Dining
---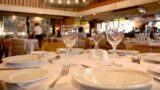 Eladio – Santiago
Neighborhoods: Providencia
Service options: Table Service
Cuisine(s): Chilean
Rating: 4.2 stars Cost: $$$ . Price: Casual Dining
---
Click the restaurant image to read the review
Confitería Torres – Santiago
Neighborhoods: Downtown (El Centro), Las Condes
Service options: Table Service
Cuisine(s): Chilean
Rating: 4.5 stars Cost: $$$ . Price: Casual Dining
---
Vendetta – Santiago
Neighborhoods: Downtown (El Centro), Las Condes
Service options: Table Service
Cuisine(s): Chilean
Rating: 4.5 stars Cost: $$$ . Price: Casual Dining
---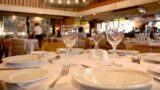 Eladio – Santiago
Neighborhoods: Providencia
Service options: Table Service
Cuisine(s): Chilean
Rating: 4.2 stars Cost: $$$ . Price: Casual Dining
---
Panchita – Santiago
Neighborhoods: Vitacura
Service options: Table Service
Cuisine(s): Peruvian
Rating: 4.5 stars Cost: $$$$$ . Price: Casual Dining, Family Dining
---