Aquí Está Coco
Providencia, Santiago
Ambience

90%

Service

85%

Food

85%

Creativity

85%

Value

80%
Restaurant Details
Aquí Está Coco
Locale: Providencia, Santiago
Address: La Concepcion 236
Telephone:
Restaurant Type: Casual Dining, Seafood Restaurant
Cuisine: Seafood
Service Type: Table Service
Price: $$$$
Menu items offered:
Hours:
Mon-Fri: 1pm to 3pm, 7pm to 11pm, Sat: 1pm to 3pm, 8pm to 11pm, Sun: Closed (see warning review's conclusion)

Review Summary
Aqúi Está Coco is seafood with a Chilean (and a bit of Peruvian) flair in a beautifully decorated space. It's unique personality makes it a destination every diner must visit in Santiago at least once.

The full review for Aquí Está Coco
Review by: Ollie O Rating: 4.5 stars Review Date: 04/15/2015
If there is one restaurateur in all of Santiago that presents seafood with a Chilean (albeit heavily Peruvian) flair, it's the notorious "Coco" Pacheco. For more than three decades Chef Coco has been adding his personal touch to a wide variety of seafood dishes. The relatively new restaurant location on La Concepcion in Providencia adds a sophisticated ambiance to the culinary offerings, and is much nicer than the digs at the previous location which was destroyed by fire.
Whether you're seated in the large main dining room or one of the seven smaller dining areas, each decorated with a unique theme, the ambiance will be just as impressive as the food that will follow.On my last visit I sat at the ceviche bar and had an assortment of ceviche, each distinct in its preparation and each delicious in its own right. My companion and I moved to a table in the main dining room. I elected to try the paella style Coco Rice for the main course. An assortment of shell fish was served up on a bed of spicy rice brimming with the flavor of the sea. Probably not as good as they do it Spain, but certainly as good as you'll find in Santiago.The experience at Aquí Está Coco may not rank with your top five dining experiences of all time, but nevertheless, the total experience of a visit to Aquí Está Coco will continue to keep it perched in that list of top five dining spots every traveler and native alike, should experience in Santiago.Take note that like many businesses in Santiago, Aquí Está Coco closes for several weeks during December or January. Reservations are recommended.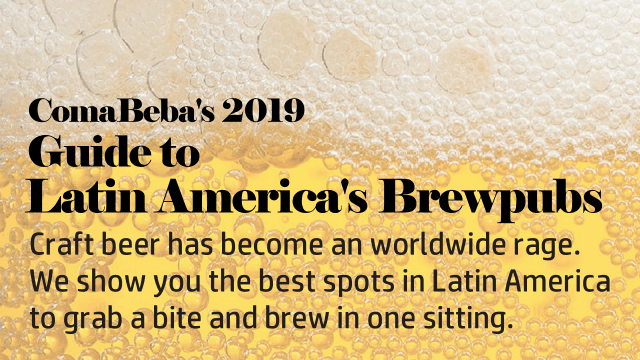 Click the restaurant image to read the review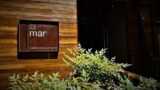 La Mar – Santiago
Neighborhoods: Vitacura
Service options: Table Service
Cuisine(s): Eclectic Gourmet
Rating: 4.4 stars Cost: $$$ . Price: Casual Dining
---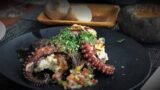 Mestizo – Santiago
Neighborhoods: Vitacura
Service options: Table Service
Cuisine(s): Seafood
Rating: 3.5 stars Cost: $$$$ . Price: Casual Dining
---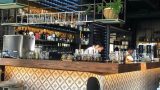 Jeronimo – Santiago
Neighborhoods: Vitacura
Service options: Table Service
Cuisine(s): Eclectic Gourmet
Rating: 4.1 stars Cost: $$$ . Price: Casual Dining
---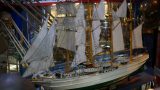 Ocean Pacific's – Santiago
Neighborhoods: Vitacura
Service options: Table Service
Cuisine(s): Seafood
Rating: 3.5 stars Cost: $$$$ . Price: Casual Dining
---
Click the restaurant image to read the review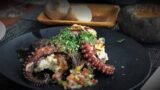 Mestizo – Santiago
Neighborhoods: Vitacura
Service options: Table Service
Cuisine(s): Seafood
Rating: 3.5 stars Cost: $$$$ . Price: Casual Dining
---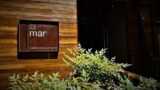 La Mar – Santiago
Neighborhoods: Vitacura
Service options: Table Service
Cuisine(s): Eclectic Gourmet
Rating: 4.4 stars Cost: $$$ . Price: Casual Dining
---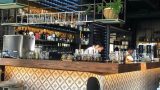 Jeronimo – Santiago
Neighborhoods: Vitacura
Service options: Table Service
Cuisine(s): Eclectic Gourmet
Rating: 4.1 stars Cost: $$$ . Price: Casual Dining
---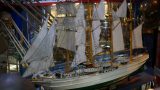 Ocean Pacific's – Santiago
Neighborhoods: Vitacura
Service options: Table Service
Cuisine(s): Seafood
Rating: 3.5 stars Cost: $$$$ . Price: Casual Dining
---