Ambrosía Bistro
Providencia
Ambience

90%

Service

85%

Food

95%

Creativity

95%

Value

90%

Logistics

95%
Restaurant Details
Ambrosía Bistro
Locale: Providencia
Address: Nueva de Lyon 99
Telephone: +56 2 2233-4303
Restaurant Type: Casual Dining, Gastropub
Cuisine: Eclectic
Service Type: Table Service
Price: $$$
Menu items offered: Braised Meat Dishes, Brownies or Blondies, Carpaccios - Tartares, Ceviche - Aquachile, Charcuterie, Cheesecake, Coffee, Empanadas, Hamburgers, Ice Cream, Roasted Meat Dishes, Salads, Sandwiches, Seafood, Smoked Meat Dishes, Tapas - Finger Foods - Snacks
Hours:
Tue-Sat: 12pm to 12am, Sun: Closed, Mon: Closed

Review Summary
Ambrosía Bistro, in Providencia, is the hip, casual version of Santiago's most acclaimed restaurant, Ambrosía. Gourmet cuisine. Reasonable prices. Great experience.

The full review for Ambrosía Bistro
Review by: Ollie O Rating: 4.2 stars Review Date: 12/28/2017
A vibrant culture is not static. Nor is a successful career as a chef. It's been three years since I had the pleasure of dining at Ambrosía in Vitacura, where executive chef, Carolina Bazán, has been raising eyebrows as an aspiring chef and restaurateur. And both Santiago and Chef Bazán have evolved during that three-year period THAT we were developing this website.
Ambrosía Bistro is similar in many ways to that flagship restaurant in suburbs. The most glaring difference is the size of the restaurant.If the weather cooperates, this small bistro can seat about 15 or so diners at tables on the sidewalk and a table for six in the open air overlooking the sidewalk. If weather is not cooperative, there are only room for about eight diners at tables in front of the long bar overlooking the 4x4-meter open-kitchen where a crew of about five chefs, a bartender, a sommelier, and two waiters somehow manage to get all this sophisticated food onto a plate in front of the diners.That bar seats another fifteen diners, all of whom get to closely watch the brigade of cooks going about their business, when, of course, they aren't striking up a conversation with whoever just sat down next to them at this locale for communal grazing.It's comfortable here. Friendly cooks and waiters are attempting to meet every diner's need. There's barely enough room to for the chefs to navigate in that small kitchen yet they and the waiters looking over the shoulders of patrons sitting at the bar, somehow manage the task. It's a bit chaotic when the place is abuzz. A few mistakes are made here and there. But this heightened level of confusion is what makes the place interesting and fun.On a recent visit I sat at the bar facing the open kitchen in front of the bartender, who incidentally, was able to answer many questions about the menu. That's impressive.Some of the menu items are similar to what is offered at the Vitacura restaurant. One example is the Agua de tomates, which pays tribute to the humble tomato. Chef Bazán infuses the flavor from fruits and vegetables into a cool vegetable broth complemented by tasty bits of those fruits and veggies. I had a similar salad featuring strawberries on my prior visit to Ambrosía in Viticura.On this visit to the more casual bistro, I opted for the full carnivoran experience. If you're vegetarian, please look away. My appetizer was the Mollejas de ternera, a sous vide preparation of veal sweetbreads that was then lightly encrusted to provide a contrast in texture to the buttery soft sweetbreads. This was an unusually delicious dish.From the list of main-course items I opted for the "Paleta de cerdo confitado", another sous vide preparation, this time pork shoulder. As with the appetizer, the pork was rendered almost buttery soft by the sous vide process, but this piece of pork was then topped with a crisp "chicharrón", providing a great contrast in texture. The accompanying mustard seeds, sweet potato purée, butter beans and peas (with tiny pea sprouts) were as delicious and they were beautiful, on one of the most impressive examples of presentation I've seen in my visits to hundreds of restaurants in Latin America.How could Chef Bazán top these two courses? Well … she had an extraordinary deconstructed Tiramisu up her sleeve. Unlike a classic Tiramisu, the cake element of this dish only contained the slightest hint of coffee. The taste of the coffee came through in the spots of cream scattered about the dish. I loved it. It was simple and delicious and served at the perfect temperature.So, let's put the pieces together. The food is beautifully plated and tastes just like what you'd get in a fancy restaurant with white tablecloths … but without all the pretense and boredom! It makes you want to come back the next day. It's reasonably priced so that you actually could come back the next day without breaking the piggy bank.Yes. That's Ambrosía Bistro, garnering an overall rating that puts the restaurant among Latin America's elite.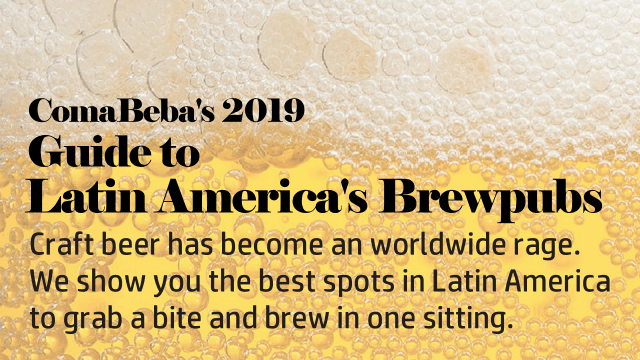 Click the restaurant image to read the review
17° / 56° – Santiago
Neighborhoods: Providencia
Service options: Table Service
Cuisine(s): Eclectic
Rating: 4.2 stars Cost: $$$ . Price: Casual Dining, Gastropub
---
Concha y Toro Wine Bar – Santiago
Neighborhoods: Santiago
Service options: Table Service
Cuisine(s): Chilean, Eclectic
Rating: 4.5 stars Cost: $$$$ . Price: Casual Dining, Gastropub
---
Click the restaurant image to read the review
Concha y Toro Wine Bar – Santiago
Neighborhoods: Santiago
Service options: Table Service
Cuisine(s): Chilean, Eclectic
Rating: 4.5 stars Cost: $$$$ . Price: Casual Dining, Gastropub
---
17° / 56° – Santiago
Neighborhoods: Providencia
Service options: Table Service
Cuisine(s): Eclectic
Rating: 4.2 stars Cost: $$$ . Price: Casual Dining, Gastropub
---