Restaurante 040
Bellavista
Ambience

85%

Service

85%

Food

90%

Creativity

95%

Value

85%

Logistics

90%
Restaurant Details

Restaurant Details

Restaurante 040

Locale: Bellavista
Address: Antonia López de Bello 40
Telephone: +56 (2) 2732 9214
Restaurant Type: Upscale Casual
Cuisine: Eclectic Gourmet
Service Type: Table Service
Price: $$$$$
Menu items offered:
Hours:
Mon-Wed: 7:30pm - 9:00pm, Thu-Sat: 7:30pm - 10:30pm, Sun-Mon: Closed




Review SummaryWhat Restaurante 040 lacks in size or ambiance is countered by an uber-creative tasting menu that takes you on a culinary adventure that's as visually stunning as it is tasty. It's a bit outside the box, but most gastronomic adventurers will relish the opportunity to see now talented chef Sergio Barroso turns a small basement into Willie Wonka's Faux-Chocolate Factory.

The full review for Restaurante 040
Review by: Ollie O Rating: 4.5 stars Review Date: 09/29/2018
Restaurante 040 had been on my radar for two years but we had failed to coordinate the visit to this relatively new fixture on Santiago's restaurant horizon until the fall of 2018. The day of reckoning has now arrived. This restaurant has received accolades from both industry ranking sites and consumer review sites. But would Restaurant 040 make the grade at ComaBeba.com?
This small restaurant is hidden away in the basement of a very small boutique hotel in Santiago's most confused neighborhood, Bellavista. This neighborhood runs the gamut from shady nightclubs to high-end hotels and restaurants. Be forewarned. There's no sign on the exterior of the building indicating that the small restaurant is hidden behind the façade. Only the name of the small eight-room hotel, the Tinto Boutique Hotel, is visible adjacent to the entry up a small flight of stairs. You'll be asked to wait in the small lobby of the hotel before being led to your table. Beware to watch your step as you walk down the steep flight of stairs from the small hotel lobby, making sure not to bump you're head on low flying overhead objects. Make your way through a non-descript portal, into the restaurant's two small dining rooms, accommodating up to about twenty-four diners. This restaurant, although open for just about three years, has already been remodeled more times than it's had birthdays. Originally there were oak tables with matching Queen anne chairs, and café-colored exposed brick walls, with an oak wine-rack. A few months later, the tables and chairs were white with red upholstery. In the latest metamorphosis, the white lacquered 18th century furnishings were scrapped and replaced with sleek contemporary tables and chairs. There's white, white and some more white. And let's not forget the addition of some metallic French bulldogs on each table. Excessively minimalist. Whatever your design preference, at a minimum, it can be said that each version of the dining room was done in good taste. And the two rooms are kept meticulously clean. Service is performed by a young bilingual staff, but a few of the waiters were struggling describing the rather complex menu in English. Something a restaurant with such a complex menu should master. The restaurant only offers a tasting menu of 12 courses, with optional wine pairing. We opted out on the wine pairing on our initial visit. At the time of our September 2018 visit to Restaurante 040, the cost of the 12-course menu without the wine was CLP $39,500 (US$60). That's a bit pricey for Santiago, but not extraordinarily so in light of the uniqueness of this menu and the fact that it was flawlessly executed. Now about the food. I have made it no secret that I'm not a fan of tasting menus, especially when they offer no choices for any of the courses, and no a la carte options are made available as an alternative to the tasting menu. However, I've given high-marks to many Latin American restaurants that offer tasting menus. Chila and Aramburu in Buenos Aires and El Cielo in Bogotá are among that short list of restaurants. Well, now I'm adding 040 to that list. Spanish born, Sergio Barroso, 040's talented chef, has cleverly taken some unique ingredients, most with an Asian personality, and transformed them into savory dishes that look and taste deceptively different than what is expected. Savory dishes like a nigiri are made to resemble ice cream on a stick. Another dish is made to look like iridescent red sushi and sashimi. A delicious cold and sweet orb is modeled into a red rose. A savory dish with blood sausage and paper-thin slivers of filo dough and potatoes are made to look like a fancy French pastry. It's all insanely clever. But more important, every bite of every course, no matter how unusual the appearance, tasted very good. Naturally, some tasted better than others. But overall this highly innovative array of stylistic plating and presentation managed to deliver flavors that were just as unique as they were visually impressive. This menu is an interesting, ingenious, and delicious culinary adventure. It's not well suited for a culinary traditionalist. Those diners would feel more comfortable at The Singular restaurant a few blocks away or at Ambrosía out in the foothills. But for foodies or a gastronomic adventurer, this is the destination.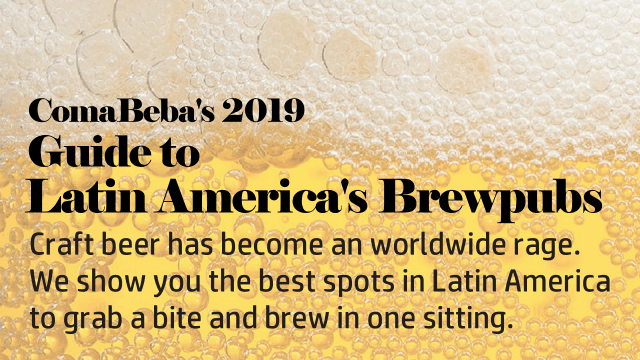 Click the restaurant image to read the review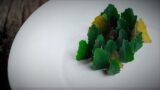 Boragó – Santiago
Neighborhoods: Vitacura
Service options: Table Service
Cuisine(s): Eclectic Gourmet
Rating: 3.5 stars Cost: $$$$$ . Price: Upscale Casual
---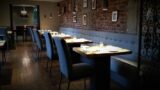 Ambrosía – Santiago
Neighborhoods: Vitacura
Service options:
Cuisine(s): Eclectic Gourmet
Rating: 4.4 stars Cost: $$$$ . Price: Casual Dining, Upscale Casual
---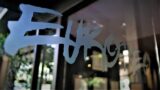 Europeo – Santiago
Neighborhoods: Vitacura
Service options: Table Service
Cuisine(s): Eclectic Gourmet
Rating: 4.7 stars Cost: $$$$ . Price: Formal Dining, Upscale Casual
---
Click the restaurant image to read the review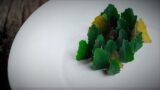 Boragó – Santiago
Neighborhoods: Vitacura
Service options: Table Service
Cuisine(s): Eclectic Gourmet
Rating: 3.5 stars Cost: $$$$$ . Price: Upscale Casual
---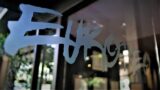 Europeo – Santiago
Neighborhoods: Vitacura
Service options: Table Service
Cuisine(s): Eclectic Gourmet
Rating: 4.7 stars Cost: $$$$ . Price: Formal Dining, Upscale Casual
---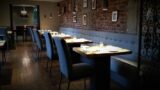 Ambrosía – Santiago
Neighborhoods: Vitacura
Service options:
Cuisine(s): Eclectic Gourmet
Rating: 4.4 stars Cost: $$$$ . Price: Casual Dining, Upscale Casual
---