Urban Burgess
Buenos Aires, Palermo, Palermo Soho
Ambience

65%

Service

75%

Food

80%

Creativity

70%

Value

80%
Restaurant Details
Restaurant Details
Urban Burgess
Locale: Buenos Aires, Palermo, Palermo Soho
Address: Gurruchaga 1417
Telephone: +54 11 6960-3185
Restaurant Type: Casual Dining, Hamburger Restaurant
Cuisine: Burgers
Service Type: Table Service, Take-out
Price: $$
Menu items offered: Hamburgers
Hours:
Tue-Sat: 6pm - 2am, Sun: 6pm - 2am,

Review Summary
Urban Burgess sells beer and burgers. Not much more. A limited offering of burgers with the usual ingredients. Décor is a miss. So is the bright, laminated menu. But the saving grace is that the burger was tasty. As was the beer.

Urban Burgess serves burgers. That's it. Nothing else. Well … let me amend that. They apparently have a chicken sandwich on a bun that they call a burger, that of course isn't, since it's not made with ground beef.
Oh. And they server beer and cocktails, too. There are a bunch of brightly painted murals on the walls inside. That is, assuming you can call black and white, "bright". The tables, chairs and stools are a collection of mismatched items. This place clearly won't win any design awards. That said, it would be perfectly acceptable at night when the sun goes down, after a couple of pints of ale. I chose to eat my burger out front at one of the tables on the sidewalk, which was a pleasant experience. I was able to watch all the people milling around at the steakhouse across the street. And the graphics on the wall outside the bar are better than those indoors. The menu is a cheesy laminated piece of cardboard with bright photos of the burgers that make them appear as if they're made from plastic. And rather than print new menus every time the prices change, they put little white labels over the old prices with new penned-in prices. Tacky. But the saving grace was that I was actually charged the price they penciled in. I'm an adventurer and despite all these minor obstacles, I decided to order the UrbanDaft. Basically, that's a burger with 140 grams of ground-beef with bacon and blue-cheese. Now, I have to say that this is the funkiest looking burger I've experienced in Buenos Aires. As you can see from the photo in the slideshow, it's got a skinny bun and a big, fat meat patty. It looks like a cooking adventure gone awry. But after you get past the initial shock of how odd it looks, and take a bite, the result is a burger that's actually quite delicious. It was juicy. The bacon was crisp. The blue-cheese was mild and flavorful but not overly funky. And that skinny bun actually held it all together. It was a very good burger. A better burger than anywhere in the immediate neighborhood. Which only goes to prove that "looks can be deceiving".


Click the restaurant name or image to read the review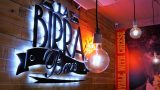 La Birra Bar – Buenos Aires
Neighborhoods: Caballito, Palermo Hollywood
Service options: Counter Service, Take-out
Cuisine(s): Burgers
Rating: 4.3 stars Cost: $$$ . Price: Fast Casual
---
Francis Platz – Buenos Aires
Neighborhoods: Belgrano
Service options: Counter Service, Take-out
Cuisine(s): Burgers
Rating: 4.5 stars Cost: $$ . Price: Brewpub, Fast Casual, Hamburger Restaurant
---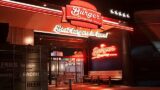 The Burger Company – Buenos Aires
Neighborhoods: Buenos Aires, Palermo, Palermo Soho
Service options: Counter Service, Take-out
Cuisine(s): Burgers
Rating: 4.1 stars Cost: $$ . Price: Casual Dining, Hamburger Restaurant
---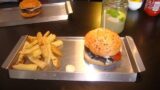 Mi Barrio – Buenos Aires
Neighborhoods: Belgrano, Boedo, Buenos Aires, Colegiales, Downtown - Microcentro, Las Cañitas, Palermo Soho, Recoleta, Villa Crespo, Villa del Parque
Service options: Table Service
Cuisine(s): Burgers
Rating: 3.8 stars Cost: $ . Price: Fast Casual, Hamburger Restaurant
---
Click the restaurant image to read the review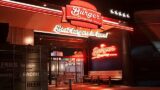 The Burger Company – Buenos Aires
Neighborhoods: Buenos Aires, Palermo, Palermo Soho
Service options: Counter Service, Take-out
Cuisine(s): Burgers
Rating: 4.1 stars Cost: $$ . Price: Casual Dining, Hamburger Restaurant
---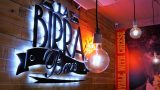 La Birra Bar – Buenos Aires
Neighborhoods: Caballito, Palermo Hollywood
Service options: Counter Service, Take-out
Cuisine(s): Burgers
Rating: 4.3 stars Cost: $$$ . Price: Fast Casual
---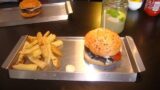 Mi Barrio – Buenos Aires
Neighborhoods: Belgrano, Boedo, Buenos Aires, Colegiales, Downtown - Microcentro, Las Cañitas, Palermo Soho, Recoleta, Villa Crespo, Villa del Parque
Service options: Table Service
Cuisine(s): Burgers
Rating: 3.8 stars Cost: $ . Price: Fast Casual, Hamburger Restaurant
---
Francis Platz – Buenos Aires
Neighborhoods: Belgrano
Service options: Counter Service, Take-out
Cuisine(s): Burgers
Rating: 4.5 stars Cost: $$ . Price: Brewpub, Fast Casual, Hamburger Restaurant
---