Tomo I
Buenos Aires, Downtown - Microcentro
Ambience

%

Service

%

Food

%

Creativity

%

Value

%
Restaurant Details
Tomo I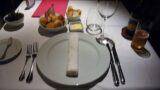 Locale: Buenos Aires, Downtown - Microcentro
Address: Carlos Pellegrini 521
Telephone: +54 11 4326 6695
Restaurant Type: Formal Dining, Upscale Casual
Cuisine: Eclectic Gourmet
Service Type: Table Service
Price: $$$$$
Menu items offered: Crème brûlée, Grilled Steaks, Roasted Meat Dishes, Salads, Seafood, Soups
Hours:
Sun-Sat: 7pm to 12:30am, ,

Review Summary
Highly regarded chef Federico Fialayre's talented staff of cooks creates the closest thing to haute cuisine that can be found in Buenos Aires. The ambiance is a little bit on stale side in this restaurant but the execution was flawless on our recent visit.

The full review for Tomo I
Review by: Ollie O Rating: 4.0 stars Review Date: 08/10/2015
I'd say the average age of the patron in this place was about 60 years old. Were it not for Sammy, a 7 year old sitting at the table next to me, that average would have been closer to 65. The table setting was elegant, with high quality table linens, silverware and glassware.
The waiters were all older men clad in black slacks, black vests and starched white shirts. Very professional. Everything about the service was first-rate. It would have been nice to see a smile from one of the waiters or a little laugh from one of the patrons. But instead it was eerily quiet with some saxophone jazz meandering through the atmosphere faintly in the background.The table setting and décor was reminiscent of La Pecora Nera, which was the closest I'd come to seeing haute-cuisine in Buenos Aires until this night.The evening started with a basket of bread and a pat of butter being promptly dispatched to the table after I ordered. Nothing ground breaking. Just some nut bread and small little dinner rolls. This was promptly followed by an amuse bouche. A spoonful or two of a fresh and slightly chilled soup.I had ordered the cream of fennel root and dill soup. It was silky smooth and just brimming in the licorice-like flavor of the fennel root with aromatic little touches of dill. It was served with a wafer thin slice of a sweet, nutty biscotti that was the perfect foil for the slightly salty soup. This is a crew in the kitchen that knows their stuff.Would the main course be up to snuff? I ordered the tira de asado which is a braised veal short rib. It was fall-apart tender with some pieces being slightly firmer than others. It was delectable. And every bit of fat was buttery and edible. It was glazed in a Malbec wine reduction that was rich and elegant in taste and consistency. The accompaniment was green peas and threads of carrot. I would have hoped for something a little more exciting to accompany this otherwise outstanding dish but the execution was good nevertheless.I requested the trio of crème brûlée for dessert. One with a coffee flavored custard, one with the flavor of dulce de leche and the third one a more classic vanilla variation. The most unique thing about this dessert is that it was extraordinarily short on sugar. I tend to enjoy an occasional dessert that is not overly sweet and this one was quite unique in that respect. The coffee and caramel versions were almost savory with the contrast of that charred little bit of sugar on top. Despite the somewhat boring ambiance of this place the execution of the meal and the service were spot on. Not a single lapse in execution. And I note that as I was leaving, the dining room was almost full and the quite chatter of the crowd created a somewhat better vibe than the somber ambiance I had experienced throughout most of my meal. For traditional fine dining you can now add one more to the list previously solely occupied by La Pecora Nera in our reviews.I note that this was the most expensive restaurant of any we've visited in Buenos Aires. Appetizers average about US$15 to $18 and main course items were in a range from US$22 to $32, almost twice what you'd expect to pay at most restaurants in Buenos Aires. The tasting menu was a whopping $1,100 pesos. That said, the quality of the meal would make Tomo I one of the few restaurants I'd be willing to visit for a multi-course meal.


Click the restaurant name or image to read the review
No items found
Click the restaurant image to read the review
No items found