The Burgers at Lobo Cafe - Buenos Aires
Buenos Aires, Puerto Madero
Ambience

80%

Service

70%

Food

80%

Creativity

70%

Value

75%
Restaurant Details
Restaurant Details
The Burgers at Lobo Cafe - Buenos Aires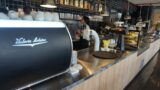 Locale: Buenos Aires, Puerto Madero
Address: Pierina Dealessi 1330
Telephone: +54 11 4517-8195
Restaurant Type: Casual Dining
Cuisine: Burgers
Service Type: Table Service
Price: $$$
Menu items offered: Hamburgers
Hours:
Sun-Sat: 8am to 12am, ,

Review Summary
We decided to give the burger at Lobo Café a chance to earn a spot on our top burgers list in Buenos Aires. And guess what. The burger was one of the most unique and tasty burgers we've encountered.

The full review for The Burgers at Lobo Cafe - Buenos Aires
Review by: Ollie O Rating: 3.8 stars Review Date: 11/15/2016
There are so many upscale restaurants overlooking the harbor in Puerto Madero that finding a steak or plate full of ravioli is certainly not a problem. Finding somewhere to have a quality casual meal in your Bermuda shorts is quite another story. There are a few fast-food restaurants peddling burgers, like Mostaza, and a couple of chain-restaurants like Friday's and Il Gatto. But if you're looking for something that isn't stamped out with a cookie-cutter the options are slim.
That said, I recently stumbled onto Lobo Café while riding my bike on the walkway running along the back side of the harbor in Puerto Madero. And it has the potential to be the best casual dining locale in Puerto Madero. The décor is contemporary with natural stained wood paneling on the front of the counter and tables. All the bench-style seating and chairs are painted stark black and the floors are painted with black lacquer. The café is professionally lighted with spots and chrome pendants. Very pleasant ambiance. Lobo Café is open from 8 am in the morning until midnight, seven days a week, serving breakfast, lunch, dinner, and everything in between. The breakfast menu has a bit more variety than your typical café in Buenos Aires. You can
read our favorable review about breakfast at Lobo Café here
. But we haven't always had favorable experiences for lunch and dinner.
Read our full review
for an overview of all our dining experiences at this restaurant, including a few that missed the mark. But today's restaurant review is based on the single burger they offer on their menu to see whether it can score a spot in our Burger Joint Face-off, where we select the best burgers in Latin America. And for this review we're utilizing our rating system for burger joints which weights the burger and especially the beef much higher than the other rating categories. Good news! The burger at Lobo Café was one of the most unique and tasty burgers we've encountered in Buenos Aires. Typically, a good burger has a medium to coarse grind with a fat content of about 25% to 30%. That's what gives the burger that "juicy" goodness, and when combined with a smearing of mayonnaise or mustard and a big slice of cheese, makes it the best thing in the world between two slices of bread. We constantly complain about restaurants that think they can improve a burger by using a more expensive (and less fatty) cut of meat. Think again! It just doesn't work that way. But at Lobo Café they seem to have moved in that direction without ruining the burger. I don't know what cut of meat they used but it was much leaner than my guideline above. It was an extremely thick grind, almost like hand chopped beef, but had enough fat to bind it. When cooked to a true medium or medium-rare, still slightly pink in the middle, it was still juicy and moist like it should be. It tasted somewhat like a cross between the famed Lomito sandwich at La Rambla and the juicy burgers at Banco Rojo or Perez H that have the higher fat content. The veal patty is smothered in melted gouda cheese, topped with fresh, leafy lettuce and sweet, caramelized onions, and held together by a beautiful domed bun that was fresh and spongy. It was accompanied by a small lettuce salad and baked slices of potatoes sprinkled with herbs. We prefer standard French fries, buttery soft in the middle and crisp and salty on the outside. But these were a better than acceptable substitute. Service is hit or miss at Lobo Café. The waitresses are young and friendly. But not always attentive. Service was good when we had the burger. But we experienced issues with service on our most recent visit. Inconsistent service is, I regret to say, all too common in Buenos Aires. It's more the rule than the exception. Our rating in this review relates solely to our visit for the burger. Read the full restaurant review here for the bigger picture. At US$11.50 (ARS$180) this is one of the more expensive burgers in town. But after all, it is Puerto Madero. That money's better spent on a cheeseburger than a pair of Italian loafers.


Click the restaurant name or image to read the review
No items found
Click the restaurant image to read the review
No items found