Big Sur
Buenos Aires, Palermo Zoológico
Ambience

65%

Service

75%

Food

85%

Creativity

80%

Value

85%
Restaurant Details
Big Sur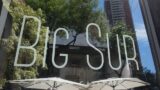 Locale: Buenos Aires, Palermo Zoológico
Address: Av. Cerviño 3596
Telephone: +54 11 4806-7264
Restaurant Type: Casual Dining
Cuisine: Burgers
Service Type: Counter Service, Take-out
Price: $$$
Menu items offered: Hamburgers, Hot Dogs
Hours:
Tue-Sun: 12pm to 12am, Mon: Closed,

Review Summary
Big Sur, with counter service, and uncomfortable seating, earns mediocre scores despite having a good burgers and dogs.

The full review for Big Sur
Review by: Ollie O Rating: 3.8 stars Review Date: 10/23/2017
Big Sur is located in Palermo Zoológico, a little neighborhood that has some of our favorite casual dining spots.
There's not table service at Big Sur. Not exactly the Ritz. Uncomfortable seating and no air conditioning make for slightly less than desirable ambiance. It's clear. You go to Big Sur for the food.You'd think that with this cut-rate atmosphere, the price would be lower, like most other fast-casual restaurants of this type. But Big Sur has some of the highest prices for burgers in the city.A cheeseburger with fries and soft drink would have cost you about 200 pesos (US$12.50) at Big Sur in late-2016. That's close to twice what a similar burger would have cost you at 180 Burger Bar or Perez-H.The burgers are good. A course grind on a well-seasoned beef patty and a good fat-to-lean ratio. Juicy. A very good burger. The French fries? Not as good. They were beginning to shrivel-up, having spent a few too many minutes out of the fryer.They have hot dogs at Big Sur. A big foot-long German dog called the Aleman. Pretty good. But like the burgers, a bit expensive.These minor shortcomings won't likely have a big impact on Big Sur's business. It's still mostly about location in Buenos Aires. Nobody in that neighborhood is going to drive to Palermo Hollywood to buy a burger at Pérez-H.But, our low rating for value, reflects the fact that the prices are a bit high for what you get at Big Sur.The food at Big Sur is good. But apparently the owners, when setting the prices, thought they could charge what Gordon Ramsay charges for a burger in Las Vegas.


Click the restaurant name or image to read the review
No items found
Click the restaurant image to read the review
No items found