Sushi Club
Buenos Aires, Retiro
Ambience

90%

Service

85%

Food

90%

Creativity

90%

Value

75%
Restaurant Details
Restaurant Details
Sushi Club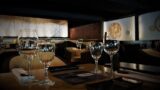 Locale: Buenos Aires, Retiro
Address: Av 9 de Julio, La Recova
Telephone: 0810-222-7874
Restaurant Type: Upscale Casual
Cuisine: Japanese
Service Type: Table Service
Price: $$$$
Menu items offered: Ceviche - Aquachile, Coffee, Desserts, Espresso, Grilled Steaks, Rice - Risotto, Salads, Seafood, Soups, Sushi
Hours:
Sun-Wed: 12pm to 1am, Thu: 12pm to 1:30am, Fri-Sat: 12pm to 2am

Review Summary
Sushi club gives you sushi-fusion with creative variations in a sleek and sexy décor with above-average service. Be forewarned. It's a bit expensive for Buenos Aires.

The full review for Sushi Club
Review by: Ollie O Rating: 4.2 stars Review Date: 11/16/2017
Sushi, and Japanese food, in general, is relatively expensive in Buenos Aires, in contrast to Santiago, Chile, where it is, oddly enough, one of the least expensive cuisines you can find when dining out. In Buenos Aires, sushi will typically cost you a bit more than an expensive steak dinner.
Sushi Club, with multiple locations in the more affluent neighborhoods of Buenos Aires (and with locations in other cities in Argentina, Spain, Mexico and Paraguay) is a "gourmet" rendition of this genre, and adds a touch of Peruvian influence and flavors from a few other regional cuisines into the mix.We went to dinner in the Retiro location, located in La Recova de Posadas, adjacent to many of the city's finest restaurants, including Piegari, the city's most expensive restaurant for Italian cuisine.The décor at Sushi Club is sleek and tasteful, bordering on elegant. The restaurant successfully creates a refined ambiance with none of the cliché décor that so often accompanies an Asian inspired restaurant. The waiters wear uniforms. Everything is first-class.The restaurant has a variety of combination sushi and sashimi plates priced in a range from about US$32 to $50 that would easily be enough for two diners to share.I've tried a few appetizers. The tiradito of salmon and shrimp (about three small pieces of each) bathed in a luscious citric passion fruit salsa that was absolutely delicious. The seafood was fresh, and that sauce was marvelous.For a vegetarian appetizer, you could order the Gyozas Veggie. That's five dumplings served in five shot glasses filled with a sweet dipping sauce. These dumplings are, oddly, browned in an oven, rather than being seared in a pan, which is the typical way of making the dumpling "stick to the pot". This totally changes the texture, making it a bit dry. It's sort of like eating a two-bite, baked empanada. Although not as tasty as a typical pot-sticker it was delicious, especially considering it was a vegetarian dish.On my first visit to Sushi Club, I ordered the Sweet Roll (sushi roll) which was a concoction of tempura shrimp, tamagoyaki, avocado, and cilantro flavored cream cheese, wrapped in salmon, sesame seeds and drizzled with a mango sauce. YUM!And, I've had the Buenos Aires sushi roll, filled with shrimp, salmon, avocado, cream cheese, wrapped in salmon and drizzled with sesame salsa.Wanting to try a vegetarian sushi roll, I ordered the Camembert Roll, which is filled with confit tomatoes, spinach, caramelized onions, and avocado. The exterior of the roll is then draped is a thin slice of melted camembert cheese, and a sprinkling of crisp potato chips. I thought this vegetarian version of a classic roll was both creative and delicious. I'm a carnivore, but would considering ordering this one again.The ingredients in all the dishes were fresh and the flavor of each ingredient brought a little something to each bite. Although a sushi purist would be alarmed by all this creativity, it is, in my opinion, a excellent execution of fusion, which I think both Argentines and visitors to Buenos Aires would enjoy. The chef of Sushi Club has done a brilliant job of creating some unique sushi rolls that combine just a few non-traditional ingredients in an extraordinarily successful manner.Décor? Fantastic. Service? Good, but not great. Execution? Near perfect. Creativity? Definitely! The only disappointment at Sushi Club is the price of the items on the menu. They have sky-rocketed over the preceding year and half. For a 9-piece plate of sushi rolls, consisting of expensive ingredients, Sushi Club is charging somewhere between US$20 and $25 per plate. That's bordering on ridiculous. That's about 50% more than the cost of a large steak and side at El Mirasol, a few paces away, which is one of the city's most prestigious steakhouses.Despite the cost, Sushi Club remains one of the few venues in Buenos Aires where you can enjoy sushi in a sophisticated setting with competent service and a high-level of execution. And kudos to Sushi Club for putting a handful of vegetarian options on the menu so that that couples or groups can enjoy sushi without leaving the vegetarian in the car.


Click the restaurant name or image to read the review
No items found
Click the restaurant image to read the review
No items found