Ambience

85%

Service

90%

Food

85%

Creativity

95%

Value

85%
Restaurant Details
Rodízio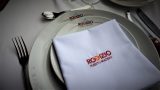 Locale: Recoleta
Address: Av. Alicia Moreau de Justo 838
Telephone: +54 11 4334-3638
Restaurant Type: Casual Dining, Steakhouse
Cuisine: Grilled Steaks
Service Type: Table Service
Price: $$$$
Menu items offered: Breads and Pastries, Coffee, Croissants, Grilled Steaks, Salads, Soups
Hours:
Sun-Sat: 12pm - 4pm, 8pm - 12am, ,

Review Summary
Rodízio is a Brazilian-style steakhouse-restaurant that offers meats grilled on a spit, carved tableside, and an elaborate buffet of salads and antipasto. Upscale, with great service, Rodízio offers a slightly different take on grilled meats in Buenos Aires.

The full review for Rodízio
Review by: Ollie O Rating: 4.4 stars Review Date: 01/27/2018
Rodízio, in Buenos Aires, derives its name from a style of restaurant service in Brazil. A "churrascaria" is a Brazilian steakhouse featuring various cuts of meat grilled on spits over charcoal or wood embers. The meats are then carved and served from the spit tableside by restaurant personnel called "passadores". Passadores are specifically trained in the art of carving and serving the meat tableside. A "rodizio" is a type of churrascaria that offers, in addition to the grilled meats, an elaborate salad and garnish buffet at the disposal of guests to accompany the beef, pork and poultry served at the table.
Argentine based restaurant, Rodízio, offers this type of service in two locations in Buenos Aires, one in Puerto Madero, one on the Costanera Norte, both overlooking the water.
The décor is sophisticated, bordering on elegant, with expensive table linens. The passadores and waiters are clad in uniforms bearing the restaurant logo. The restaurant serves high-quality cuts of Argentine beef, pork, lamb and poultry, all cooked on a churrasqueria, a special grill with spits, enabling the cuts to be cooked in a rotisserie style, then subsequently carved at the table.
The showmanship and carving skills of the passaderos are an integral part of the dining experience. But perhaps what most vividly distinguishes this style of restaurant from the other parillas in Buenos Aires, is the fixed-price feature and the elaborate salad bar and charcuterie-antipasto buffet that are included in the price of the meal.
The lack of side-dish options at Argentine steakhouses is a commonly heard complaint. But the same can be said about most all Argentine restaurants. If you don't like potatoes, you're out of luck. Well, Rodízio has remedied that deficiency with a decked-out buffet that has about every form of salad ingredient, cold cuts and cheese available in the country.
The fixed-price for the entire meal with unlimited cuts of grilled meat offered to diners and unlimited access to the salad and antipasto bar are also a unique feature, not typically found in most of the city's steakhouses.
The buffet options are impressive. I typically load up my plate with cold boiled jumbo shrimp and cheeses, in addition to a plateful of some of the best salad ingredients you'll find in Buenos Aires. And there a several types of salad dressings available on the buffet. You're not limited to the horribly conceived oil and balsamic vinegar offered as standard-issue in almost all Argentine restaurants.
Both the décor and service are first-class. Reservations are easily made online using third party reservation service, Restorando.com. The fixed-price for both lunch, weekday and weekend dinner service are all posted on the website under the menu link. We note that weekdays, there is a reduced price offering your choice of three meats, French fries, a single salad, and beverage in addition to the "no holds barred" version offering unlimited meat and visits to the buffet. The price of the full prix-fixe meal is consistent with what would be paid for a full meal at the Argentine steakhouses with similar décor and location.
For a change of pace and format from what can quickly become a redundant routine in Buenos Aires, Rodízio is a welcomed alternative.


Click the restaurant name or image to read the review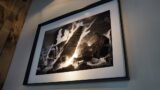 Duque – Buenos Aires
Neighborhoods: Buenos Aires, Palermo Hollywood
Service options: Table Service
Cuisine(s): Grilled Steaks
Rating: 4.7 stars Cost: $$$ . Price: Casual Dining, Steakhouse
---
La Pecora Nera Grill – Buenos Aires
Neighborhoods: Recoleta
Service options: Table Service
Cuisine(s): Grilled Steaks
Rating: 4.6 stars Cost: $$$$ . Price: Steakhouse, Upscale Casual
---
Click the restaurant image to read the review
La Pecora Nera Grill – Buenos Aires
Neighborhoods: Recoleta
Service options: Table Service
Cuisine(s): Grilled Steaks
Rating: 4.6 stars Cost: $$$$ . Price: Steakhouse, Upscale Casual
---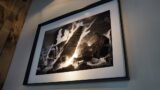 Duque – Buenos Aires
Neighborhoods: Buenos Aires, Palermo Hollywood
Service options: Table Service
Cuisine(s): Grilled Steaks
Rating: 4.7 stars Cost: $$$ . Price: Casual Dining, Steakhouse
---