Prix Fixe Lunch at El Burladero - Buenos Aires
 Buenos Aires, Recoleta
Ambience

80%

Service

90%

Food (Execution)

80%

Creativity

80%

Value

80%
Details for Location Reviewed
Prix Fixe Lunch at El Burladero - Buenos Aires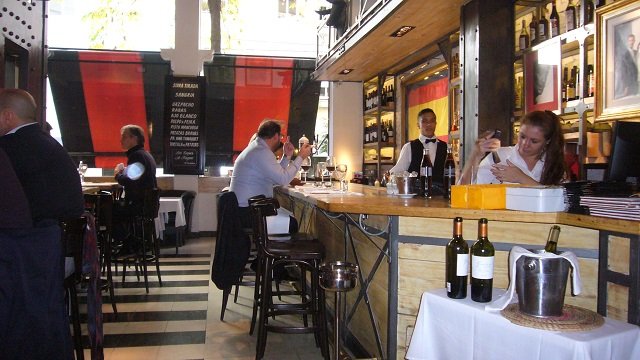 Locale: Buenos Aires, Recoleta
Address: Pres José Evaristo Uriburu 1488
Telephone: +54 11 4806-9247
Restaurant Type: Casual Dining
Cuisine: Spanish
Service Type: Table Service
Price: $$$
Menu items offered:
Hours: Mon-Thu & Sun: 12pm to 4pm & 8pm to 12am Fri-Sat: 12pm to 4pm & 8pm to 1am
Restaurant Details
Prix Fixe Lunch at El Burladero - Buenos Aires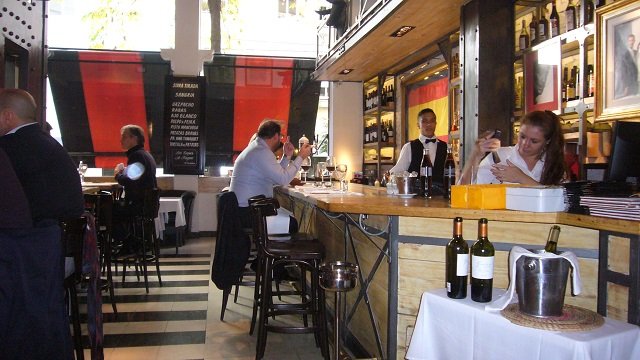 Locale: Buenos Aires, Recoleta Address: Pres José Evaristo Uriburu 1488
Telephone: +54 11 4806-9247
Restaurant Type: Casual Dining
Cuisine: Spanish Service Type: Table Service Price: $$$ Menu items offered:
Hours: Mon-Thu & Sun: 12pm to 4pm & 8pm to 12am Fri-Sat: 12pm to 4pm & 8pm to 1am
---

---
Summary
The prix-fixe lunch at El Burladero is a great value. Flawless execution and service. Truly one of the best places for lunch in Recoleta and Buenos Aires.
Resumen del crítica
The prix-fixe lunch at El Burladero is a great value. Flawless execution and service. Truly one of the best places for lunch in Recoleta and Buenos Aires.
Restaurant Review for Prix Fixe Lunch at El Burladero - Buenos Aires
Review by: Ollie O
Rating: 4.1 stars
Review Date: 09/24/2015
I'm not much of an authority on Spanish cuisine. For some reason we don't have much Spanish influence back in my neck of the woods in Texas. We make up for the lack of Spaniards with plenty of Spanish speaking Mexican friends though. At any rate, despite my lack of knowledge of Spanish cuisine, what little bit I've experienced I'm in love with. The paprika. The saffron. Heck. What's not to like? I happened into El Burladero seeking out some good spots with mid-day prix fixe menus and this one had one for about US$16 (ARS$195) that included an appetizer, main course and dessert with a glass of wine included. This place has impressive décor. I loved it. Lots of reference to Spain in the décor, including the flag behind the bar. All done very tastefully though. Everything clean as a whistle and polished up. I was thinking that this might turn out to be a great discovery. I ordered the fish croquettes for the appetizer. Although the appearance was a little bit like what you'd see out of a box of frozen fish sticks the taste was anything but that. The breading was crisp and the filling of the croquette delicious. I would have preferred a slightly chunkier filling but it was delicious nonetheless and true to its roots. I let the waiter choose my main course. I'm not entirely sure what he brought me. I think it was a piece of Ibérico ham in a smoky paprika laced sauce that was rich and luxurious, accompanied by small crispy little morsels of potato. This was sauce truly special. I was lapping it up with the bread after I had finished off the ham. Two superb courses down and the sweet stuff still to come. The waiter had done a great job on the main course so I let him decide on what my dessert would be. Out comes an apple tart, with a crumble on top and little scoop of vanilla ice cream. Yum. The pie was a delight. Just enough crust to hold the thing together. A slight little crumble on top to add some texture and contrasting flavor and the ice cream was the perfect foil for the tart. As far as service, it was near perfect. And the waiters seemed to have a bit of personality in this place. They were hugging and winking at patrons. Being more than efficient. They were friendly. And mine steered me right on choosing two of the courses. This was a near perfectly concocted meal. Remember ... I've never given 5 stars based on the theory that some day I'll find a place that knocks my socks off and need to have room at the top for that one. So when a restaurant scores anything above 4 it's like a 5 on most other scales. This place garnered an overall score of 4.1 stars, making El Burladero one of OLLIE"S Top Five Restaurants in BA. This one is worth a visit and at lunch it's a steal.