El Burladero
Buenos Aires, Recoleta
Ambience

95%

Service

90%

Food

90%

Creativity

90%

Value

85%
Restaurant Details
Restaurant Details
El Burladero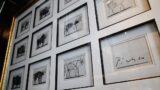 Locale: Buenos Aires, Recoleta
Address: Pres José Evaristo Uriburu 1488
Telephone: +54 11 4806-9247
Restaurant Type: Casual Dining
Cuisine: Spanish
Service Type: Table Service
Price: $$$$
Menu items offered:
Hours:
Mon-Thu & Sun: 12pm to 4pm & 8pm to 12am, Fri-Sat: 12pm to 4pm & 8pm to 1am,

Review Summary
El Burladero is a classy, modern-day take on Spanish cuisine in a sophisticated and comfortable ambience. It's not authentic. It's better than authentic! And the mid-day fixed-price menu is a steal. This is a first-class casual-dining experience.

The full review for El Burladero
Review by: Ollie O Rating: 4.5 stars Review Date: 09/28/2018
El Burladero is a classy, modern-day take on Spanish dining that impresses me more and more with each visit. On my latest visit to El Burladero I arrived shortly after the doors had just opened for lunch, enabling me to roam around the restaurant and admire the Spanish artifacts and décor. With each photo and each relic mounted on the walls, I gained a more vivid view of the restaurant and the ambience the owners and the designers were attempting to create.
With this new perspective, my admiration for the restaurant, which was high before, continues to grow. What I love about El Burladero is that it doesn't hang its hat on authenticity or some caricature of Spanish culture. Instead, it presents a vision of a beautiful evolving culture. One with respect for the past, that isn't afraid to move into the future. A lesson that Argentina needs to desperately learn. Simply stated. I love the ambience in this restaurant. We've increased the rating in this category. As it has been on each visit, the service is nearly flawless. The waiters seem to all have a warm and friendly personality that shines through. It shows in the photos. That's a quality that goes beyond knowing when to clear an empty plate … although they do a good job of that too. El Burladero has a reasonably priced menu with a sophisticated mix of classic and contemporary Spanish cuisine. The lunch menu isn't just reasonable. It's an outright value. Three ample courses and glass of Trapiche wine for ARS$395 (US$10). Considering the location, décor, service and execution of the dishes, that's a phenomenal value for barely more than the cost of a super-sized burger combo and a ice cream sundae at McDonald's. The photos in the slideshow say it as vividly as I can. Everything tasted as good as it looks. This was the best Spanish tortilla I've tasted in Latin America. Outstanding. The breaded sole, sitting on a luscious sauce of peppers with potatoes, sprinkled with paprika, was delicious. And the Crema Catalana? Best version I've ever tasted. The custard was eggy and rich and the charred sugar was laced with cinnamon. It was such a simple variation. I can't believe I've never seen it in any of the dozens of French (crème brûlée) and Spanish versions of this dish I've tasted. It elevated the dish to something unique and special. Kudos to the owners. Kudos to the waiters. Kudos to the cooks. And kudos to the lady at the cash register that brought me the check so quickly. This is a first-class casual dining experience!


Click the restaurant name or image to read the review
No items found
Click the restaurant image to read the review
No items found