Review for Prix Fixe Lunch at
Tandoor
The Lunch Rating reflects the reviewer's overall rating for this meal only, taking into account the restaurant ambiance, service, food, creativity and value. Value is based on price for this meal, not for menu items ordered "a la carte".
Restaurant and meal details
Tandoor
Locale: Buenos Aires, Recoleta
Address: Laprida 1293
Telephone: +54 114821-3676
Restaurant Type: Upscale Casual
Cuisine: Indian, Vietnamese
Service Type: Table Service
Price: $$$
Menu items offered: Braised Meat Dishes, Coffee, Curry, Ice Cream, Rice - Risotto, Salads, Samosas - Börekes, Seafood
Hours: Sun-Sat: 12pm - 3pm, 8pm - 11pm
____________
menu options
Appetizer, Main Course and Dessert
cost: ARS$320 (US$8)
Beverage included?: Yes
Beverage options:
Table-service-charge (cubierto) included? Yes
Review by: Ollie O
Rating: 4.5 stars
Review Date:

Tandoor is Indian cuisine in a classy, upscale ambience with a well-executed menu full of classic Indian dishes. That's Chicken Tikka Masala with Basmati rice in the slideshow. The lunch menu, at between ARS$300 (US$7.50) and ARS$320 (US$8), is less than half of what the same meal would cost "a la carte". It includes a main-course curry dish (vegetarian, chicken, fish, shrimp, beef or lamb) accompanied by basmati rice, and a choice of the Badam Pista-Kulfi (an Indian-style pistachio ice cream) or Gajar Ka Halwa (an ultra-moist Indian dessert of sweetened carrots). They're both delicious. No cover charge at lunch. You choice of either a glass of wine, water or soft-drink is included.
Friendly and attentive service and this pleasant atmosphere with a well-executed exotic cuisine make Tandoor a great choice for lunch.
For more details about the ambience, service and food at this restaurant, to see the map of all locations, and to view more photos, please read the full restaurant review.
View the menu for this meal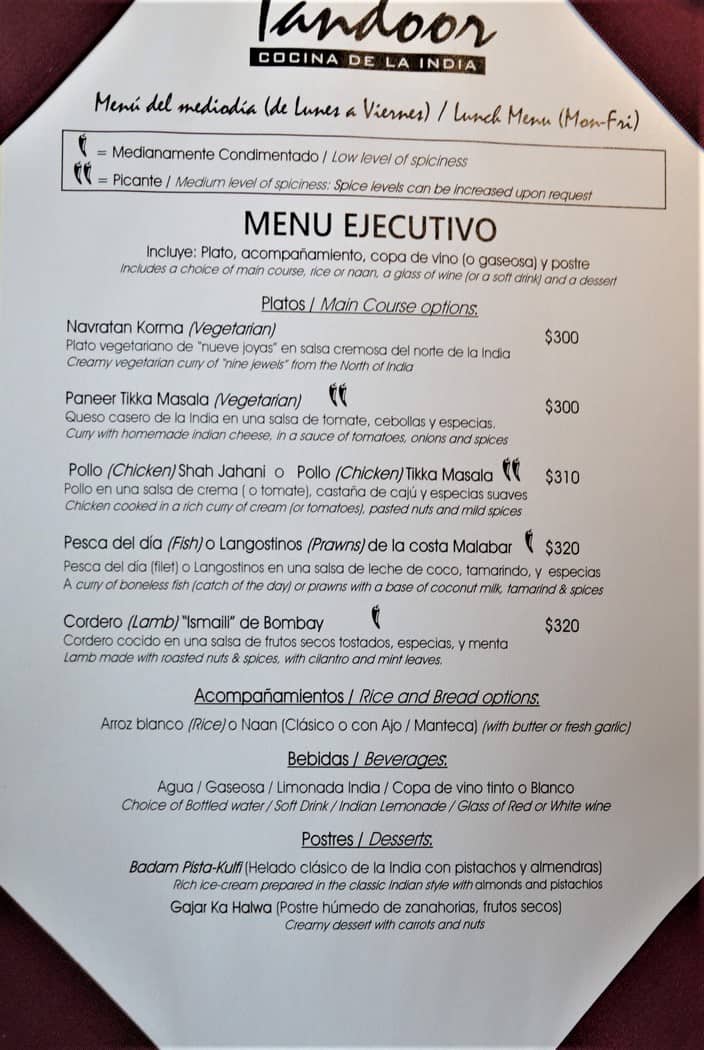 RATING: 85%

Cuisine(s): Eclectic Gourmet . Cost: $$$ . Restaurant type: Casual Dining

RATING: 90%

Cuisine(s): Eclectic Gourmet . Cost: $$$$ . Restaurant type: Casual Dining

RATING: 90%

Cuisine(s): Eclectic . Cost: $$$ . Restaurant type: Casual Dining, Gastropub
View the breakfast menu
RATING: 90%

Cuisine(s): Chinese, Indian, Japanese, Philippine, Southeast Asian, Thai, Vietnamese . Cost: $$$ . Restaurant type: Casual Dining

RATING: 89%

Cuisine(s): Indian, Vietnamese . Cost: $$$ . Restaurant type: Upscale Casual