Páru Inkas Sushi & Grill
Belgrano, Buenos Aires, Recoleta
Ambience

85%

Service

80%

Food

90%

Creativity

85%

Value

75%
Restaurant Details
Restaurant Details
Páru Inkas Sushi & Grill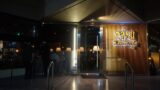 Locale: Belgrano, Buenos Aires, Recoleta
Address: La Pampa 717
Telephone: +54 011 4778-3307
Restaurant Type: Upscale Casual
Cuisine: Peruvian
Service Type: Table Service
Price: $$$$
Menu items offered: Ceviche - Aquachile, Cheesecake, Coffee, Desserts, Molten Chocolate Lava Cake, Seafood, Sushi
Hours:
Mon-Sat: 8pm to 1am, Sun: Closed,

Review Summary
Páru Inkas, despite a pricey menu, is the best option in Belgrano and Recoleta for Peruvian Nikkei cuisine. Sleek decor. Good service. Well-executed menu.

The full review for Páru Inkas Sushi & Grill
Review by: Ollie O Rating: 4.2 stars Review Date: 03/21/2017
Páru Inkas Sushi & Grill is but another Peruvian restaurant featuring Nikkei cuisine, leaning heavily towards Japanese, similar in format to Sipan in Palermo Soho, Olaya and Palermo Hollywood, and Osaka with restaurants in both Palermo Hollywood and Puerto Madero, although arguably slightly less sophisticated than the Osaka in Puerto Madero that we reviewed.
I dined at the original Páru Inkas in Belgrano, but there is also a recently opened location in Recoleta, and there is a more informal Inkas "Express" in Palermo Zoológico.The menu at Páru Inkas is simple. There's a page of appetizers consisting of sushi-rolls, ceviches and tiraditos. A small section with some Nikkei fusion items. And a wok and "grill" section featuring a variety of grilled seafood and a single beef shish-kebab.There are some nice desserts, only one of which is Peruvian, the classic Suspiro Limeño. If you're dining with a friend, or want a huge sugar-rush, there's a dessert sampler allowing you to pick three of their desserts on the "degustación" de postres.The ambience in Páru Inkas is sleek and sexy. The lighting is dim in the evening with plenty of twinkling candles and dim lights peeking out from behind a few strategically placed lamp-shades. But the décor remains warm and inviting due to the wood paneling and simple Danish-style wood furnishings.The service was good, although not stellar. The restaurant was packed on the evening I dined at Páru Inkas with about a 20-minute wait for a table, and it gets a bit loud in the dining room when it's full. The tables are arranged near one another and most of the patrons are drinking cocktails during the dinner service. The din of the crowd heightens late in the evening. It's a high-energy vibe. Certainly not conducive to a business meeting or romantic dinner, unless you're wanting to share the moment with another fifty or so diners sitting within earshot.At night, it's more of place to be seen, not heard.The menu, as is customary with Nikkei cuisine in Buenos Aires, is a bit pricey. The ceviches are about US$20 (ARS$350-$380) a plate. The rolls only slightly less. And the grilled octopus and shrimp skewers plate, an appetizer size serving, was also about US$20 (ARS$375). Despite the steep prices, there's not much else in the way of good Nikkei cuisine in Belgrano and it's hard to find a Nikkei restaurant that isn't just as pricey in other barrios.With an upscale ambience and a well-executed menu of cuisine that is somewhat hard to find in Buenos Aires, Páru Inkas is at the top of the list in this genre. Osaka, in Puerto Madero, is perhaps a bit classier with a more sophisticated and unique menu, but it's even more expensive than Páru Inkas.We note that you will not find some of the other mainstays of Nikkei cuisine on this menu. You'll have to look elsewhere for more traditional Peruvian criolla menu items such as tacu-tacu and causas. For that, we recommend Peruvian restaurant La Mar.


Click the restaurant name or image to read the review
No items found
Click the restaurant image to read the review
No items found