Osaka
Buenos Aires, Palermo Hollywood, Puerto Madero
Ambience

90%

Service

90%

Food

90%

Creativity

90%

Value

75%

Logistics

85%
Restaurant Details
Restaurant Details
Osaka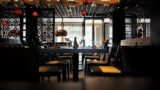 Locale: Buenos Aires, Palermo Hollywood, Puerto Madero
Address: Juana Manso 1164
Telephone: +54 11 5352-0404
Restaurant Type: Upscale Casual
Cuisine: Japanese, Peruvian
Service Type: Table Service
Price: $$$$$
Menu items offered: Ceviche - Aquachile, Coffee, Grilled Steaks, Rice - Risotto, Seafood, Sushi
Hours:
Sun-Sat: 12:30 to 4pm & 8pm to 12am, ,

Review Summary
Osaka is the gold-standard in Buenos Aires for Nikkei cuisine. Osaka has mastered the genre with exquisite ambiance, execution and service, albeit at a hefty price tag for BA.

The full review for Osaka
Review by: Ollie O Rating: 4.4 stars Review Date: 10/17/2016
Ready for one of those reviews where I slam an acclaimed restaurant and put it on our most-overrated list? I've been doing that a lot lately. Hate to disappoint you but Osaka is one restaurant that lives up to its stellar reputation.Osaka is the result of collaboration between Peruvian chefs Daniel Delgado Jitsuya and Jan Van Oordt. They crafted the style and menu of these restaurants. Since then, the restaurant group has been acquired by investors, that surprisingly, rather than running the restaurant into the ground, have turned Osaka into a Latin American powerhouse in the restaurant world, equaled only by fellow Peruvian Gaston Acurio's empire in the same realm.
They now have restaurants in every major city in Latin America, and based on reliable sources, the quality in each is outstanding. But we can only attest to the ambiance, service and quality of food served in the Lima, Santiago and Puerto Madero (Buenos Aires) locations, which are equally impressive in all countries.
This review chronicles our recent mid-day visit to the Osaka in Puerto Madero.
The ambiance is impressive. The images in the slider accurately reflect the tasteful design and décor. I dined very late in the afternoon, so my assessment of service might not be what you'd expect on a busy evening. But the service I received was flawless. It was so late in the during lunch service that the waitress than initially took my order was replaced by the head waiter mid-service. But both of the waiters were able to answer fairly technical questions about the three items I ordered.
The table was set in a minimalist style; which we see in almost all upscale casual restaurants we review.
The service began with a small amuse bouche, followed by two types of appetizers we had ordered, two small causas, topped with small bits of grilled octopus in a thin miso sauce flavored with Peruvian panca chili peppers. The contrast in both flavors and textures between the soft, creamy potato base and the slightly charred bits of octopus crowning the causa was great. I've had a variety of causas, including a couple of dozen or more in restaurants in Peru and Chile, and this is the tastiest one of the lot. I wouldn't hesitate to tell you to try them in two or three varieties.
I then had a sashimi variation. Two perfectly sliced pieces of agari (salmon) lightly marinated, on a flavored sushi-rice, topped with citrus shavings. Unique. The flavor of the salmon exceeded the tiraditos I recently had at Sippan in Palermo and at famed chef Nobu Matsuhisa's restaurant, Nobu, in Mexico City. I would not hesitate to order any of the sushi or tiraditos on the menu.
Everything I'd tasted so far, including both the cooked octopus and the raw salmon was fresh and flavorful. And the presentation, as you can see in the photos in the slider, was impeccable.
My main course was an assortment of calamari, octopus, and shrimp, marinated in saki and served with a creamy sauce flavored with both amarilllo and panca chili peppers. The octopus had also been lightly dusted with ground spices rendering the preparation extremely similar to a traditional Mediterranean preparation of "pulpo a la gallega". The tiny little pieces of calamari were the most unique, but all were cooked perfectly. It's easy to overcook shrimp but these were plump and moist. That said, I felt both the plating and the flavors to be a bit uninspired, compared to the two appetizers. And I felt the whole dish was sort of crowded into the clay receptacle in which it was served.
I note that the waiter had brought out small shavings of pickled ginger. But this was nothing like the bitter slices of ginger you'd typically receive aside your serving of sushi.
These paper-thin slices had been pickled in a sweet and sour pickling liquid that rendered them absolutely delicious. With several bites at the end of the course, I was taking a small bit of the ginger with each bite of seafood and a small bit of steamed rice with a drop of soy sauce, and the combination was outstanding.
I must state that this lunch at Osaka was a bit on the pricey side. For the quantity of food served it is most likely the highest priced restaurant in Buenos Aires. But that said, the ambiance, service and execution place it in position with restaurants like nearby Chila and Roux in Recoleta.
And wealthy Porteños (although they be few in number) and travelers from cities like New York, Sydney and Tokyo, won't bat an eye at that US$72 I spent for lunch at Osaka. That's what a Big Mac costs in Manhattan.


Click the restaurant name or image to read the review
No items found
Click the restaurant image to read the review
No items found