Olivetti Trattoria
Buenos Aires, Palermo Zoológico
Ambience

90%

Service

90%

Food

85%

Creativity

80%

Value

75%
Restaurant Details
Restaurant Details
Olivetti Trattoria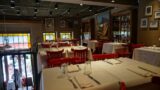 Locale: Buenos Aires, Palermo Zoológico
Address: Cerviño 3800
Telephone: +54 11 4802 4075
Restaurant Type: Casual Dining
Cuisine: Italian
Service Type: Table Service
Price: $$$$
Menu items offered: Braised Meat Dishes, Breads and Pastries, Charcuterie, Chocolate Cake, Coffee, Desserts, Empanadas, Espresso, Fried Calamari, Ice Cream, Panna Cotta, Pasta, Rice - Risotto, Salads, Seafood, Soups, Tapas - Finger Foods - Snacks, Tiramisu, Veal cutlets - Milanesas
Hours:
Sun-Sat: 8am to 12am, ,

Review Summary
Olivetti is one of the few restaurants in Buenos Aires we recommend for Italian cuisine. It's a bit expensive but has good food, service and ambiance.

The full review for Olivetti Trattoria
Review by: Ollie O Rating: 4.2 stars Review Date: 10/07/2015
Despite having a huge population of Italian descendants, Buenos Aires has some of the worst Italian restaurants on the face of the earth. We've added more Italian restaurant to our list of restaurants to avoid in Buenos Aires than any other genre.
Less than a week ago we were at El Broccolini which receives great reviews (apparently from consumers that have no clue what Italian cuisine tastes like) and served average food at best. And it was a bit of eyesore as well.We've only had good things to say about a handful of restaurants in Buenos Aires that claim to serve Italian food. L'Adesso was a pleasant experience, despite having a rather tacky décor. Piegari was the most elegant of the Italian genre we've visited. It was full of the wealthy Porteños that love to frequent those restaurants in La Recova next to the Four Seasons Hotel. At Piegari, we had a seafood pasta that we thought was well executed and we enjoyed staring at the paintings of Argentina's most celebrated living artist, Milo Lovett. But now we've added one more to our list of restaurants claiming to serve Italian food that's worth a visit and return visit, at that.Olivetti, although claiming to be a trattoria, which is a more casual and less expensive Italian restaurant, had pretty steep prices and although casual, was clearly designed and decorated in a way to qualify it for our upscale casual dining category. Wooden chairs painted bright red. White table cloths, white napkins embroidered with a red stripe, and high quality stainless tableware gave a slightly more elegant feel to the otherwise casual décor. Lots of Italian-theme posters, nicely framed. Wood paneling. Lots of windows allowing plenty of light to flood the dining room. Overall, a very nicely decorated restaurant, including the upstairs balcony dining room.Despite the somewhat high prices for the standard menu items, Olivetti does have a two-course mid-day menu priced at between US$9 and $10 (170 and 190 pesos) that includes a beverage. On my lunch visit, I elected to have the roasted tomato and curry soup for the appetizer. Actually, it was the only choice for the entrance course. No disappointment though. It had a rich, smoky flavor from the roasted tomatoes and just a hint of heat from the curry. I was licking the bottom of the bowl.For the main course I had the bucatini pasta with calamari. The pasta was fresh and cooked al dente. There was only enough sauce to dress the pasta. But that sauce was richly flavored with the broth of the seafood stock. My first bite of the calamari was a bit chewy. But only the portions adjoining the little fins of the squid were chewy. The small tentacles and the other small rings of calamari were tender and flavorful. The prix fixe lunch price included either a beverage or a glass of wine. A coffee or dessert could be added for a mere US$1.50 (20 pesos). There was the infamous "cubierto" that cost me another 50 pesos. Thus, in reality, the cost of the two-course meal with the beverage (but excluding the dessert or coffee) was 220 to 240 pesos. Still a bargain for a high quality meal in a sophisticated and pleasant atmosphere.This was two well executed courses, worthy of bearing the moniker "Italian". The service was flawless. The waiters were attentively watching the room and quickly clearing tables when courses were finished. I note that there is terraza on the roof that looks like a great place to sit and enjoy a birra and perhaps a Sambuca.We like Olivetti. We think it is one of the few good choices for Italian cuisine in Buenos Aires. Our value rating is based off the regular menu prices. If you're paying for the prix fixe lunch that would be 4.5 stars, one of the best values in town.


Click the restaurant name or image to read the review
No items found
Click the restaurant image to read the review
No items found