Ambience

90%

Service

90%

Food

90%

Creativity

90%

Value

90%

Logistics

95%
Restaurant Details
Nuestro Secreto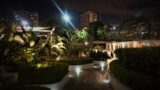 Locale: Retiro
Address: Posadas 1086
Telephone: +54 11 4321-1200
Restaurant Type: Casual Dining
Cuisine: Eclectic
Service Type: Table Service
Price: $$$$
Menu items offered: Breads and Pastries, Charcuterie, Coffee, Desserts, Espresso, Grilled Steaks, Pasta, Roasted Meat Dishes, Salads, Seafood, Smoked Meat Dishes, Tapas - Finger Foods - Snacks
Hours:
Wed-Sat: 7pm to 11:30pm, Sun: 12pm to 3:30pm, Mon-Tue: Closed

Review Summary
Nuestro Secreto is one of the most pleasant dining experiences in the city. A creative menu featuring items from their wood-burning clay oven. First-class.

The full review for Nuestro Secreto
Review by: Ollie O Rating: 4.5 stars Review Date: 02/25/2017
Nuestro Secreto is aptly named. It's the "other", rarely mentioned restaurant at one of the city's most respected hotels, the Four Seasons. Big sister, Elena, gets all the attention. But for our money, little sister, Nuestro Secreto, is prettier and has a better personality. Elena, the primary restaurant at the Four Seasons, has, in my opinion, a somewhat boring and dark décor. Ill-conceived. It was depressing and dated from inception. The food's acceptable at Elena. But hardly world-class. The menu is a boring steakhouse menu you can find anywhere. There are many better steakhouses in Buenos Aires. At the Four Seasons, I'd rather eat in the trendy bar, Pony Line, than at Elena. But the real feather in culinary cap at the Four Seasons is the somewhat obscure restaurant on the pool level. It has one of the nicest outdoor seating areas in the city and a nice and cheery solarium under glass for indoor dining. It's bright and pleasant by day, sort of a romantic setting at night. Armed with a wood-burning clay oven, the chefs turn out a variety of smoked appetizers and main course dishes that are unique, delicious, and reasonably priced, considering the place is located in one of the most expensive hotels in the city. The service, by a slightly younger, but well-trained crew of waiters, compared to downstairs Elena, was near-flawless. The waiter was amiable and informative. For an appetizer I had one of the best empanadas I've every laid taste buds on. Next came the raviolis, charred in that clay oven, imparting a unique smokiness to the dish. This one of the best pasta dishes I've experienced in Buenos Aires (which isn't saying much, but still worth mentioning). I topped it off with a scoop of ultra-rich chocolate ice cream. The hotel's pastry chef, Joaquín Grimaldi, has created some world-class scoops of cream and sorbets with ultra-unique flavors. The ice cream at the Four Seasons, available in all the restaurants, is on par within anything in the city. This was the perfect ending to an extraordinarily pleasant experience. Thinking about dining out at the Four Seasons, forget Elena, and book a table at Nuesto Secreto instead. If the weather's pleasant, ask for a table on the terrace. You will not regret this experience.


Click the restaurant name or image to read the review
No items found
Click the restaurant image to read the review
No items found