Novecento
Las Cañitas, Recoleta
Ambience

85%

Service

80%

Food

80%

Creativity

75%

Value

75%
Restaurant Details
Restaurant Details
Novecento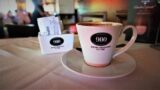 Locale: Las Cañitas, Recoleta
Address: Av. Pres. Figueroa Alcorta 2270
Telephone: +54 11 4805-1734
Restaurant Type: Casual Dining
Cuisine: Eclectic
Service Type: Table Service
Price: $$$$
Menu items offered: Breads and Pastries, Coffee, Desserts, Egg Breakfast Dishes, Espresso, Grilled Steaks, Hamburgers, Ice Cream, Pasta, Salads, Seafood
Hours:
Not posted, ,

Review Summary
Despite a mundane and typical Argentine menu, the ambiance and execution are better than acceptable. Good choice for Eggs Benedict in Buenos Aires.

The full review for Novecento
Review by: Ollie O Rating: 3.8 stars Review Date: 02/07/2017
Novecento, claiming to be the Argentine Bistro, has an interesting history. The original restaurant opened in New York city in 1991, offered New York city residents a unique look at an Argentine restaurant experience. Five years later the owners brought the concept back to the homeland, opening the Cañitas location that is still serving Porteños to this day. Locations in Uruguay, Miami, Córdoba, Argentina, and Mexico followed over the next two and half decades. The Bellas Artes location in Recoleta, which is the location of our Buenos Aires review, is one of the newer locations, opening in 2015.
The Bellas Artes restaurant has a large bar area and covered terraza. The entire restaurant and bar probably seats more than 150 patrons. There's lots of cordovan leather upholstery, brass rails and wood paneling giving a traditional, but not dated feel to the restaurant. Whether sitting on the breezy front terraza, at one of the comfortable booths or tables in the restaurant or at the bar, patrons are assured of pleasant ambiance.
The waiters are clad in starched, white shirts with black aprons, suspenders and skinny black neck ties lending a refined touch to the otherwise casual setting. Service has typically been acceptable, but not stellar. We occasionally find ourselves having to flag down waiters to get their attention and on occasion, I've seen waiters chatting with each other, without paying attention to their tables.
I've been to Novecento for weekend brunch and at lunch. The brunch menu is a variety of variations of the classic Eggs Benedict. Plus, they have what they claim to be smoked salmon on a bagel (although we cannot attest to whether a real bagel is used on this dish). The lunch and dinner menu is your stereotypical Buenos Aires menu, a tenderloin and strip steak (bife de lomo and bife de chorizo), a breaded beef cutlet (milanesa de lomo), a couple of pasta dishes, two fish dishes, and a burger. That Boring, with a capital "B". Although this may be classic Argentine fare, it's done with a bit more flare and finesse than what you'd see a typical local restaurant. But it certainly won't earn many accolades for originality, that's for sure.
During the brunch visit I ordered the Eggs Benedict and received a well-executed version of the dish. The Canadian bacon was nicely grilled, the eggs perfectly poached, and it was served on a real English muffin. One of the best renditions of this dish we've seen in Buenos Aires. The brunch menu, which includes the variation on the Eggs Benedict, is only available on Saturday and Sundays from noon to 5 pm.
On a recent lunch visit I had the burger. It was well-executed although the beef is a bit on the lean side.
The salmon was acceptable but boring as salmon almost always is.
We're glad to say the WIFI connection worked flawless on both visits. Making a reservation is easy, but typically not necessary.
The prices are bit steep at Novecento. But nothing over the top. It's not at the top of our list for lunch and dinner excursions as the menu is beyond boring. But for Eggs Benedict during the weekend brunch hours we think the variations on the classic egg dish are about as good as it gets in Buenos Aires.


Click the restaurant name or image to read the review
No items found
Click the restaurant image to read the review
No items found