Nola - Buenos Aires
Buenos Aires, Palermo
Ambience

80%

Service

80%

Food

85%

Creativity

90%

Value

95%
Restaurant Details
Restaurant Details
Nola - Buenos Aires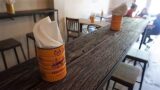 Locale: Buenos Aires, Palermo
Address: Gorriti 4389
Telephone: +54 11 6350-1704
Restaurant Type: Fast Casual, Gastropub
Cuisine: Cajun-Creole
Service Type: Table Service
Price: $$$
Menu items offered: Desserts, Salads, Sandwiches, Soups
Hours:
Sun-Thu: 5pm to 12am, Fri-Sat: 1pm to 12am,

Review Summary
Yo from Looziana? Yo luv it. Yo not from Looziana? Yo still luv it. Best sandwich in town. Yo only live once. Go for the PICANTE sauce.

The full review for Nola - Buenos Aires
Review by: Ollie O Rating: 4.3 stars Review Date: 11/13/2016
My first cookbook, received as a gift, was famed chef, Paul Prudhomme's, "Louisiana Kitchen" and I've been obsessed with Cajun and Creole cuisine ever since.
Flash-forward about four decades and you'll find me at the cusp of Gorriti and Julian Alvarez in Palermo at NOLA. a small restaurant where Louisiana native Liza Puglia dishes out this unique cuisine on a daily basis.The spice. The soul. It's all there. With only a handful of Cajun classics on the menu at NOLA, Liza only touches on the tip of the "Cajun-cooking iceberg". ("What … No Jambalaya?") But the tip is better than nothing. You'll find a spicy fried chicken plate, a chicken sandwich, red beans & rice, and Louisiana gumbo. That's about 99 dishes short of the typical Cajun repertoire, but it still gets points for effort.Liza's spicy fried chicken sandwich sits at the top of our list of the best sandwiches in Buenos Aires. You have a choice of sauces served in a diner-style plastic squeeze-bottle. There's some "sissy-ass" sauce for Porteños that can't take the heat. I have no clue what it's called or what it tastes like. That's cuz I always opt for the bottle that has masking tape on front with the magic-marker inscribed word "PICANTE" (which is Spanish for "OOOUUEEEE, that's hot") and I lather up my sandwich with a big dose of that stuff.And the crème de la crème is a pint of in-house brewed Bröeder's craft beer. You can keep your medialunas and your milanesas. This sandwich and a pint of Porter is the real deal (Bröeder's doesn't make JAX beer or we'd have ordered one). Wake up Argentina. You're about to have a "coon-ass" experience.There is no service. In fast-casual fashion, you order and pay at the bar and hope they call your name before you finish your first beer. Ambiance is sort of Bohemian, hippy, trendy, "I wanna-be a Coon-ass", this is a fake tattoo, "Oh, who the hell cares, just give me another brew". And that goes perfect with the sandwich. If yo Canadian, get yo ass down there. If yo Poteño, get yo ass down thea too. Heck-faar, no matter whar yo from, get yo ass down thea and hav yasef sum chicken.Ambiance? 4.5 stars. And don't you doubt it. But if you have dreadlocks it's a 7.Service? Ain't none, but we gave it a 4 cause that's our God-given right.Executions? Yes. Louisiana has the death penalty. But, they've only had a quarter of the number of the executions per capita since 1976 as Oklahoma. Cuz a that, we're only giving NOLA a 4 for executions. Find us a restaurant with the name "Muskogee" and we'll give it a 5.Creativity? Off the charts. But we gave it 5 stars. You guessed it. That's our God-given right.Value? 4 stars. Somewhere has cheaper beer. But we can't remember where cuz we just drank six pints of Bröeder's at NOLA.Overall rating? I can't count cuz I'm a coon-ass. But my buddy who's from Boston (and them folks is highly intelligent) said it totals 4.2 stars.


Click the restaurant name or image to read the review
No items found
Click the restaurant image to read the review
No items found