Negro - Buenos Aires
Buenos Aires, Downtown - Microcentro, Retiro, Tribunales
Ambience

85%

Service

80%

Food

75%

Creativity

80%

Value

80%
Restaurant Details
Negro - Buenos Aires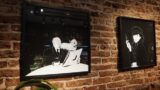 Locale: Buenos Aires, Downtown - Microcentro, Retiro, Tribunales
Address: Marcelo T Alvear 790
Telephone: +54 911 4813-1551
Restaurant Type: Cafe
Cuisine: Coffee - Bread - Pastries
Service Type: Table Service
Price: $$
Menu items offered: Breads and Pastries, Coffee, Desserts, Espresso, Salads, Sandwiches
Hours:
Mon-Sat: 7am to 11pm, Sun: Closed,

Review Summary
Marvin Gaye and a cup of coffee (Ecuadorian, Brazilian origin). Need I say more? Negro (la Cueva de Café) is great place for a cup of java. Locations downtown (Suipacha near Córdoba) and close Plaza San Martín.

The full review for Negro - Buenos Aires
Review by: Ollie O Rating: 4.0 stars Review Date: 11/07/2016
Where you enjoy your morning or afternoon cup of coffee may have as much to do with location as it does with how good the coffee is or how comfortable the chairs are. In most parts of Latin America, the lifestyle is sufficiently urban to limit excursions you make to cafés and restaurants to those within walking distance of wherever you happen to be.
The good news is that there are lots of great places in Buenos Aires that have really good coffee in an equally pleasant atmosphere. And more and more are opening every day.I was elated to find that Negro, a fabulous specialty coffee shop, that previously had only a single location in a sort of obscure location downtown, has now opened up a larger café much closer to my abode in Retiro, at Marcelo T. de Alvear and Esmeralda.Negro has a pleasant loft-like décor, a friendly and informative staff, and really good coffee. Oh, and the mix of classic American music inundating the interior of the place is first class too. I was enjoying a brilliant collage of American rhythm and blues while I was slurping away at a flat white. It's hard to beat listening to Marvin Gaye over a cup of java.The house blend is Ecuadorian and Brazilian beans. They sell the house blend in bags. They also sell a variety of bags of coffee of single origin from all over the world in bags (beans or ground for you on request), roasted, packaged and distributed in Argentina by the folks at PuertoBlest coffee in Rio Negro. With a very limited offering of sandwiches, salads and desserts, the food they offer to accompany that cup of java falls a bit short of the mark compared to many of the cafés in this category. But for a cup of java to go, or to enjoy onsite with a medialuna or a pastry, Negro is a great choice.Need something to brew that coffee in at home. They have you covered. They sell a variety of coffee paraphernalia.So, if your location is downtown or close to Plaza St. Martín you're just a few blocks away from Negro and a darn good cup of coffee.


Click the restaurant name or image to read the review
No items found
Click the restaurant image to read the review
No items found