Ambience

90%

Service

90%

Food

90%

Creativity

90%

Value

90%

Logistics

90%
Restaurant Details
Restaurant Details
Morena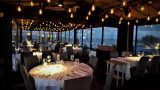 Locale: Costanera Norte
Address: Av Rafael Obligado Costanera 4899
Telephone: +54 11 4788-2521
Restaurant Type: Casual Dining, Seafood Restaurant
Cuisine: Seafood
Service Type: Table Service
Price: $$$$
Menu items offered: Breads and Pastries, Charcuterie, Coffee, Fried Calamari, Grilled Steaks, Ice Cream, Molten Chocolate Lava Cake, Oysters (on the half-shell), Salads, Soups, Sushi
Hours:
Tue-Sun: 8pm - 1am, Mon: Closed,

Review Summary
Morena offers a stunning view with an impressive elegant décor, near-flawless execution and service. Morena is our favorite seafood restaurant in Buenos Aires and one the best restaurants for dinner in a romantic setting

The full review for Morena
Review by: Ollie O Rating: 4.5 stars Review Date: 10/05/2018
Morena, a seafood-centric restaurant situated on a pier overlooking the River Plate across from the city's "in-town" airport, Aeroparque, has recently undergone a "face-lift" and the result is a beautiful and romantic atmosphere. Did the food at Morena match the pleasant décor?
The images in the slider display the beauty of the ambiance, overlooking the water and shore. It's impressive at sunset. There's a large bar area as you enter the restaurant. They are attempting to gain an image as place equally appropriate for cocktails as food. The impressive bar area would be great palace to have drink with friends in an impressive setting. The dining room is one large room completely surrounded by glass, providing a panoramic view of the sea and the coastline. The menu emphasizes seafood. Good seafood restaurants in Buenos Aires are a rarity so I wanted to try both a seafood appetizer and main course. I started with mussels. Perfectly executed. Then the haddock served with a blue cheese and Cognac sauce. Conventional wisdom in the culinary world says don't serve fish with cheese. They apparently never had a piece of haddock covered in this sauce. It was delicious, and the fish was cooked perfectly, flaky and still very moist. They have a dessert plate allowing you to choose three of their desserts served on a single plate. The plating was impressive. Beautiful. Surprisingly, all three desserts tasted as good as they look. A five-star offering. Service was near-flawless. Combine a stunning view with an impressive elegant décor, near-flawless execution and service, and you've got a winning formula. In a city obsessed with beef, finding a first-class seafood restaurant is not easy task. We did it. Morena is, in fact, our favorite seafood restaurant in Buenos Aires. Worth a visit for visitors and locals alike. Perhaps the nicest restaurant in Buenos Aires for a romantic, special-occasion.


Click the restaurant name or image to read the review
No items found
Click the restaurant image to read the review
No items found