Lobo Café
Buenos Aires, Puerto Madero
Ambience

85%

Service

70%

Food

75%

Creativity

80%

Value

80%
Restaurant Details
Lobo Café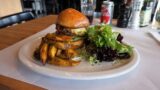 Locale: Buenos Aires, Puerto Madero
Address: Pierina Dealessi 1330
Telephone: +54 11 4517-8195
Restaurant Type: Hamburger Restaurant
Cuisine: Burgers
Service Type: Table Service
Price: $$$
Menu items offered: Hamburgers
Hours:
Sun-Sat: 8am to 12am, ,

Review Summary
Best option for breakfast in Puerto Madero overlooking the harbour. Nice decor. Friendly, but lackluster service. Commendable French toast.

The full review for Lobo Café
Review by: Ollie O Rating: 3.8 stars Review Date: 11/15/2016
There are so many upscale restaurants overlooking the harbor in Puerto Madero. Finding a steak or plate full of ravioli is certainly not a problem. Finding somewhere to have a quality casual meal in your Bermuda shorts is quite another story.
There are a few fast-food restaurants peddling burgers, like Mostaza. There are a couple of chain-restaurants like TGI Friday's and Il Gatto. But if you're looking for something that wasn't stamped out with a cookie-cutter the pickings are slim. But I recently stumbled onto Lobo Café while riding my bike on the boardwalk running along the back side of the harbor in Puerto Madero that may just well be the best casual dining spot in Puerto Madero. Lobo Café lies at the far south end of that string of restaurants on the boardwalk and is open from 8 am until midnight, seven days a week, serving breakfast, lunch, dinner, and everything in between. The breakfast menu has a bit more variety than your typical café in Buenos Aires. And they're open seven days a week. You can 
read our review about breakfast at Lobo Café here
. The wait staff is all young females. In accordance with Argentine custom, they aren't very attentive, taking the accepted Argentine stance that if a customer wants something they should wave to get the waiter's attention. But other than this typical custom of ignoring the patrons, the service was very good. The waitresses have always been both informative and friendly, despite being somewhat inattentive. The décor is contemporary with natural stained wood paneling on the front of the counter and tables. All bench seating and chairs are painted stark black and the floors are painted with black lacquer. The café is professionally lighted with spots and chrome pendants. The menu is your typical casual food fare with the addition of a few unique breakfast items and some interesting twists on the lunch and dinner offerings. For the early-risers, they have the typical array of baked goods and desserts, yogurt and fruit salad, ham and scrambled eggs, and French toast. On the savory side, they offer a variety of sandwiches, wraps, and salads, a single pizza option, and a few pasta dishes. And, of course, a hamburger, that was pretty unique and tasty. You can
read about that burger here
. I had the French toast on a recent visit for breakfast. It's served, dusted with powdered sugar, with a little syrup on the side and a plate full of fresh fruit. A much better breakfast than what you'll find most places. It's a little expensive, but not much more than you'd expect in this location. They serve up high-quality locally roasted PuertoBlest coffee. We've been looking for some good vegetarian options to feature on the website and tried their veggie sandwich recently. Unlike the burger and French toast, the sandwich was a flop. The bread was dry and falling apart making the sandwich impossible to eat in hand. The ingredients were pretty good but it's hard to get over having to eat a sandwich with a spoon. We had to downgrade the restaurant in the food category because of this poor showing on the veggie sandwich. All in all, we think Lobo Café remains a pretty good choice for casual dining in Puerto Madero. With a pleasant view of the water, stylish décor, and above-average food, Lobo Café is about as good as it gets in Puerto Madero for casual dining. But be forewarned, service can be slow. Order up a coffee, enjoy the view, and you'll be ready for a second cup by the time the food arrives. And don't order the veggie sandwich!


Click the restaurant name or image to read the review
No items found
Click the restaurant image to read the review
No items found