Lo de Jesús
Buenos Aires, Palermo, Palermo Soho
Ambience

85%

Service

85%

Food

85%

Creativity

80%

Value

85%
Restaurant Details
Restaurant Details
Lo de Jesús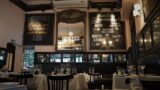 Locale: Buenos Aires, Palermo, Palermo Soho
Address: Gurruchaga 1406
Telephone: +54 11 4832-6011
Restaurant Type: Casual Dining, Steakhouse
Cuisine: Grilled Steaks
Service Type: Table Service
Price: $$$$
Menu items offered: Braised Meat Dishes, Coffee, Desserts, Empanadas, Espresso, Grilled Steaks, Pasta, Salads, Veal cutlets - Milanesas
Hours:
Sun-Sat: 12pm to 2am, ,

Review Summary
For our money, Lo de Jesús offers similar quality in a superior ambience and at a better price than nearby parillas La Cabrera or Don Julio. It's the best steakhouse in Palermo.

The full review for Lo de Jesús
Review by: Ollie O Rating: 4.2 stars Review Date: 01/27/2018
Lo de Jesús used to be one of those "rough-around-the-edges" working-class parillas. But with a recent face-lift, lots of good press, and the addition of a fancy wine bar next door, Lo de Jesús has morphed into a more sophisticated version of an Argentine steakhouse. Black lacquered paneling and chairs, starched white tablecloths and black and white tile floors give the restaurant a bit of a classy tuxedo and bow tie exterior without losing that warm soul that is the hallmark of the Argentina "parilla".
The waiters were friendly, informative and efficient. But the restaurant wasn't busy at the time of our visit. The steaks aren't the highest quality, but they are superior to most of the local parillas. And they were flavorful. There was very little waste on my ribeye. Despite the pleasant décor, there was a lack of attention to detail. My tablecloth had heavy creases where it had been folded. This type of "blind-eye" to the details, I regret to say, is more the norm in Buenos Aires, than the exception.The good news? They offer bone-in ribeyes and aged steaks. Their aged New York strip was priced at US $27 (ARS$535). A similar aged steak at La Cabrera, a few blocks away, would run about $36 (ARS$714). The décor at nearby La Cabrera is a bit "stereotypical" Argentine as well. I prefer the clean, sophisticated feel at Lo de Jesús.If there is one place where this restaurant falters, it's on the total lack of imagination and variety for side dishes. They offer nothing but the same old boring array of potatoes, complimented by only two "non-potato" sides of mushrooms and creamed spinach. The salads are even more nondescript. And the wine list fails to list vintages for anything except their most expensive wines. You'd think a place that owns an adjoining wine bar would provide the vintage of the wines on the wine list, something connoisseurs want to see. But notwithstanding a few blemishes, Lo de Jesús still outshines most of the competition. In our opinion it's the best mix of quality, ambience and value in Palermo.


Click the restaurant name or image to read the review
No items found
Click the restaurant image to read the review
No items found