Ambience

80%

Service

85%

Food

85%

Creativity

85%

Value

85%
Restaurant Details
Restaurant Details
Lincoln Kitchen
Locale: Recoleta
Address: French 3131
Telephone: +54 11 2885-8737
Restaurant Type: Casual Dining
Cuisine: Eclectic Gourmet
Service Type: Table Service
Price: $$$
Menu items offered: Braised Meat Dishes, Carpaccios - Tartares, Charcuterie, Coffee, Crème brûlée, Empanadas, Hamburgers, Molten Chocolate Lava Cake, Pizza, Rice - Risotto, Roasted Meat Dishes, Salads, Sandwiches, Seafood, Smoked Meat Dishes, Soups, Tamales - Humitas, Tapas - Finger Foods - Snacks, Veal cutlets - Milanesas
Hours:
Tue-Sat: 9am - 4pm, 7pm - 1am, Sun: 11am - 5pm, Mon: 7pm - 12am

Review Summary
Lincoln Kitchen serves a menu that approaches gourmet status in an ultra-casual setting. The appetizers are a bit pricey, but the main-course offerings more reasonable. The lunch menu with three courses and beverage included is a value.

Lincoln Kitchen serves a menu that approaches gourmet status in an ultra-casual setting, reminiscent of two other new restaurants in the city, Narda Comedor and 13 Fronteras, both of which we recently reviewed.
The décor at Lincoln Kitchen is pleasant. Slightly minimalist with exposed brick. Yet it's a more comfortable and slightly warmer environment than similar restaurants leaning toward a more industrial décor. The bulk of the menu items appear to be priced about right. A few of the appetizers seem a bit expensive, some as high as ARS$350 (US$9.50). The main-course dishes seem more reasonably priced, with everything except the ribeye priced below ARS$350 (US$9.50). I'm ambivalent about this menu. I'm undecided as to whether it's just another attempt to make Argentine ingredients sound more glamourous than they are by the use of excessive adjectives or whether these cooks are really doing something out of the box. Time will tell. All I can attest to is my initial impressions after my first visit for lunch to Lincoln Kitchen. Although the a la carte menu at lunch might tend a bit to the pricey side, the fixed-price lunch menu is a value. An appetizer, main-course item, usually with a side-dish, a dessert, and non-alcoholic beverage for ARS$330 (US$8.75). The items offered on that menu change frequently. There were a couple choices for each course. For the appetizer, I elected to have the pumpkin soup. It was flavorful and creamy. Delicious. I chose fried fish for the main course. It was breaded in a crispy batter (panko I believe) and fried, sitting on a simple, but delicious, velvety potato pureé. Both the appetizer and main-course were well-conceived and well-executed. The dessert, a lemon pie, was a disappointment. The crust was hard as a brick. The lemon filling was acceptable, but the merengue topping was a bit chewy. A real disappointment considering how good the other two courses were. Hopefully that dessert is an aberration. But at less than US$9, the appetizer, main-course and beverage alone would be a value. The service, by a young waitress with a beautiful smile, was pleasant and attentive. The jury is still out on the a la carte menu, but the prix fixe lunch menu is a winner. Even more so if the pastry chef can learn to bake a pie.


Click the restaurant name or image to read the review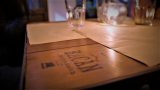 Bacán – Buenos Aires
Neighborhoods: Barracas, San Telmo
Service options: Table Service
Cuisine(s): Eclectic Gourmet
Rating: 4.5 stars Cost: $$$ . Price: Casual Dining
---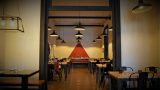 Inmigrante – Buenos Aires
Neighborhoods: Palermo Soho
Service options: Table Service
Cuisine(s): Eclectic Gourmet
Rating: 4.5 stars Cost: $$$ . Price: Casual Dining
---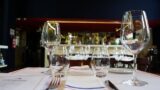 Aldo's – Buenos Aires
Neighborhoods: Palermo, San Telmo
Service options: Table Service
Cuisine(s): Eclectic Gourmet
Rating: 4.5 stars Cost: $$$ . Price: Upscale Casual
---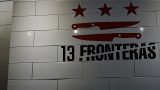 13 Fronteras – Buenos Aires
Neighborhoods: San Telmo
Service options: Table Service
Cuisine(s): Eclectic Gourmet
Rating: 4.5 stars Cost: $$$ . Price: Casual Dining
---
La Panadería de Pablo – Buenos Aires
Neighborhoods: Olivos
Service options: Table Service
Cuisine(s): Eclectic
Rating: 4.4 stars Cost: $$$ . Price: Casual Dining
---
Click the restaurant image to read the review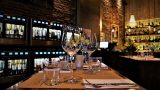 Vico Wine Bar – Buenos Aires
Neighborhoods: Palermo Soho
Service options: Table Service
Cuisine(s): Eclectic Gourmet
Rating: 4.6 stars Cost: $$$$ . Price: Casual Dining
---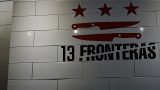 13 Fronteras – Buenos Aires
Neighborhoods: San Telmo
Service options: Table Service
Cuisine(s): Eclectic Gourmet
Rating: 4.5 stars Cost: $$$ . Price: Casual Dining
---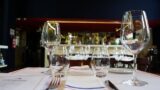 Aldo's – Buenos Aires
Neighborhoods: Palermo, San Telmo
Service options: Table Service
Cuisine(s): Eclectic Gourmet
Rating: 4.5 stars Cost: $$$ . Price: Upscale Casual
---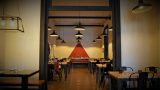 Inmigrante – Buenos Aires
Neighborhoods: Palermo Soho
Service options: Table Service
Cuisine(s): Eclectic Gourmet
Rating: 4.5 stars Cost: $$$ . Price: Casual Dining
---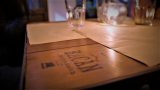 Bacán – Buenos Aires
Neighborhoods: Barracas, San Telmo
Service options: Table Service
Cuisine(s): Eclectic Gourmet
Rating: 4.5 stars Cost: $$$ . Price: Casual Dining
---