Las Cabras
Buenos Aires, Palermo Hollywood
Ambience

80%

Service

75%

Food

80%

Creativity

70%

Value

85%
Restaurant Details
Restaurant Details
Las Cabras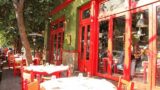 Locale: Buenos Aires, Palermo Hollywood
Address: Fitz Roy 1795
Telephone: +54 11 5197-5303
Restaurant Type: Casual Dining, Steakhouse
Cuisine: Grilled Steaks
Service Type: Table Service
Price: $$$
Menu items offered:
Hours:
Mon-Sun: 12pm to 4pm & 8pm to 12am, ,

Review Summary
Wildly popular steakhouse. Almost always a wait for a table at both lunch and dinner. How do they do it? Nice ambiance. Great for people watching. And it's cheap. Not good quality but apparently that's not important the to hordes of locals and tourists that make this place one of the most popular restaurants in the city.

The full review for Las Cabras
Review by: Ollie O Rating: 3.7 stars Review Date: 04/23/2015
There are a hundreds, perhaps even thousands, of steakhouses in the Buenos Aires metropolitan area. Throw a piece of meat on an open flame and call yourself a "parilla". But only a few stand out for delivering high quality service and food in an atmosphere that persuades you to return again, and again.
I've been to the fanciest and most expensive steakhouses in Buenos Aires, among them, the famed Cabaña Las Lilas in Puerto Madero. I've been to the unique La Brigada in San Telmo, with its walls cluttered with Argentine memorabilia and photos of dignitaries shaking the owner's hand and the like. You know the kind of place I'm talking about, right? But on all my visits to these establishments, I've only seen waiting lines exceeding 45 minutes at two on a weeknight ... La Cabrera in Palermo Soho and Las Cabras in Palermo Hollywood.When there is a line to get in there is usually a reason. And with Las Cabras, there are many reasons. The very fact that it is crowded and bustling makes it a pretty good spot to do some "people watching". And isn't that part of the fun of dining out? From the big wooden cattle yokes hanging on the walls to the butcher paper on the tables this place shouts, "No frills, just good food in a fun atmosphere." I note that there is a similar format at a parilla in Las Cañitas called Las Cholas with an almost identical menu operated by the same owner. The same owner also has La Hormiga in Palermo Soho which has steaks plus a more diverse menu. La Hormiga is more of a modern bistro.My buddy, Gabriel, and I both elected to order the "bad mama jama" plate on the menu, the "Gran Bife Las Cabras". For $120 pesos you get a huge block of wood with a big Bife de Chorizo (strip steak) in the middle (about 400 grams I'd say) and it is surrounded by a grilled onion, grilled cheese, rice, mashed pumpkin, a big stack of fries and for good measure, a fried egg thrown on top. No fancy beer in this place. But the very cold liter of Imperial lager my buddy and I split tasted pretty darn good with that big ole' steak and all those fixins. And the steak was cooked perfectly, just as requested.At $120 pesos, this isn't just a value. It's a steal. Now on this particular night my steak was cooked to perfection. I haven't always been so lucky at La Hormiga where on two occasions the meat was overcooked. Be further aware that the steaks at Las Cabras are not even close to being the best available in the city. In fact there are more expensive options that offer higher quality steaks in Palermo Hollywood ... La Dorita, El Trapiche El 22 and Campo Bravo being good examples of that. But with the fun and busy surroundings and at least one great deal available on the menu, Las Cabras is probably a better overall experience than the more expensive restaurants, unless you're putting the quality of the steak above all else. Also, you might have to wait up to an hour to get in on a weekend which would be a good reason to opt for a nearby parilla that is a little less popular.See the table below for our final scores for this trip to Las Cabras.


Click the restaurant name or image to read the review
No items found
Click the restaurant image to read the review
No items found