Ambience

90%

Service

90%

Food

85%

Creativity

90%

Value

70%
Restaurant Details
Restaurant Details
La Mar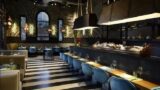 Locale: Buenos Aires
Address: Arévalo 2024
Telephone: +54 11 4776-5543
Restaurant Type: Casual Dining
Cuisine: Seafood
Service Type: Table Service
Price: $$$
Menu items offered:
Hours:
Tue-Sun: 12:30pm to 12am, Mon: 8pm to 12am,

Review Summary
Gaston Acurio finally brings his highly popular Peruvian seafood restaurant, Cebichería La Mar, to Buenos Aires in Palermo Hollywood. In a city that sorely lacks good seafood options, La Mar is a breath of fresh (ocean) air. With excellent food and service without any serious competition, the cebichería is sure to be hit with the trend craving locals and visiting travelers alike.

The full review for La Mar
Review by: Ollie O Rating: 4.4 stars Review Date: 05/04/2015
La Mar is the creation of Latin America's most famous and most prolific restaurateur, Gastón Acurio. After an unsuccessful venture into Buenos Aires with his upscale format restaurant, Astrid y Gastón, Chef Acurio decided to roll the dice in Buenos Aires again with his most popular restaurant chain, La Mar, a Peruvian-style cebecheria with a more casual ambience. It's located at the corner of Arévalo and Nicaragua in what appears to be a restored building with beautiful old-world architecture. There is a large terrace out front which is where the majority of the tables are located and a large bar surrounding a huge tree on the front terrace where you can sip on a pisco sour or if you prefer it to a table, have dinner served at the bar.
The dining room indoors is very small. Perhaps 8 tables or so (unless there were some hidden rooms that I didn't see). I elected to have a table out on the terrace by the front entry where there was a constant flow of "well to do" Porteños entering the restaurant, leaving their expensive cars with the valet out front. This definitely has the feel of the new "place to be" in Palermo.The young hostess, Ayumi, immediately greeted me and showed me the available tables. Within minutes of being seated the waiter was taking my drink order. The first test, can the staff behind the bar make a pisco sour worthy of being called Peruvian? The answer? Yes. It was a perfectly concocted cocktail, including the frothy egg white foam and the tiny drop of bitters crowning the drink. Not too sour. Not too sweet. Just right.Another bunch of Gaston's little army of helpers soon arrived with potato chips and two creamy dips. One a mild yellow dip similar to the creamy yet slightly picant sauce on which the Peruvian classic, Ají de Gallina, is based. The second a slightly hotter version with mild red color from the use red peppers. Both were good dips for the crisp little potato chips.The menu contained variations on Peruvian classics bearing the Gaston Acurio touch. To get a little variety I elected to have an appetizer that was a small dish of three causas, each topped with a langostino and "salsa golf" (something similar to Russian or Thousand Island Dressing, that is a common condiment in Argentina) and then followed up with the shrimp shish-kabobs that were served, removed from the spit, along with some Patagonian new potatoes. Both dishes were beautiful in presentation and delicious. The service throughout the experience was near perfect. The head chef approached my table twice to confirm my satisfaction with the meal, as did the hostess and the waiter. On the second approach I took the opportunity to "chat up" the chef. He was Peruvian, no formal training at culinary school, but having trained under Gaston in Lima, was clearly qualified to man the helm of this new Argentine endeavor.The final bill for an appetizer and small main course with two cocktails and bottle of mineral water was $466 pesos, about US$35 at the blue market exchange rate. This is somewhat pricey by Argentina standards but not outrageously expensive by any means. This hefty bill kept the restaurant from scoring high on our value scale but it earned good marks in every other category.Looking for a great take on Peruvian fare? You won't do much better than La Mar.The final verdict? Looking to spend a special night out at BA's newest trendy restaurant? You won't likely be disappointed at La Mar. I scored the experience a 4 for execution and taste, 4.5 for service, a 4.5 for ambiance with a great terrace dining experience, 4 for creativity and 3.5 for value. Overall a score of 4.3.


Click the restaurant name or image to read the review
No items found
Click the restaurant image to read the review
No items found