La Fonda del Polo - Buenos Aires
Buenos Aires, Las Cañitas, Palermo
Ambience

75%

Service

80%

Food

80%

Creativity

80%

Value

85%
Restaurant Details
La Fonda del Polo - Buenos Aires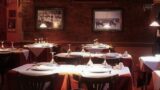 Locale: Buenos Aires, Las Cañitas, Palermo
Address: Baez 301
Telephone: +54 11 4772-8946
Restaurant Type: Casual Dining, Steakhouse
Cuisine: Argentine, Grilled Steaks
Service Type: Table Service
Price: $$$
Menu items offered: Charcuterie, Coffee, Crêpes, Desserts, Empanadas, Fried Calamari, Grilled Steaks, Pasta, Salads, Seafood
Hours:
Mon-Fri: 8pm to 1am, Sat-Sun: 12pm to 4pm & 8pm to 1am,

Review Summary
Steaks & Pasta This place takes the quintessential steak- and pasta-centric menu and dresses it up in lipstick and a petty coat (not literally, of course). The result is the Polo themed, rich-man's version of the classic Porteño Bodegón. We always order one of the house specialties that has a steak and a tasty side-dish that's not french fries. Definitely worth a visit.

The full review for La Fonda del Polo - Buenos Aires
Review by: Ollie O Rating: 4.0 stars Review Date: 08/29/2015
Within a stone's throw of the Palermo Polo field you'll find La Fonda del Polo, a prime example of a slightly fancier style of Argentine steakhouse. It's located at the intersection of Baez and Arévelo on restaurant row in Las Cañitas. In keeping with the name, the restaurant is decorated in a polo theme. It has walls paneled in dark stained wood giving the place a "Polo Club" ambiance. The waiters are that typical apron clad, starched shirt, formal attitude. Ours was efficient and friendly though.
What distinguishes La Fonda del Polo from the typical parilla in Buenos Aires is a rather sizeable menú full of specialties that include unique sauces and side dishes. This is a welcome change from the traditional Argentine steakhouse.On this afternoon we ordered two items from the Specialties section of the menu, a Lomo La Martina (a grilled tenderloin steak in a port wine sauce accompanied by gnocchi in a creamy three cheese sauce), and a Lomo La Fonda (the same steak covered in a port wine sauce with caramelized onions, red peppers and dried mushrooms accompanied by fried breaded eggplant slices).Service was impeccable throughout the entire meal and the steaks were cooked perfectly. The sauces and side dishes were executed perfectly. This is not haute cuisine, but it is certainly a refreshing and more refined approach to an Argentina steakhouse. At about US $13.75 (ARP$170) for each dish, including the included side dishes, this was quite reasonably priced, about the same as a steak without the fixins across the street at Campo Bravo and in my opinion, a better cut of meat as well.For a slightly different take on the traditional Argentine steakhouse pay La Fonda del Polo a visit.


Click the restaurant name or image to read the review
No items found
Click the restaurant image to read the review
No items found