La Crespo - Buenos Aires
Buenos Aires, Villa Crespo
Ambience

75%

Service

80%

Food

90%

Creativity

90%

Value

90%
Restaurant Details
Restaurant Details
La Crespo - Buenos Aires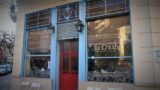 Locale: Buenos Aires, Villa Crespo
Address: Thames 612
Telephone: +52 11 4856-9770
Restaurant Type: Casual Dining, Family Dining
Cuisine: Middle Eastern
Service Type: Table Service
Price: $$
Menu items offered: Breads and Pastries, Brownies or Blondies, Cheesecake, Chocolate Cake, Coffee, Espresso, Pasta, Salads, Sandwiches, Seafood, Soups, Tapas - Finger Foods - Snacks
Hours:
Mon-Fri: 11:30am to 8pm, Sat-Sun: 11:30am to 6pm,

Review Summary
A unique restaurant menu that's a mix of New York delicatessen and Jewish and Eastern European classics. This is one of Ollie's O's favorite lunch spots. The problem is deciding whether to have the pastrami on pumpernickel or the lox on a bagel sandwich. Why not have both?

The full review for La Crespo - Buenos Aires
Review by: Ollie O Rating: 4.0 stars Review Date: 08/23/2015
La Crespo looks like about like any other corner café in Buenos Aires. Non-descript. Watch your step as you enter the single room full of tables spaced only far enough apart to give the waitresses the ability to move around the tables. There are counters with stools along the edge of the room to enable a few more diners to enjoy the food during peak hours.
The décor is just as non-descript as the façade. Clean and pleasant, but nothing especially unique or decorative other than a couple of large posters of sandwiches and such. This is a place that is quite obviously more about the food than the ambiance.
You won't come to La Crespo to admire the artwork on the walls. You'll come to admire the menu. Which is exactly what I did.
The menu is ... well ... unique. Based on what I'd read about their notorious pastrami sandwich I was expecting some hybrid of sandwich and pastry shop. But after a couple of minutes of browsing the menu it become evident that this place is much more than a Jewish deli serving up pastrami and Reuben sandwiches. Albeit small, this is a full scale Jewish restaurant with a fairly sizable selection of Jewish and Eastern European dishes.
They have latkes, kibbes and knishes (you have to speak Yiddish just to pronounce the menu items) and a variety of savory meat-filled strudels in appetizer portions.
And a menu full of Eastern European main dishes like goulash, lasagna and borscht make this place all the more interesting. For those of you with a sweet tooth there's a huge variety of artisanal pastries.
I'll be back soon to sample this cornucopia of Eastern European cuisine. But on this day I was here for the pastrami sandwich.
At US$7.50 (ARS$110) this is a pretty expensive sandwich by Buenos Aires standards. But the old adage that you get what you pay for aptly applies to this sandwich. This sandwich was worth every penny I paid.
Let's start with the bread. The menu describes it as a multi-grain bread, but what this really is, is one of the best two slices of Pumpernickel you'll ever lay you taste buds on. It was the perfect mix of rye and other grains that created this soft, sweet and lightly rye-flavored center with this crisp crust. It was then lathered with a sweet homemade mustard and piled high, New York deli style, with a mound of steaming pastrami and a couple of slices of a sweet and savory pickle. And it came with a spoonful of caramelized onion marmalade on the side. SCHMEER a little bit of the onion relish on that sandwich you have a gift from the Gods. This was as good as any pastrami sandwich I've tasted in New York or elsewhere. Move over Mr. Katz. You've got some competition.
I didn't take a bite of the lox and bagel sandwich but I've included an image of the beast in the image slider. I'm looking forward to biting into that beast on a future visit.
La Crespo was packed for lunch when I was there on a Sunday afternoon but the two waitresses seemed to be handling it all in stride. I'd say the service was well above average.
And the owner and head chef, Clarisa Krivopisk was walking about, tending to the needs of customers. But she found time to answer a few of my questions, mostly about her Romanian ancestry.
This was a great sandwich and I feel confident that that everything else on the menu will be equally good and unique. I'll update the post after my next visit.
The barrio Villa Crespo is certainly not a hub for tourists. But this restaurant is only a few blocks away from the heart of Palermo Soho and is well worth the 10 minute walk to experience a truly unique and well executed menu. Welcome, La Crespo, to Ollie O's list of favorites in Buenos Aires.


Click the restaurant name or image to read the review
No items found
Click the restaurant image to read the review
No items found