La Carnicería - Buenos Aires
Buenos Aires, Palermo Soho
Ambience

85%

Service

80%

Food

90%

Creativity

85%

Value

85%
Restaurant Details
Restaurant Details
La Carnicería - Buenos Aires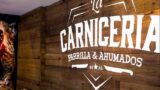 Locale: Buenos Aires, Palermo Soho
Address: Thames 2317
Telephone: +54 11 4514-5820
Restaurant Type: Steakhouse
Cuisine: Grilled Steaks
Service Type: Table Service
Price: $$$
Menu items offered: Desserts, Empanadas, Grilled Steaks
Hours:
Tue-Thu: 8pm to 12am, Sat-Sun: 1pm to 3:30pm & 8pm to 12am,

Review Summary
La Carnicería is the heavy metal version of the Argentine steakhouse. Nothing quite like it in Buenos Aires.

The full review for La Carnicería - Buenos Aires
Review by: Ollie O Rating: 4.3 stars Review Date: 12/03/2016
La Carnicería is to Argentine steakhouses as heavy-metal is to twentieth century music. It breaks all ten of the Ten Commandments of Argentine Steakhouses. For those of you that aren't familiar with the commandments, let me share them with you.
Thou shalt have plastic covered pages on your menu.
Thou shalt not have a menu that does not include at a minimum, the three following cuts of beef: lomo de bife (tenderloin), a bife de chorizo (strip steak) and ojo de bife (ribeye).
Thou shalt not serve grilled steaks with bones unless combined on a big platter with cheap cuts of meat and sausages.
Thou shalt not serve steaks thicker than 3 cm.
Thou shalt offer French fries on your menu.
Thou shalt have a replica of a cow on the premises or out front, or, alternatively, murals or paintings of cattle grazing.
Thou shalt also have paintings of gauchos on the walls.
Thou shalt serve stale bread in a basket.
Thou shalt overcook the steaks.
Thou shalt have waiters in red vests that don't smile.
It's not unusual in modern times, to find a steakhouse in Buenos Aires that breaks one or two of the rules. But all ten? That's unheard of. Here's how the irreverent La Carnicería managed to break all ten commandments.The menu is only one page. It's cream colored paper and it's not covered in plastic. In fact, mine was stained in about three places as you can see in this photo. There are a handful of appetizers and four main course dishes. And there's only one cut of beef on that main course list that is cooked on the grill (there's one that's smoked, also). To add insult to injury, that single steak is a bone-in strip steak. And it's thick. When they throw it on the grill it's about 5 to 6 centimeters. Cooks down to about 4 cm. In one paragraph these guys have already broken four commandments.There are no French fries in this restaurant. Just a delicious baked potato if you're craving a spud. That's commandment #5, down the drain.No hokey estancia-themed décor. No cattle grazing nor gauchos swinging bolas. Just the La Carnicería logo, hand-painted on the paneled back wall and a room-size photo of about forty sides of beef hanging in a butcher's walk-in. It's creative and it's unique. Commandments #6 and #7, butchered. Pardon the pun.They don't serve bread. So, it can't be stale. Commandment #8, violated.I ordered the chorizo sausage appetizer. It comes in a bowl with a fried egg and some peas. Why don't all steakhouses serve sausages that way? I had the steak. I can't remember if I told them I wanted it "jugoso" (medium-rare) or not. I think that might be the only way they serve them. If you order one well-done, they'll kick you out of the restaurant. Why don't all steakhouses do it that way? As you can see from the photo I took after I'd sliced a big chunk out of that steak, it was a perfect medium-rare. Now I'm not going to say that this cut of beef was the highest quality I've encountered in Buenos Aires. But it was thick and full of flavor. And it wasn't overcooked. Commandment #9 falls.I had the baked potato to accompany that steak. It was stuffed full of sour cream, chopped tomatoes and a couple of slices of sausage. You don't get a potato. You get two potatoes. Ideal for couples. I should have brought a friend.I was sitting at the long counter facing the grill and watching them churn out steaks and gin cocktails lickety, split. So, I didn't really have a waiter or waitress. But I can state with certainty that the kids that were waiting on the tables weren't wearing red vests. One wore a Def Leppard t-shirt and the other one . . . Well I can't remember, but it was definitely not a red vest. The final commandment, ignored!So, in summary. This steakhouse is breaking all the rules. The result is a breath of fresh air. A new outlook on the Argentine parilla. You can get a better steak elsewhere in Buenos Aires. But won't be half as interesting as a visit to La Carnicería.


Click the restaurant name or image to read the review
No items found
Click the restaurant image to read the review
No items found