La Brigada
Buenos Aires, San Telmo
Ambience

95%

Service

85%

Food

90%

Creativity

75%

Value

75%
Restaurant Details
Restaurant Details
La Brigada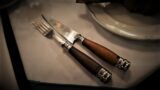 Locale: Buenos Aires, San Telmo
Address: Estados Unidos 465
Telephone: +54 11 4361-4685
Restaurant Type: Steakhouse
Cuisine: Grilled Steaks
Service Type: Table Service
Price: $$$$
Menu items offered: Coffee, Crème brûlée, Empanadas, Grilled Steaks, Ice Cream, Pasta, Salads, Tiramisu
Hours:
Sun-Sat: 12pm to 3pm & 8pm to 12am, ,

Review Summary
La Brigada is the quintessential Argentine steakhouse. It's the "real deal". Despite its humble surroundings in San Telmo and the quirky decor, La Brigada somehow manages to transcend it all and achieve steakhouse stardom. It's first class from the steak knives to the big, juicy steaks. Do the bone-in ribeye or the t-bone for the experience of a lifetime. It's very, very good.

The full review for La Brigada
Review by: Ollie O Rating: 4.2 stars Review Date: 11/23/2016
It had been a handful of years since I had sliced into a steak over at La Brigada. The first visit was pleasant, but it hadn't lingered in my memory as one of the best dining experiences in Buenos Aires. That's now changed.
I'm not sure what I missed on that prior visit. I don't think much has changed at the restaurant. It's still jam-packed with fútbol (soccer) memorabilia, with trinkets and tidbits that are part of the city's grand past hanging on every square-inch of every wall. I won't even try to describe the place. Only the photos can justly accomplish that task.I often complain about restaurants with cluttered, disorganized décor. But this hodge-podge of history tacked to every wall and stuck in every nook and cranny of the restaurant oddly works. I wouldn't change a thing. That, and the big juicy steaks, are what make this place La Brigada. It's a restaurant that anyone and everyone that lives in or visits Buenos Aires should experience.Despite the disheveled and dirty neighborhood surrounding this noble locale, La Brigada manages, somehow, to be a first-class restaurant. From the napkins, plates, wine glasses, and steak knives, to the apron clad waiters, the restaurant attends with great care to every detail.The menu is about what you'd expect to find at any high-end parilla in Buenos Aires. Every cut of meat that can be salvaged from a side of beef is available. But if you're going to experience La Brigada in the form and manner it deserves, I urge you to order the bone-in ribeye (ojo de bife con hueso) or the t-bone steak. Both are big, thick cuts of prime Argentine beef that have that distinctive grass-fed flavor. Those are the two cuts we ordered on this most recent visit.There isn't much variety on the menu in terms of side-dishes. They do have a few salads. That's good news. If a vegetarian happens to stumble into the place, they won't have to sit there looking stupid while everyone else eats more beef than should be legal. But be forewarned. Ordering a salad in Buenos Aires at a steak house is roughly the equivalent of ordering champagne at Adair's Saloon in Dallas, Texas. Not advised. You might got shot.Most restaurants in Buenos Aires will give you the choice, in addition to the mandatory French fries, to potatoes prepared in a few more elaborate ways. Some even offer a foil wrapped baked-potato, like the ones you see in the steak houses in the USA. But not at La Brigada. I suppose the owners of the noble establishment don't want the variety to distract from the star of the show, that big, juicy steak. So, we ordered up the only potato option on the menu. The fries! I think they were pretty tasty. To be honest. All I can remember was the steak.When I cut into that steak I was alarmed. I'd ordered it "jugoso", which will typically result in a medium-rare steak on the plate. But when I made that first cut, that sharp steak knife revealed a steak that was cooked well beyond medium.I thought to myself, "Oh, my Lord. Have the parilleros ruined this heavenly cut of beef?" But just one more slice, and then another, revealed the most perfectly cooked medium-rare steak (leaning a bit towards rare, which was all the better) I'd ever laid eyes on. It was a beautiful consistency as well. Bear in mind, the ribeye is quite a distance from the lean but tender loin (lomo). My steak, the ribeye, actually had the look and feel of a tenderloin, but was more flavorful, as a ribeye should be. It was a rare (pardon the pun) and beautiful sight.And each bite only confirmed that this steak tasted as good as it looked. My buddy's t-bone was equally impressive. It reminded me of something Fred Flintstone would order back in Bedrock.I've had a lot of tasty steaks in Buenos Aires. Perhaps, hundreds. But this one probably ranked in the top five. Easily in the top ten.A quirky, busy, one-of-a-kind ambiance. Flawless service. Execution well beyond what I expected. This all added up to one of the most pleasant steakhouse outings of my lifetime. Despite the lack of variety and creativity on the side-dishes, we scored the restaurant high on creativity due to the inclusion of both a t-bone steak and bone-in ribeye on the menu, a rarity in any steakhouse, anywhere in the world. The prices were hefty, like the steaks. But not unreasonably so, considering the experience.Summing it up, do not miss La Brigada. It is the quintessential Argentine parilla.


Click the restaurant name or image to read the review
No items found
Click the restaurant image to read the review
No items found