La Birra Bar - Night
Caballito, Palermo Hollywood
Ambience

80%

Service

80%

Food

95%

Creativity

90%

Value

80%
Restaurant Details
La Birra Bar - Night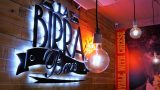 Locale: Caballito, Palermo Hollywood
Address: Carlos Calvo 4317
Telephone: +54 11 2055-1772
Restaurant Type: Fast Casual
Cuisine: Burgers
Service Type: Counter Service, Take-out
Price: $$$
Menu items offered: Hamburgers
Hours:
Sun: Closed, Mon: Closed, Tue: 6:00 pm - 11:00 pm, Wed: 6:00 pm - 11:00 pm, Thu: 6:00 pm - 11:00 pm, Fri: 6:00 pm - 11:00 pm, Sat: 12:00 pm - 4:30 pm, 6:00 pm - 12:00 am

Review Summary
La Birra Bar is the new rage in burgers in Buenos Aires. For pretty good reason. If you don't mind standing in line for few minutes then waiting another 15 minutes or so to pick up your burger and fries, you'll be treated to one of the most masterfully built burgers in Buenos Aires.

The full review for La Birra Bar - Night
Review by: Ollie O Rating: 4.3 stars Review Date: 10/10/2018
La Birra Bar has been getting praise from critics and consumers alike. All the publicity has resulted in a line that starts forming before the bar even opens. Yes. It's that popular.
La Birra Bar falls into the fast-casual dining format. You order and pay at the counter, then find a table, and wait for you name to be called. That long line moves quickly. It's not really a line to get a table. It's merely a line to avoid traffic jams inside the front door. Even when the line outside the restaurant reaches 30 meters in length, it's still only about 15 or 20 minutes wait before you're at the counter ordering food. And then there are typically some available tables, either indoors or outside in the covered dining area.
The restaurant is very similar in décor to the new Palermo location of Burgertify. Both use video-screen menus to display the burger options. The big video screens with sixteen different burger options makes it appear at first glance as if they have a wide variety of ingredients you can pile on top of your burger. But in reality, the ingredient list is quite simple. The variety comes when you start mixing up the number of patties with the multiple slices of cheese and different sauces. There's only one type of burger patty. Beef. There are three types of cheeses: Cheddar, Dambo and Provoleta. About six or seven unique sauces. And the customary garnishes: lettuce, tomato, pickles, caramelized onions, onion rings, pancetta and guacamole. That last ingredient is good news for visiting Chileans that can't eat a meal without an avocado.
Of course, I'm firmly in the camp of the burger purists. So I ordered the Classica with a single beef patty, lettuce, tomato, the "secret" sauce and a slice of cheddar cheese. I did something that I usually regret. I forgot to specifically order my burger "jugosa" (medium-rare). I didn't realize my mistake until several minutes after the order had been placed I just crossed my fingers and hoped that they didn't hand me a burger with a burnt patty that tasted like shoe leather.
Considering the place was at capacity, the delivery of the burger, a bit less than 15 minutes after I placed the order, was an admirable turn-time.
The burger looked impressive. Despite only have a single patty, the burger stood tall and proud. The charred edges of the beef were barely hiding between the melted cheese oozing down the side of the patty and that creamy secret sauce. I retrieved a plastic knife from the serve-yourself counter of condiments and utensils and carefully cut the burger in half. To my surprise, the beef coarsely ground beef patty, was a perfect medium rare. Perfectly juice with a smoky taste you can only get with a charbroiled patty. And it was crowned by a soft sesame seed topped bun, that had been egg washed during the baking process to making it shiny. By George, that was a really good burger. I no longer thought that everyone in that line was insane for enduring the delay to get a meal. That was a burger that really was worth standing in line for. It was accompanied by some perfectly cooked fries. Crisp. Seasoned. A big basket full of burger-lover heaven.
Prices, for a craft burger, were reasonable. So even though La Birra Bar is a bit of a zoo and will eat up a bit of your valuable time as you wait to order and pick up your burger, you won't be disappointed. Because your reward is one of the best burgers in the city at a price that won't break the bank.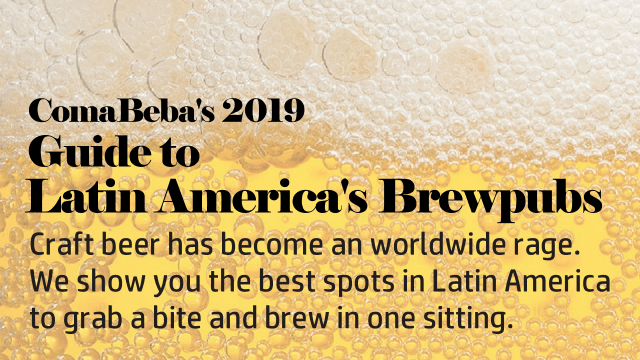 Click the restaurant name or image to read the review
Francis Platz – Buenos Aires
Neighborhoods: Belgrano
Service options: Counter Service, Take-out
Cuisine(s): Burgers
Rating: 4.5 stars Cost: $$ . Price: Brewpub, Fast Casual, Hamburger Restaurant
---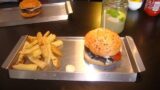 Mi Barrio – Buenos Aires
Neighborhoods: Belgrano, Boedo, Buenos Aires, Colegiales, Downtown - Microcentro, Las Cañitas, Palermo Soho, Recoleta, Villa Crespo, Villa del Parque
Service options: Table Service
Cuisine(s): Burgers
Rating: 3.8 stars Cost: $ . Price: Fast Casual, Hamburger Restaurant
---
Urban Burgess – Buenos Aires
Neighborhoods: Buenos Aires, Palermo, Palermo Soho
Service options: Table Service, Take-out
Cuisine(s): Burgers
Rating: 3.7 stars Cost: $$ . Price: Casual Dining, Hamburger Restaurant
---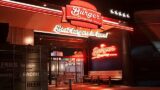 The Burger Company – Buenos Aires
Neighborhoods: Buenos Aires, Palermo, Palermo Soho
Service options: Counter Service, Take-out
Cuisine(s): Burgers
Rating: 4.1 stars Cost: $$ . Price: Casual Dining, Hamburger Restaurant
---
Click the restaurant image to read the review
Urban Burgess – Buenos Aires
Neighborhoods: Buenos Aires, Palermo, Palermo Soho
Service options: Table Service, Take-out
Cuisine(s): Burgers
Rating: 3.7 stars Cost: $$ . Price: Casual Dining, Hamburger Restaurant
---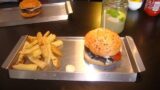 Mi Barrio – Buenos Aires
Neighborhoods: Belgrano, Boedo, Buenos Aires, Colegiales, Downtown - Microcentro, Las Cañitas, Palermo Soho, Recoleta, Villa Crespo, Villa del Parque
Service options: Table Service
Cuisine(s): Burgers
Rating: 3.8 stars Cost: $ . Price: Fast Casual, Hamburger Restaurant
---
Francis Platz – Buenos Aires
Neighborhoods: Belgrano
Service options: Counter Service, Take-out
Cuisine(s): Burgers
Rating: 4.5 stars Cost: $$ . Price: Brewpub, Fast Casual, Hamburger Restaurant
---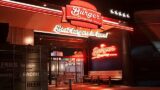 The Burger Company – Buenos Aires
Neighborhoods: Buenos Aires, Palermo, Palermo Soho
Service options: Counter Service, Take-out
Cuisine(s): Burgers
Rating: 4.1 stars Cost: $$ . Price: Casual Dining, Hamburger Restaurant
---