Kansas - Buenos Aires
Buenos Aires, Las Cañitas, Palermo
Ambience

90%

Service

85%

Food

85%

Creativity

90%

Value

90%
Restaurant Details
Restaurant Details
Kansas - Buenos Aires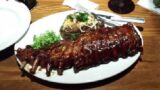 Locale: Buenos Aires, Las Cañitas, Palermo
Address: Libertador 4625
Telephone: +54 11 4776-4100
Restaurant Type: Casual Dining
Cuisine: American Cuisine, Eclectic
Service Type: Table Service
Price: $$$
Menu items offered: Apple Pie, Breads and Pastries, Brownies or Blondies, Coffee, Espresso, Grilled Steaks, Hamburgers, Ice Cream, Pasta, Salads, Sandwiches, Seafood, Smoked Meat Dishes, Soups
Hours:
Mon-Thu & Sun: 12pm to 12am, Fri: 12pm to 1:30am, Sat: 12pm to 2am

Review Summary
American-Style Bistro similar to Hillstone / Houston's restaurants in the states. Polished stone and stained wood decor. Has the feel of nice casino restaurant in Vegas. Busy place. Almost always a wait for table. Pork ribs were great. Super-tasty sauce. Burger was okay .... but only okay. Pretty expensive but worth a visit for the ribs.

The full review for Kansas - Buenos Aires
Review by: Ollie O Rating: 3.8 stars Review Date: 05/04/2015
If you're a Porteño wanting a little taste of what it's like to dine in a modern American style bistro or an American traveler or ex-past craving something familiar, look no further than Kansas. The restaurant is patterned after the genre of enormously popular high-end casual dining restaurants in the USA like the Hillstone or Houston's chains. From the expensive architecture and decór to the carefully crafted menus and meticulously trained waiters and waitresses this place is a page out of the textbook on modern American bistro-style dining.
The investment by the owners appears to have paid off. Want a table on a Saturday night? You better know someone that has some clout. Want a table on a Sunday night at 11 pm? Well there's a 20 minute wait for a table then as well. From noon to midnight, seven days a week, almost every table is occupied.On my visit to Kansas on a Sunday late in the evening, after a 20 minute wait, we were seated and promptly approached by the waiter. You know that usual protocol of taking the drink order, returning with the drinks, wasting of bunch of time waiting for the bartender, coming back, taking the food order, et cetera? Not at Kansas. The waiters are trained to take the drink orders and food orders at the same time. Brilliant. This change of protocol probably speeds up the table turns by 15 minutes or so which, when you have a restaurant with a constant wait for a table is a very good thing. And if you're hungry like me and my friends ... it's a good thing for that reason too.But was the food worth the wait for the table? We decided to go as iconic American as you can get. We ordered up the cheeseburger and the barbecue ribs with a baked potato. And a Caesar salad with, yes ... actual Caesar's salad dressing.A minor lapse in execution. The food was not very hot when it arrived at the table and having a table in one of the cooler (yet not uncomfortable) locations in the restaurant, our food quickly was colder than it should have been.I was not asked how I wanted the burger cooked and I forget to specify that I wanted it on the rare side. So in typical Argentine fashion it arrived overcooked and for this reason it's hard for me to assess just how good the meat might have been. I'll be back and won't make that same error again. But the meat was charbroiled and had that good "cooked over the coals" flavor that I personally prefer over a griddle cooked patty. The condiments were pretty ordinary and the burger was served dry without any sauce or other condiment.A second minor faux pas. The normally attentive waiter disappeared for 10 to 15 minutes. So my burger, quickly getting cold, was waiting 15 minutes for the mayonnaise it sorely needed.We opted to substitute a creamed spinach for the French fries on this occasion. It was delicious, but again, a little cold.The ribs were cooked almost perfectly with that "fall off the bone" tenderness and slathered with one of the tastiest barbecue sauces I've ever tasted.Were these ribs as good as what you'd find at Franklin's in Austin, Texas. Heck no. But a darn good second place.Despite the colder than ideal food, the slightly overcooked burger and the minor wait for the mayonnaise, this was still a dining adventure leaps and bounds above the typical outing in Buenos Aires. We scored Kansas high on creativity just because there is nothing in BA that quite replicates this American style with such accuracy and finesse. If this genre of culinary experience is what you're craving, Kansas is one of the few locations in Latin America that can satiate that urge.With an overall score of 3.8 on our rating scale Kansas will surely make several of our Top 5 lists.


Click the restaurant name or image to read the review
No items found
Click the restaurant image to read the review
No items found