Happening
Buenos Aires, Costanera Norte, Puerto Madero
Ambience

85%

Service

85%

Food

80%

Creativity

80%

Value

80%
Restaurant Details
Restaurant Details
Happening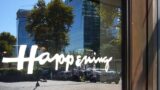 Locale: Buenos Aires, Costanera Norte, Puerto Madero
Address: Av Alicia Moreau de Justo 310
Telephone: +54 11 4319-8712
Restaurant Type: Casual Dining, Steakhouse
Cuisine: Grilled Steaks
Service Type: Table Service
Price: $$$$
Menu items offered: Breads and Pastries, Charcuterie, Chocolate Cake, Coffee, Empanadas, Grilled Steaks, Hamburgers, Ice Cream, Pasta, Salads, Tiramisu, Veal cutlets - Milanesas
Hours:
Mon-Sun: 12pm to 12am, ,

Review Summary
Sophisticated and more modern than the typical Argentine steakhouse. Nice decor. Located in Puerto Madero overlooking the boardwalk. Typically good food and even better service. We tried a hamburger at lunch made from some lean cut of meat. Poor choice. They should stick to the strip steaks and rib-eyes.

The full review for Happening
Review by: Ollie O Rating: 4.1 stars Review Date: 04/20/2015
I've dined at Happening in Santiago on several occasions but during Buenos Aires Food Week I headed on over to the Happening in Puerto Madero en Buenos Aires for lunch. This restaurant in Puerto Madero is just a bit more formal and elegant than the one in Las Condes in Santiago. Music in the background was a pleasant mix of pop classics in English.
The tables are elegantly set with white tablecloths. I was promptly seated and offered a menu and the complimentary cocktail sponsored by Campari. Unlike the small plastic cup we were offered at Bice the day before, this was a full size cocktail in a tall boy cocktail glass.A basket full of fresh bread, butter and a creamy cheese sauce for spreading on the bread, was set out on the table. I sample several morsels of bread. Each was fresh and delicious.For the appetizer I elected to have the Arugula, Endive and Radicchio salad with caramelized pears, blue cheese and candied walnuts. A great salad executed nicely.For the main course I opted for the gourmet burger made with ground rib-eye. This was at best an ordinary burger. The ground steak was just a little too lean for a burger the sweet brioche bread just didn't quite work and made eating the burger with your hands almost impossible. Some of the fries were limp and slightly undercooked. This was a good burger, but nothing more.For the dessert I had the crepe filled with Dulce de Leche and topped with a drizzle of caramelized brown sugar. A great dessert but not highly original.Service was excellent. The staff of waiters, all men, clad in white shirts, black slacks and black aprons efficiently tended to the tables making sure each patron was receiving the ultimate treatment.This was a very pleasant outing. A very elegant but not overly stuffy ambiance. Better than average execution. Outstanding service. Not much creativity in my meal. We think the execution would normally have been much better had we not ordered a burger. But then again, we ask, "Why serve a dish you can't competently execute?"


Click the restaurant name or image to read the review
No items found
Click the restaurant image to read the review
No items found