Ambience

80%

Service

75%

Food

85%

Creativity

75%

Value

90%
Restaurant Details
Restaurant Details
Güerrín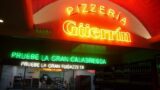 Locale: Congreso
Address: Av Corrientes 1368
Telephone: +54 11 4371-8141
Restaurant Type: Casual Dining, Pizzeria
Cuisine: Pizza
Service Type:
Price: $$$
Menu items offered: Desserts, Pizza
Hours:
Sun-Sat: 11:30am to 2am, ,

Review Summary
Güerrín Pizzería is the most popular pizzeria in Buenos Aires. And for good reason. Upbeat, busy atmosphere. Family friendly. Great pizza. Good service. Wanting pizza near downtown BA? Go to Güerrín Pizzería.

The full review for Güerrín
Review by: Ollie O Rating: 4.1 stars Review Date: 03/14/2017
Güerrín Pizzeria has no shortage of online exposure. It is one of the most highly rated restaurants, at least for pizza, in Buenos Aires. But as we've seen more often than not, this is hardly ever a reliable indicator. But this time, the consumer reviewers got it right. It's a very happening place with pretty darn good pizza.
Let me describe the experience. Güerrín is located on busy Avenida Corrientes, in the theatre district amid neon lights. In character, Güerrín, too, has a big neon sign lighting the way to the city's most famed pizzeria. Rumor has it that this place has been churning out pizzas since 1932.It's a large restaurant comprising two full floors, seating, I would estimate, between 300 and 350 diners. And on a Sunday night this place was packed with a short wait for a table. I'm going to go out on a limb here and state that I suspect this place is the highest grossing (and likely most profitable) restaurant in Buenos Aires. They are raking in the bucks at this place despite the very reasonable prices.The décor is nothing fancy but it has a sort of nostalgic appeal to. Rather than me try to explain it, it's probably best to view the images in the slider.I will note that in the front room, through which you walk to get to the rear dining area and the two dining rooms above, there are counters at which patrons craving pizza can stand for a quick "by the slice" fix. And this place is full of families. So if you're allergic to young children you might want to pick something less family friendly. The tables are packed in, with barely enough space in between for the waiter to navigate. So, if you're wanting to have some sort of serious or romantic discussion, Güerrín's not likely your best destination.There's nothing particularly Italian about the place. It's as if Güerrín (obviously a German name) thinks that pizza was invented within its hallowed halls. So the pizza doesn't conform to any typical categorization. It's not Neapolitan. It's not Chicago deep-dish. It's not modern-day thin-crust. It's just pizza from Güerrín. And let me tell you, that ain't necessarily a bad thing. This is really, really good pizza.I'm going to attempt to describe it. It is sort of a cross between traditional Neapolitan pizza and Chicago deep dish. The crust is a little thicker than the typical pizzas you find in other Buenos Aires pizzerias. It's round. It's topped with a fairly thick assortment of cheese and other toppings reminiscent of a classic deep-dish pizza. But because it's slightly thinner the bottom crusts cooks up just a little crunchier. The mozzarella and all the other ingredients are fresh and of better quality than most pizzas you'll find in BA. My pizza, the "Especial de la Casa", which included thinly sliced ham, tomato slices and green olives was loaded with ingredients and the cheese was cooked until just beginning to char making it the perfect consistency. None of that rubbery, undercooked cheese you tend to get at most pizza joints in Buenos Aires like Romario and Kentucky. Bottom line. The is really good pizza.In fact, this may be the the best pizza that I've had near downtown. And the place is about as good as it gets for people watching.Bottom line, if you don't mind the sort of zoo-like atmosphere, Güerrín is your best choice for pizza near downtown.a great choice for pizza downtown or in Congreso.


Click the restaurant name or image to read the review
No items found
Click the restaurant image to read the review
No items found