Farinelli
Buenos Aires, Retiro
Ambience

90%

Service

75%

Food

75%

Creativity

75%

Value

85%
Restaurant Details
Restaurant Details
Farinelli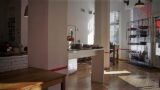 Locale: Buenos Aires, Retiro
Address: Arroyo 900
Telephone: +54 11 4328 7998
Restaurant Type: Cafe, Casual Dining
Cuisine: Coffee - Bread - Pastries, Sandwiches-Salads
Service Type: Table Service, Take-out
Price: $$$
Menu items offered: Alfajores (cookies), Breads and Pastries, Carrot Cake, Coffee, Espresso, Salads, Sandwiches, Soups, Waffles
Hours:
Mon-Sat: 8am to 8pm, ,

Review Summary
Café with pleasant ambience and décor that offers some breakfast and several lunch items (mostly sandwiches and salads). Spotty service.

Sometimes you frequent a particular restaurant because it's close. For me, that's the way it has been Farinelli. I have a strange, love-hate relationship with this little restaurant.
It's more of a café and pastelería than it is a restaurant. The coffee is average at best. Certainly not even in a league with the coffee at The Shelter a half a block away. But the assortment and quality of the baked goods and desserts is second to none in Buenos Aires.The lunch items are a big hit and miss. They pre-make everything and put it out on the counter for viewing. The soups and stews are usually acceptable, kept warm while sitting on the counter. But by the time the salads with lettuce or greens and the sandwiches have spent an hour or more sitting out on the counter, the lettuce is wilted and the sandwiches, most of which are well-conceived in terms of ingredients, have gone from good to substandard.The service is usually acceptable. But in true Argentine fashion, you have wave to get a waiter's attention, even when there are four of them behind the counter talking to each other.The décor is cute. In the Retiro location the walls are totally covered in shiny, white subway tiles. The accents are all bright red. A pleasant atmosphere.The prices are very, very reasonable. Despite the wilted lettuce, this place is always packed at lunch. From 1:30 pm until 3 pm every table is full. Although typically there's not a wait for table.I've never been to the location in Palermo so I can't attest to the quality of the savory dishes over there. But what could be one of the best cafés in the city is relegated to the status of ordinary for a lunch visit. And the mediocre coffee makes you think twice about visiting the place for coffee and dessert.I go there a lot due to proximity to my apartment. But were it not for that, I'd likely choose other options and often do.


Click the restaurant name or image to read the review
No items found
Click the restaurant image to read the review
No items found