Elena
Buenos Aires, Retiro
Ambience

85%

Service

90%

Food

85%

Creativity

80%

Value

90%

Logistics

85%
Restaurant Details
Restaurant Details
Elena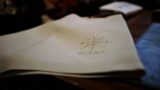 Locale: Buenos Aires, Retiro
Address: Posadas 1086
Telephone: +54 11 4321-1200
Restaurant Type: Upscale Casual
Cuisine: Grilled Steaks
Service Type: Table Service
Price: $$$$
Menu items offered: Braised Meat Dishes, Breads and Pastries, Charcuterie, Coffee, Desserts, Grilled Steaks, Salads, Seafood
Hours:
Mon-Sun: 7am to 11am, ,

Review Summary
The Four Seasons' Elena restaurant offers a rustic take on Nouvelle Cuisine with high-end steak offerings (which is of course mandatory in Argentina). Meticulously trained chefs and waiters mean consistent, high quality execution and service. Only one thing missing. A personality to call its own.

Elena is one of two restaurants in the Buenos Aires Four Seasons Hotel. It has a large dining room that probably seats 125 to 150 diners. At one end of the room is a large open kitchen where a brigade of chefs and sous chefs go about their business in regimented fashion. The restaurant is sufficiently busy to operate like a real restaurant, something the majority of restaurants in Buenos Aires cannot claim. When I say a "real restaurant", I mean using a system in the kitchen of individual chefs that each have specific duties, the use of an expeditor at the pass to assure that orders are promptly and correctly dispatched to the patrons, and runners whose sole duty is to quickly deliver orders to the table once they are waiting at the pass.
Additionally, Elena utilizes heat lamps to assure that the food remains and the desired temperature from the time it is delivered to the pass until the runners have delivered the food to the tables. This may sound like a bunch of food critic tech talk but what I've just described is the difference between a restaurant that delivers the food to the diner quickly and perfectly cooked and one ... that does not. Something similar to this system is used in almost every highly rated restaurant in Europe and the United States. Yet it is rare in Latin America. Being a foreign owned and operated hotel and restaurant it is no surprise that Elena at the Four Seasons utilizes this system and the result is consistently good execution of every dish for every diner, even at peak hours.Elena has something else quite special that deserves mentioning. There is a charcuterie section of the restaurant dedicated solely to both aging their prime cuts of beef and storing cured meats that are served on their charcuterie platters.They serve a couple of cuts of aged steaks as well as a locally produced cut of Kobe steak. That Kobe steak comes at a cost though. You'll pay something close to US$45 for that steak. On this occasion I elected for something that would test the skills of the chefs in the kitchen but I plan to return to Elena sometime soon on a special occasion to slice into that Kobe steak and I'll give a blow by blow description of that adventure when I do.On this night I opted for the roasted cabrito, strips of goat meat, some slightly fattier than others, were rolled into portions and roasted. Cabrito is quite common in the Patagonian regions of Argentina and is frequently served in Mexico as well. Two of the small rolled portions of roasted meat were served on a sweet corn puree with thin slices of marinated squash rolled around some micro-greens. This dish was prepared and served just as intended by the chef but I felt the somewhat gamey meat could have used some additional marinating and seasoning to make the meat slightly tenderer and more flavorful. (Or whoever procured the meat could have demanded a better product.) This was a good dish but not a great one in my opinion.After finishing the main course, I followed the recommendation of one of the waiters and ordered the deconstructed key lime pie. This dessert had three small spheres of baked cheesecake filling rolled in a moist graham cracker coating served with several small tart dips of lime ice cream. My initial impression was that the ice cream was a bit too citric but somehow I found the contrast between the creamy sweet cheesecake and the bittersweet ice cream to be addictive. I found myself eating bite after bite in a frenzy. Hmmm. Despite the fact that I devoured the whole dessert in under five minutes I still think the dish would have been ever so slightly better if the ice cream had been slightly less tart.The service was quite good. I found myself just barely waiting for service from time to time. The restaurant was very busy. In fact, it was so busy, that I was seated at the large chef's table in front of the open kitchen along with two are other groups of diners due to the lack of available tables. This turned out to be blessing as I was able to watch the functioning of the kitchen and observe every minute detail of the performance of the chefs and the expeditor at the pass.The décor in Elena is very traditional on the one hand, with dark paneling and a dimly lit dining room. But there are contemporary elements to give a more relevant feel to the ambiance overall.The menu was surprisingly reasonably priced. I expected it to be quite a bit more expensive being housed in arguably the finest hotel in Buenos Aires. But the prices actually compared quite favorably to other restaurants in the neighborhood.This was good service, in a beautifully designed and decorated room with very good execution. The corporate execs in Four Seasons management made all the right decisions. They conducted the demographics research. They hired high priced and famous designers to create their carefully formulated ambiance. They spared no expense in bringing in a talented and proven kitchen staff. They meticulously trained their waiters. But somehow, I just felt unimpressed by the whole experience. They forgot to include one important element. A personality. Elena is strangely devoid of anything that makes it truly unique. It has no personality. One of those strange yet relevant elements of the dining experience that almost defies explanation.


Click the restaurant name or image to read the review
Ureña – Buenos Aires
Neighborhoods: Palermo Hollywood
Service options: Table Service
Cuisine(s): French
Rating: 4.6 stars Cost: $$$ . Price: Upscale Casual
---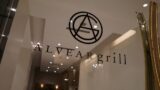 Alvear Grill – Buenos Aires
Neighborhoods: Recoleta
Service options: Table Service
Cuisine(s): Grilled Steaks
Rating: 4.4 stars Cost: $$$$$ . Price: Upscale Casual
---
Dario Gualtieri Bistro – Buenos Aires
Neighborhoods: Palermo Soho
Service options: Table Service
Cuisine(s): French
Rating: 4.6 stars Cost: $$$$ . Price: Upscale Casual
---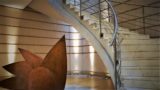 Duhau Restaurante y Vinoteca – Buenos Aires
Neighborhoods: Recoleta
Service options: Table Service
Cuisine(s): Gourmet Cuisine
Rating: 4.6 stars Cost: $$$$$ . Price: Upscale Casual
---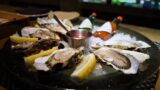 Crizia – Buenos Aires
Neighborhoods: Buenos Aires, Palermo Soho
Service options: Table Service
Cuisine(s): Eclectic Gourmet
Rating: 4.4 stars Cost: $$$$ . Price: Formal Dining, Upscale Casual
---
Click the restaurant image to read the review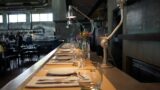 Sucre – Buenos Aires
Neighborhoods: Belgrano
Service options: Table Service
Cuisine(s): Argentine, Eclectic Gourmet
Rating: 4.3 stars Cost: $$$$ . Price: Upscale Casual
---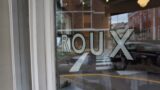 Roux – Buenos Aires
Neighborhoods: Buenos Aires, Recoleta
Service options: Table Service
Cuisine(s): Eclectic Gourmet, French
Rating: 4.5 stars Cost: $$$$ . Price: Formal Dining, Upscale Casual
---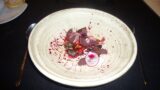 El Baqueano – Buenos Aires
Neighborhoods: Buenos Aires, San Telmo
Service options: Table Service
Cuisine(s): Eclectic Gourmet
Rating: 2.4 stars Cost: $$$$ . Price: Casual Dining
---
La Pecora Nera – Buenos Aires
Neighborhoods: Buenos Aires, Recoleta
Service options: Table Service
Cuisine(s): French, Italian
Rating: 4.5 stars Cost: $$$$ . Price: Formal Dining, Upscale Casual
---
Dario Gualtieri Bistro – Buenos Aires
Neighborhoods: Palermo Soho
Service options: Table Service
Cuisine(s): French
Rating: 4.6 stars Cost: $$$$ . Price: Upscale Casual
---