El Sanjuanino
Belgrano, Buenos Aires, Palermo, Recoleta
Ambience

80%

Service

80%

Food

80%

Creativity

90%

Value

85%
Restaurant Details
Restaurant Details
El Sanjuanino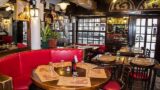 Locale: Belgrano, Buenos Aires, Palermo, Recoleta
Address: Posadas 1515
Telephone: +54 11 4804-2909
Restaurant Type: Casual Dining
Cuisine: Argentine
Service Type: Table Service
Price: $$$$
Menu items offered:
Hours:
Sun-Sat: 12pm to 4pm, 7pm to 11pm, ,

Review Summary
El Sanjuanino is a favorite of Porteños and tourists alike, with quirky nostalgic décor and a wide variety of well-executed traditional regional menu items. Don't miss the house wine served in a traditional "pingüino" decanter.

The full review for El Sanjuanino
Review by: Ollie O Rating: 4.0 stars Review Date: 12/04/2016
We've recently posted several reviews for restaurants in Buenos Aires featuring the country's indigenous cuisine (often referred to as "cocina criolla"). Cumuná is one of the city's most popular restaurants, gauging by the wait for a table that is common at the peak of both the lunch and dinner services. Our personal favorite for lunch is La Querencia. And a recent addition to the genre, 1810 Cocina Regional, with locations in both Palermo and Retiro, is an excellent option if you are living nearby or staying in one of the hotels close to the downtown location.
Fitting into this genre, in the most unique and interesting way, however, is the long-standing Porteño favorite, El Sanjuanino, with locations in Recoleta, Barrio Norte (a block from Alta Palermo shopping mall) and Belgrano.What makes El Sanjuanino so unique is the wide variety of the menu, and how it incorporates the cuisine of the migrant Buenos Aires population into the menu along with the more traditional indigenous cuisine that is still part of the diet today in the northern provinces of Argentina.Many of the classic dishes of the "cocina criolla" from the north of Argentina are offered; locro (bean and corn stew), mondongo (tripe stew), humitas and tamales. They offer some unique stews as well, such as a vizcacha stew, featuring the meat of a wild indigenous rodent (which I personally avoid due to a bad experience at El Baqueano, that featured this critter).They incorporate the most popular European dishes into the menu, including a full array of pasta dishes, fiambres (cured meats), cheeses, the uniquely Argentine matambre, and the chorizo a la pomarola (an Italian sausage dish) with mashed potatoes, my personal favorite at El Sanjuanino.Of particular interest are the quesillo dishes, that incorporate curdled-milk cheeses (similar to European "curds" or "cottage cheese"), mostly offered as desserts.I've ordered the locro, humitas, tamales, the Bife de Chorizo (the only steak on the menu), the pasta and the milanesa (breaded cutlet). The sausage and the accompanying sauce are outstanding. It's rare to find so much flavor packed into a single dish in Buenos Aires. The locro, tamales and humitas were the best renditions I've tasted in Buenos Aires. The steak is reasonable priced and big and served with enough French fries to choke a horse. And I can say without reservation that the milanesa is the only one of dozens I've tried in the Buenos Aires that I would order again.The menu is downright ugly, with pages covered in plastic with penciled in price like the thousands of menus in the corner cafés we avoid. And clearly, El Sanjuanino won't soon be featured in Architectural Digest for innovative design or décor. But the quirky ambiance that's distinctly Argentine, is apropos.Prices are a bit better than you'd expect for a restaurant in this genre and at this location. Service has always been good. The house wine that's served in a traditional "pingüino" pitcher is much better than your typical house wine.All things considered, this is, I believe, the best choice in Buenos Aires for regional Argentine cuisine. I don't know that I'd make a special trip if I were a porteño living close to other restaurants offering this type of cuisine, but for travelers wanting to experience this little part of Argentine culture, or those living close-by, El Sanjuanino is, hands down, the best choice in the genre.


Click the restaurant name or image to read the review
No items found
Click the restaurant image to read the review
No items found