Ambience

90%

Service

90%

Food

90%

Creativity

85%

Value

85%
Restaurant Details
Restaurant Details
El Pobre Luís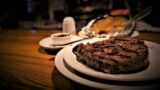 Locale: Belgrano
Address: Arribeños 2393
Telephone: +54 11 4780-5847
Restaurant Type: Casual Dining, Steakhouse
Cuisine: Grilled Steaks
Service Type: Table Service
Price: $$$$
Menu items offered: Coffee, Empanadas, Grilled Steaks, Ice Cream, Salads
Hours:
Mon-Sat: 8pm to 12:30am, Sun: Closed,

Review Summary
El Pobre Luís isn't La Brigada. And it isn't La Cabrera. It's arguably better. Because it's received less publicity there's less hoopla, less arrogance, and shorter lines to get in. Very good service. A great ambience. And some super-duper steaks. Perhaps our favorite steakhouse in Buenos Aires!

The full review for El Pobre Luís
Review by: Ollie O Rating: 4.4 stars Review Date: 01/26/2018
Tucked away on the back side of China Town in Buenos Aires lies one of the less-talked-about steakhouses in a city full of steakhouses. It garners very good reviews from consumers but hasn't received as much respect from the international "lists".
And the photographs uploaded by consumers on the consumer review sites don't offer much insight into what El Pobre Luís is all about.Well that's why we're here. To chronical every great dining experience in Latin America. And our recent visit to El Pobre Luís was definitely one of those.The ambience is vaguely reminiscent of a couple of the most famous restaurants in the city … the notorious steakhouse, La Brigada, and the one-of-kind Argentine pizzeria, El Cuartito. Jerseys from dozens of local soccer (fútbol) teams are hanging from lines strewn around overhead. There are Argentine relics everywhere you look. The place just shouts "I'm porteño!" El Pobre Luis isn't open for lunch. You'll have to get your protein and Argentine memorabilia fix in the evening. And there will typically be a bit of wait for a table. But it's worth it. I was dining alone so the hostess sat me at a large bar that surrounds the parilla where the parilleros are busily butchering cuts of beef and jostling them about on the grill. Unless you're there for intimate conversation (which means you chose the wrong the restaurant) sitting at that bar is the perfect place. You get a front row seat at a theatrical show that's always got the critics raving.That entire bar was attended to by a single waiter. He somehow managed to keep track of it all. It wasn't flawless service. When he'd get stuck with the time-consuming task of opening another bottle of Malbec for a group of diners at the bar, his rhythm would falter. But his endurance was commendable. And he had an air about him that made we want to forgive him for the few errors he made.El Pobre Luis specializes in a grilled item called a Pamplona by Argentines. The French would call it a roulade. I just call it a butterflied steak rolled around of filling of sausage and other fat-laden strips of juicy beef or pork, tied up with sinewy strands of more meat. A vegetarian might have a cardiac arrest just looking at this creation.But according to the restaurant critic's rules of play, I had to order the industry standard ribeye (called an "ojo de bife" in Argentina). But for my side item, I broke the baked Irish potato or French fries rule, and ordered the baked sweet potato, with honey. Good choice, Ollie O!A big thick steak, not like those skinny slabs of beef they call steaks in Mexico City. These were officially "fat", much like the fat steaks we were served at Don Julio, La Carnicería and La Brigada. You know where this is going, don't you? How could I do anything but praise that fat steak? It was cooked perfectly. A beautiful deep pink in the middle. A deep earthly umami slap in the face. Yum. Not the highest quality steak I've had in the Buenos Aires, but it was up there in the top tier.And that baked "batata" (which was actually two potatoes joined at the hip) had been drenched in sweet honey while it cooked in the oven. I added a little butter, which was the icing on the cake. Let's recount it. A big fat steak, perfectly cooked, brimming with flavor, with a delicious baked batata, served up by a personable and highly efficient waiter in one of the most authentically Argentine ambiences in the country. What could be better? Well … maybe that Pamplona. I'll be back tomorrow to find out.


Click the restaurant name or image to read the review
No items found
Click the restaurant image to read the review
No items found