El Mirasol
Buenos Aires, Retiro
[skillwrapper type="gage"][skill percent="80″ title="Overall Rating" bar_foreground="#9e8850″ bar_background="#bcbcbc"][/skillwrapper]
Ambience

barcounterprefix*70barcountersuffix*

70%

Service

barcounterprefix*80barcountersuffix*

80%

Food

barcounterprefix*90barcountersuffix*

90%

Creativity

barcounterprefix*80barcountersuffix*

80%

Value

barcounterprefix*80barcountersuffix*

80%
Restaurant Details
Restaurant Details
El Mirasol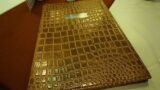 Locale: Buenos Aires, Retiro
Address: Posadas 1032
Telephone: +54 11 4326-7322
Restaurant Type: Casual Dining, Steakhouse
Cuisine: Grilled Steaks
Service Type: Table Service
Price: $$$$
Menu items offered: Grilled Steaks
Hours:
Sun-Sat: 12pm to 2am, ,

Review Summary
El Mirasol, with multiple locations is the most upscale neighborhoods, offers excellent service and great steaks. Décor in some locations is a bit boring. Wide range of salads to complement the steaks.

The full review for El Mirasol
Review by: Ollie O Rating: 4.0 stars Review Date: 11/04/2017
El Mirasol is one the city's most reputable steakhouses, catering to the city's wealthy Porteños and travelers staying in the most prestigious hotels in and near the city's most affluent neighborhoods.
Famed restaurant, Cabañas Las Lilas may get the press, but El Mirasol has the loyal clientele that's been slicing into steaks at El Mirasol for more than 50 years.Each location has a slightly different menu. The Recoleta (La Recova), Tortugas and Boedo locations are strictly steakhouses. The Puerto Madero location supplements that menu with a variety of pasta dishes. The fifth locale, Campo & Mar, also located in in Puerto Madero, just a few doors down from the flagship steakhouse, adds grilled seafood to the mix. Our review is of the steakhouse located in La Recova in Recoleta, across the street from the Four Seasons Hotel.La Recova is a small commercial complex occupied by eight of the city's most notable restaurants that each face Posadas where it passes under 9 de Julio. Until recently, El Mirasol was the only steakhouse in the group, but Italian restaurateur Piegari (located next door to El Mirasol) recently opened a restaurant on the other side of Posadas that is also dedicated to grilled steaks.The average age of the patrons in these upscale-casual restaurants in probably 50 or higher. It's one of the few places in the city where you might feel a bit out of place without a jacket. At lunch, the patrons are primarily businessmen (and women) in suits.The décor in El Mirasol is a bit dated. What little decoration exists is ugly oil paintings from unknown artists. There's even a still-life oil painting hanging on the wall. I thought I was at the Louvre.Save one unique feature, the menu is the customary parilla menu, offering a variety of cuts of beef, chicken, and lamb grilled over open flame. They offer the highest quality of Argentine beef, including Wagyu. That unique feature I referred to is an entire page of salads with a variety of ingredients. Regrettably most of the salads are not dressed, with the only option, as is typical in Argentine restaurants, being use of the provided olive oil and balsamic vinegar.In the restaurant's defense the quality of the locally produced oil and vinegar they provide is superior to what you receive in most restaurants. That said, it's still almost inconceivable that a high-end restaurant in the twenty-first century is still serving salads exclusively dressed in this manner.I've had steaks on numerous occasions at El Mirasol. They are always of superb quality and cooked perfectly.Service is provided by your customary steakhouse staff of waiters (men only) clad in red vests. It's always been efficient, although a bit too formal for my liking. The prices, as might be expected in the affluent neighborhoods where these restaurants are situated, are bit high but not ridiculously so (and somewhat less than Piegari Carnes across the street). So, if hanging out with the sixty-something crowd, eating high-quality steaks in a restaurant with a slightly dated décor, is on your agenda, then El Mirasol is the best choice in the city. Thanks to a high creativity score (due to the unique variety of salads offered) and the consistently good steaks and service, El Mirasol made it onto our coveted 4 star or better list.


Click the restaurant name or image to read the review
No items found
Click the restaurant image to read the review
No items found